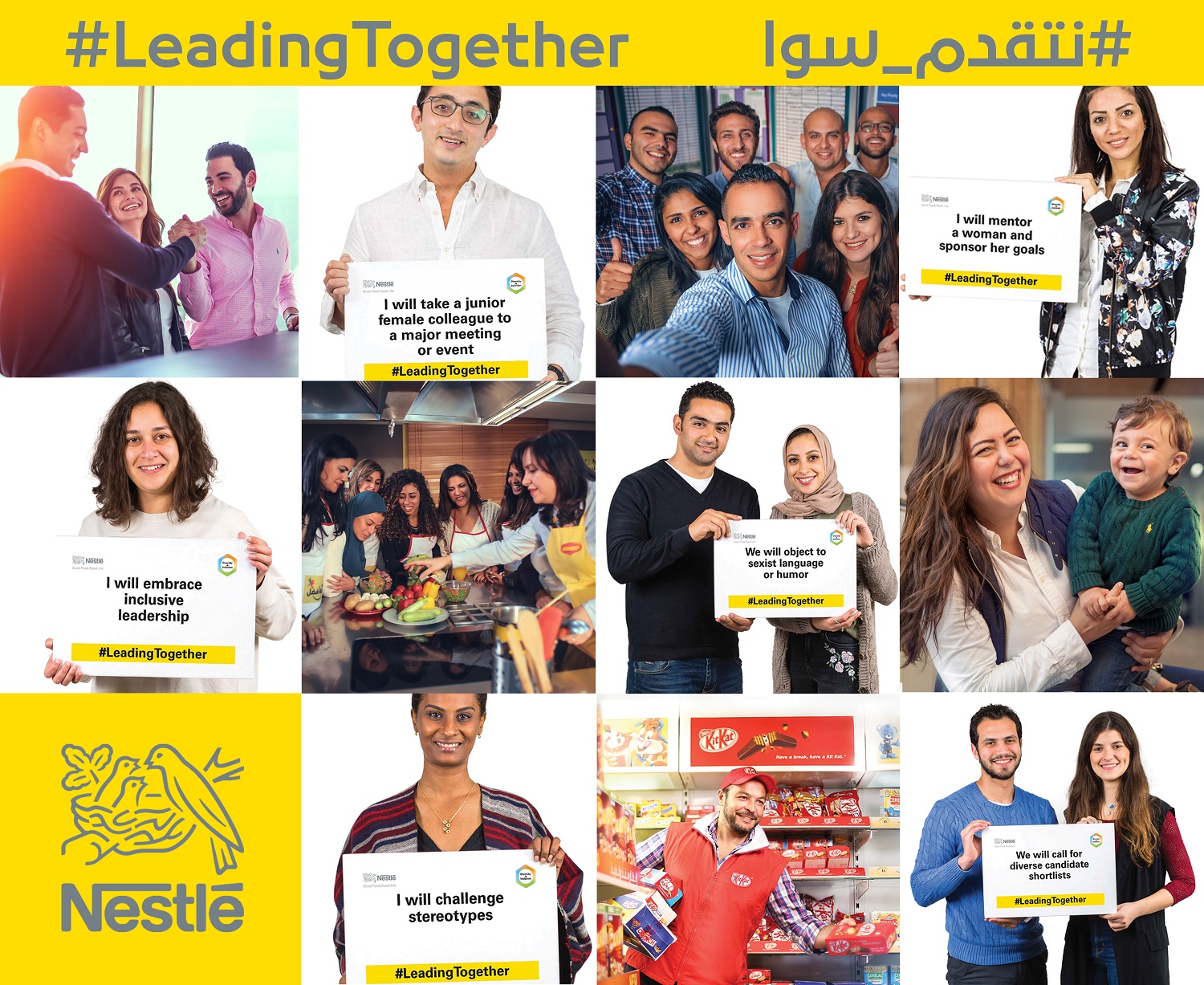 With Egyptian president Abdelfattah El-Sisi announcing 2017 to be the "Year of Egyptian women," Nestlé Egypt decided to do that as well. The creative organization launched a new campaign on International's Women's day called #LeadingTogether, to highlight the roles of their female employees, and strive for parity in the workspace to ultimately have a gender-inclusive organization.
"At Nestlé we believe that Diversity & Inclusion are an integral part of our culture and values. Diversity is everything that makes us different from each other. To be a diverse team means to accept and also to respect different ways of thinking, different cultures, different generations and different abilities. Inclusion is leveraging those differences and valuing the contribution of everyone – women and men – towards achieving a common goal." Nestlé Egypt's Chairman & CEO, Yasser Abdulmalak, said during a speech to Nestlé staff.
Nestlé practices what it preaches by making sure women have strong representation in senior leadership as well as management teams. Women now make up 20% of Nestlé Egypt's board of directors, 30% of management and 30% of total staff.
They didn't just stop at that, they're making sure to give women job opportunities in fields that are usually dominated by men — like Field Sales and Manufacturing, just to name a couple. Nestlé is also offering women training and development programs in Egypt and abroad.
"Nestlé Egypt is celebrating International Women's Day for the third year in a row by recognizing female role models in the company who can inspire other women to follow in their footsteps. This campaign reflects our commitment to building a gender-inclusive organization and valuing the role of women in creating high performance organizations." said Heba Afifi, Communications Director at Nestlé Egypt.
#LeadingTogether is now an active campaign in all of Nestlé's social media platforms, but it's not the first initiative that aims to improve the welfare and well-being of Egyptian women. Among the other initiatives they have are Khamsa l'se7etek, an initiative which encourages healthy nutrition and hygiene habits for women in rural areas, as well as Nestlé, Start Healthy, Stay Healthy, which aims at raising awareness about the benefits of breastfeeding for both mother and child.
#LeadingTogether will also launch a Facebook campaign to give woman the chance share their inspiring stories about their journey, as well as share their story about the most inspirational women in their life.