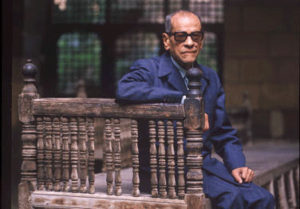 Naguib Mahfouz's love for El-Gamaleya failed to hide in his novels, every corner in the medieval quarter enjoyed a special place in the laureate's heart; it was the neighborhood in which the Egyptian writer spent his childhood and youth. El-Gamaleya quarter assembles El-Moskee, along with Khan El-Khalili and Bayt El-Qady where Mahfouz's family lived.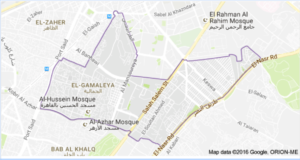 "I am the son of two civilizations that at a certain age in history have formed a happy marriage. The first of these, seven thousand years old, is the Pharaonic civilization; the second, one thousand four hundred years old, is the Islamic civilization," he said in the Nobel prize lecture.
Khan El-Khalili
Against a backdrop of international upheaval caused by World War Two, this novel tells the story of the Akifs, a middle-class family that has taken refuge in Cairo's historic and bustling Khan al-Khalili. Believing that the German forces will never bomb such a famously religious part of the city, they seek safety among the crowded alleyways, busy cafés, and ancient mosques of the neighborhood. Through the eyes of Ahmad, the eldest Akif son and the novel's protagonist, Mahfouz presents a richly textured vision of the Khan, drawing on his own memories to assemble a lively cast of characters whose world is framed by the sights, smells, and flavors of his childhood home.
As Ahmad, a minor civil servant who has sacrificed both education and personal ambition in order to support his family, interacts with the people and traditions of Khan al-Khalili, a debate emerges that pits old against new, history against modernity, and faith against secularism. Addressing one of the fundamental questions of the modern era, Mahfouz asks whether, like the German bombs that threaten Khan al-Khalili daily, progress must necessarily be accompanied by the destruction of the past.
Zuqaq Al-Midaq, or Midaq Alley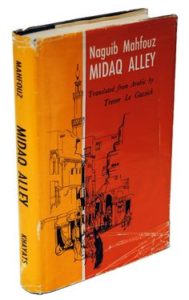 Also set during the time of World War Two, Midaq Alley is a rich account of the life in this poor quarter of medieval Cairo. While the novel focuses on a willful young woman whose ambition to strip off the cuffs of the alley leads her into prostitution, a pageant of other vivid characters, from the café owner who likes boys to the man who creates maimed beggars and from the young man with the faithful heart to the rake and the pimp, fleshes out the picture of a society in crisis and transition.
Here's a two-year-old video by Youm7 about the modern-day Midaq Alley. 
WE SAID THIS: May you rest in peace, ya 3azeem! Also, you don't want to miss out on these 12 wise quotes said by historical Egyptian icons.