When it comes to any dining experience across Cairo, you wouldn't expect much beyond taking a seat and enjoying a meal among family and friends. Being such an everyday experience, ritualistic even, its not something we would put a lot of thought to and that is the exact attitude the Scoop team had before arriving at the kebda cart owned by the infamous Mama Dahab, a firecracker with a passion for feeding young Egyptians cheap liver and sogok sandwiches.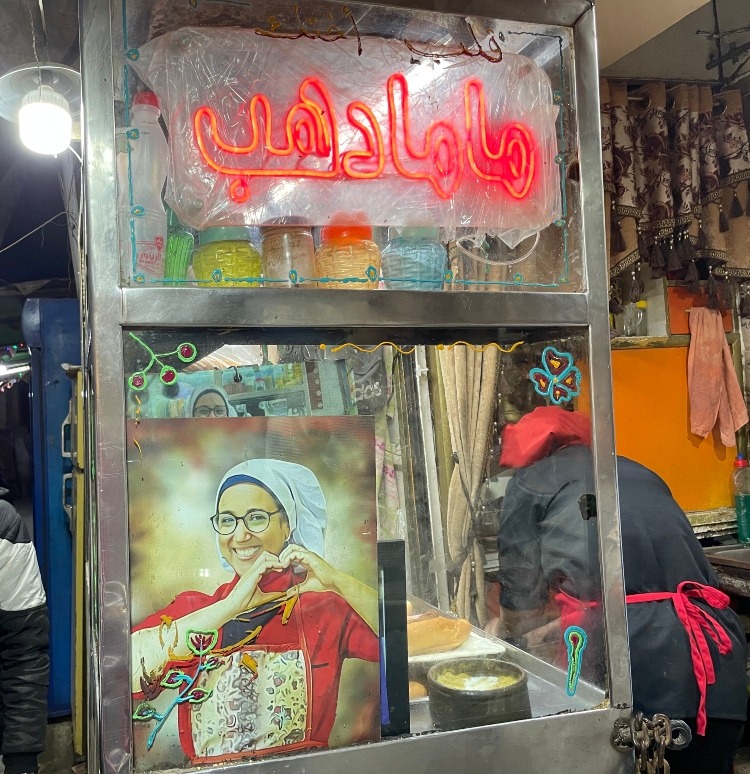 Hidden within a tight narrow alley that sits between Downtown Cairo's Champollion and Kasr El Nile road is that very kebda cart. On entering the alley, what followed was a series of events that left the Scoop team dazed, confused but also quite amused. To truly picture the scene, imagine a long tree-lined narrow alley, each tree glowing up from spirals of green and yellow LED strips and in the spaces between are old, worn-out wooden and plastic tables as well as wooden coffee and plastic chairs. Standing tall at the entrance of the alley were two main attractions, a makeshift TV unit made of red coke crates and ofcourse, the infamous kebda cart emblazoned with a red neon sign that read "Mama Dahab" in Arabic.
At the moment of our arrival, we were met with a huge crowd of customers, gathered around Mama Dahab who was standing in the center of the alley. Phones, cameras and the like were all raised and pointed at Mama Dahab as she answered her customers curious questions. The entire scene was akin to a celebrity promoting their film at a press release with Mama Dahab standing tall in her infamous get-up of a stark red apron and matching chef hat getting interviewed by multiple customers.
With her own TikTok channel that has amassed more than quarter a million followers, she is a celebrity in her own right and has an inspiring story to boot. For three years, she struggled to find a means to provide for her mother until she took a risky plunge and attempted to build a food business from scratch. Taking over this hidden alley within the bustling hub of Downtown Cairo, for more than 20 years Mama Dahab has been prepping fino sandwiches with popular fillings including liver and Egyptian sausages for the masses.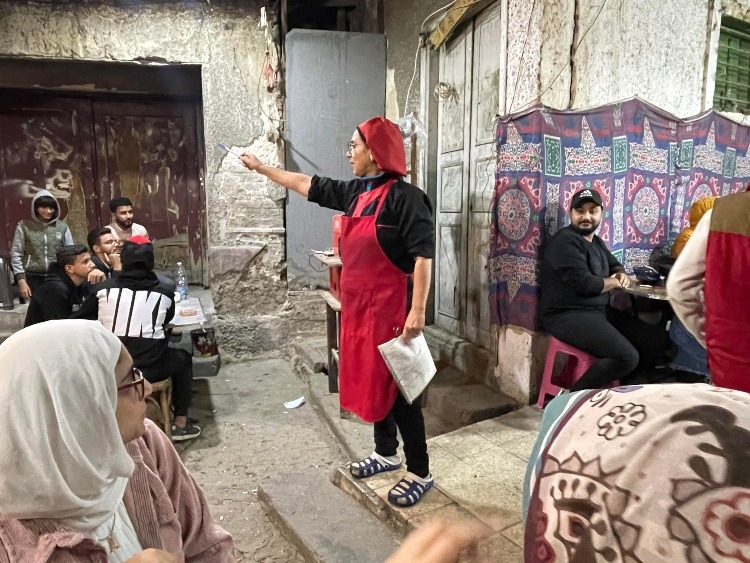 Unlike other street vendors, she serves her customers in a very unique style, creating an experience that is not found elsewhere across Cairo's food scene. From the get-go, the Scoop team took their seats thinking that eventually we will get to order but it was far from it. That was the start of what we dubbed "The One Woman Show Starring Mama Dahab" as right after her makeshift press moment, she headed to the kebda cart to start prepping all the ingredients. Seconds later, a woman approached us and placed a stash of salted sunflower seeds on our table saying its a snack to pass the time. Mama Dahab's voice then boomed out from her cooking station as she yelled out "Mama gaya, mama gaya" (Mama is coming, mama is coming) in response to the hungry customers losing their patience and wanting to eat.
Moments later, the cooking station was deserted as Mama Dahab decided to sweep the alley with a broomstick as if in the comfort of her own home. That's when it dawned on us, the entire experience was akin to being in the home of a figurative motherly presence but instead of being surrounded by four walls, we were smack dab in the middle of an alley under the cover of towering trees and a starlit sky.
A long time passed before anyone took their order until once again, her voice boomed out from the center of the alley, "Bab el shaka etaafal aalina, ana delwaati halim el order" (The front door of the house is now closed and now I will start taking your orders). With a huge notebook at the ready, she began marching with determination from table to table, taking everyone's order. At each table, she would make one of the customers get up so she can sit in their place and then scribble aggressively the customers order "Four kebda, two sogok, one french fry tagine". Sometimes, she'd jokingly yell at customers who didn't have their order ready, telling them she will come back again so they need to know what they'll order. She repeated this lengthy process all by herself, no waitstaff on hand, for a total of 11 tables.
Next to our table was one regular customer who has been hitting up Mama Dahab's cart for three years now, Mahmood Habour. He understands Mama Dahab in a way not any other customer would have, telling us not to take her seriously as each time she raises her voice, widens her eyes or arches her eyebrows, its merely how she expresses the strict motherly persona she is known and loved for.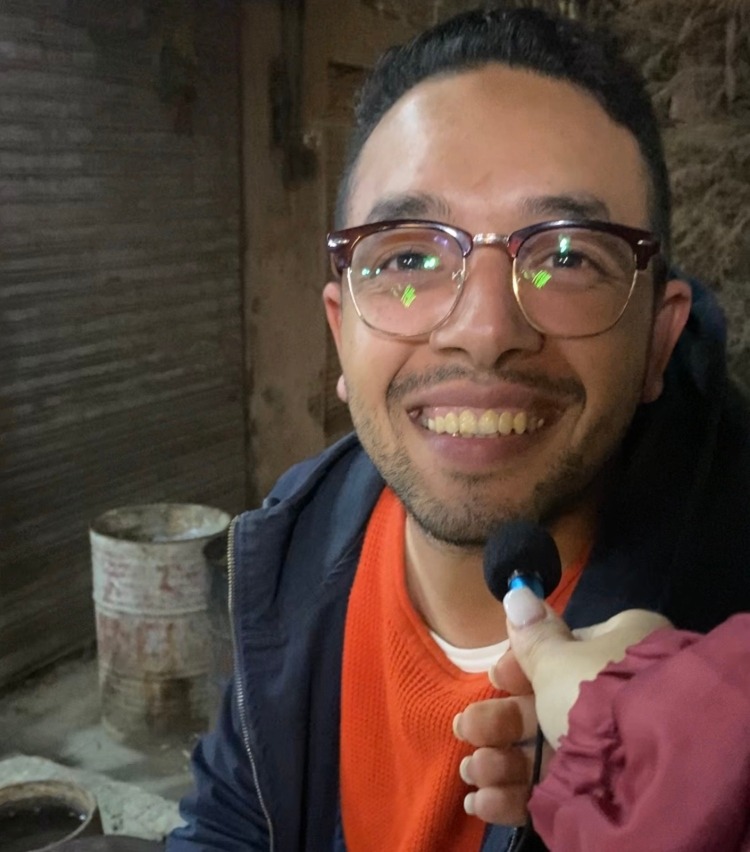 Back again at her station, she finally started to prep the sandwiches for all the tables. Distractions ensued as several customers headed to Mama Dahab to snap a photo with her. Others tried to ruffle her feathers and tell her they are hungry knowing she would jokingly reprimand them and hysterically flail her arms all over the place. She sometimes asked people to come help her prep, explicitly requesting someone who is thin so they'd fit into the meagre space that houses her cart. There was even one moment when one of us tried to see what's taking so long with the food and on arriving at the cart, they found a giant piece of liver and a hefty dose of fries shoved in their mouth by the very own Mama Dahab. It was a constant stream of comedic situations that kept us on our feet and distracted us from the endless wait we had to endure for the food to arrive.
After spending more than an hour since we made our order, the food finally arrived. Thirteen liver sandwiches, eight sausage sandwiches and two chicken pane sandwiches, a literal tower of food arrived at our table. At that significant moment of truth, we were all met with a unanimous feeling of disappointment. Not only was the liver extremely dry with barely any flavor, the sausage sandwich turned out to be more of a sausage puree, a texture that surprised and annoyed many of us. The only upside was that the food was decently priced with the liver sandwiches costing 12 EGP while the sausage and chicken pane sandwiches costing 15 EGP.
Ending the night, barely able to breathe from all the food, we knew that it was an experience that we will probably never forget. The next time we'll crave sausage or liver sandwiches, we'll probably not hit up Mama Dahab's cart but we definitely would love to visit her again if we ever crave a good laugh as her spirit and her entire brand is quite refreshing. For many others, Mama Dahab's humble abode may not be on the top of their go-to list as her humor is not for everyone but at least she is attempting to shake up the food business and showcase other ways to dine out in Cairo.