I always said that when I had kids I would make sure to celebrate Ramadan and Eid the way we celebrate Halloween and Christmas. I want them to truly love their religion and culture. Sounds great right? Great maybe… but not so easy.
Christmas is about gifts and a jolly old man. Halloween you get to dress up and eat enough candy to make you sick. It's kind of hard to compete.
But I will! So here's my plan…
Since L Boogie and Z Money are stuck at home with me I will pull out my secret weapon… Crayons! Kids love coloring and can do it for hours with the right kind of setup. First you can go to Crayola and print out a few Ramadan coloring sheets. Get each kid a juice box, turn on some nice music and that's all you need.
Also, if you go to one of those big stationary stores, you can get a big roll of paper that's perfect for long coloring sessions. Arts and crafts are my forte… I taught first grade for 3 years and I am a guru when it comes to construction paper and safety scissors. You can make a fanoos*! You can even make ten and line them up on a paper chain and use them to decorate your home.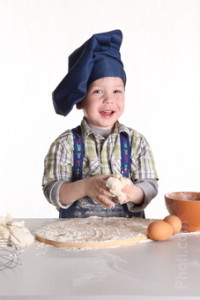 Samboosek is also a super fun activity for kids. Mash up some cream cheese in a bowl and cut the pastry into squares. Kids can just fold the pastry in half to make little triangles. Then use a fork to seal the ends and make a cool design. I do recommend you bake these in the oven rather than fry them since the pastry will be so thin.
Make dinner a big deal. Rather than slouching over your meal in front of the TV, get dressed up! Think Downton Abbey. Have the kids get dressed up. Set the table nicely with candles and fawanees and really enjoy each other's company. Kids will love showing off their cooking skills too during dinnertime. Make sure to give them plenty of praise for their culinary contributions.
If you're planning on delaying bedtime a bit to get a later morning you can always watch the moon! Have kids check out the changing moon and they can keep track of the days of Ramadan. The fuller the moon, the closer we are to the middle of Ramadan, then let them watch as it slowly slowly disappears by Eid.
Ramadan is also the month of giving. Teach your kids the importance of generosity and looking after their fellow humans. This is the best time to go through old toys and clothes and see what they can give away. Teach them about the less fortunate and how we have to help each other out.
It's not all about parking your kids in front of the TV! There are tons of activities you can find for them to do that don't involve you running around. Just google Ramadan activities and you'll find everything you could possibly need!