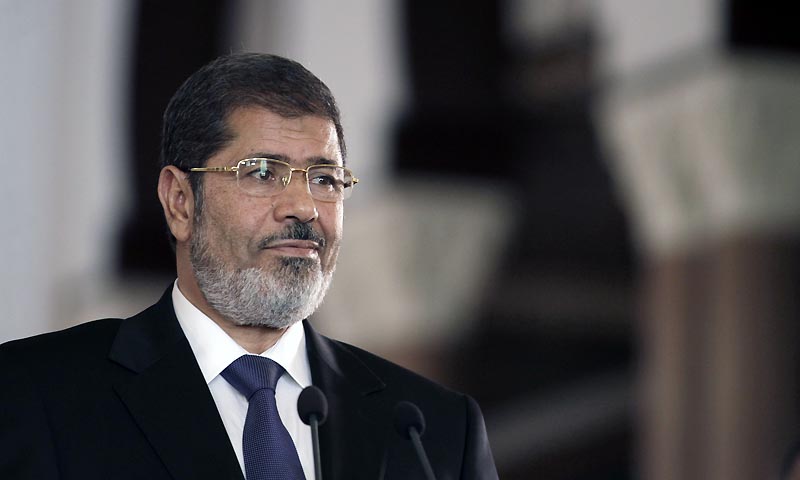 The first court session of Morsy's trial has started on Monday at the Police Academy in Cairo. Egypt's former president, Mohamed Morsy, has been accused of detaining and torturing 54 protesters near the Presidential Palace in Dec. 2012.
Morsy, who has been held in a secret location since his ousting on Jul. 3, was flown by helicopter to the court where the trial was held. Armored vehicles brought in the remaining 14 defendants, all members of the Muslim Brotherhood, during curfew hours.
Tight security measures have been visible since the start of the day with Tahrir Square closed off to pedestrians and traffic and the roads to the Police Academy sealed off except for people carrying permits to attend the trial.
The trial will not be broadcasted live on air and photographers and journalists will not be allowed to attend. The atmosphere outside the court was hostile for medi, and several journalists were attacked by Morsi supporters.
According to state TV, judge Ahmed Sabry Youssef,has decided to adjourn proceedings because of defendants' chants and Morsy's decision of Morsi not to wear the standard white prison uniform.
According to Al Arabiya, Morsy yelled at the judge: "I am the legitimate president of the country, I demand the head of court to allow me to resume my powers."
Morsy is the second president of Egypt to be tried since the revolution in Jan. 2011. The charges Mohamed Morsy faces could lead to a death sentence or life imprisonment.
WE SAID THIS: Check out our factsheet on Mohamed Morsy.