Mexico Have Reached a Compensation Deal for the Victims of 2015 Egypt Bombing
Egyptian police personnel stand guard outside Dar Al Fouad Hospital, where injured tourists who were mistakenly targeted in a military operation "chasing terrorist elements" are recovering, in Cairo, Egypt, in this file September 14, 2015 photo. REUTERS/Mohamed Abd El Ghany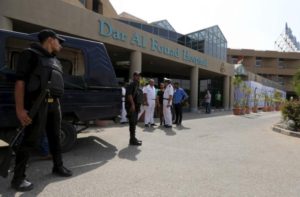 The Mexican government announced that they finally landed on a financial compensation agreement with Egyptian Travel Agents Association (ETAA) for the Mexicans who lost their loved ones and others who were injured in the incident that happened in Egypt's Western Desert last year.
None of the officials stated any details of the agreement. It was sealed before Eid el-Adha celebrations and was planned for implementation after the Eid break.
Exactly one year ago, on September 2015, 8 Mexican citizens and 4 Egyptians were killed, as well as 6 other Mexicans were wounded after an Egyptian army aircraft fired on a group of visitors parked for a barbecue on their way to the Bahariya oasis, thinking they were terrorist militants. The Egyptian authorities, in defense of its army, said that the tourists had entered a restricted area and were "mistakenly" killed as security forces chased jihadists.
Ahmed Ibrahim, treasurer of the ETAA, told AFP at the time that the group agreed to compensate them after an investigation found that the travel agency looking after the tourists was responsible for their deaths for not informing the authorities of their visit.
Moreover, a memorial is planned to be built in remembrance of the lost souls of both Mexicans and Egyptians. The ministry did not indicate where the memorial would be built but it said that Egyptian authorities agreed to erect it "as one of the measures for reparations."
WE SAID THIS: May their souls rest in peace.