Dubbed a "prodigy" by Forbes in their recent "30 Most Promising Young Entrepreneurs in Africa" article, Mazen Helmy is no doubt a figure to watch. The business magazine wrote:
"27 year-old Mazen Helmy is the founder of The District, one of the first co-working spaces in Egypt and one of the few in the region. The District provides an inspiring workspace (sitting on a total area of almost 1000 square meters) for entrepreneurs and freelancers. Helmy founded the company in 2011."
But these three simple lines don't do The District or Helmy justice. Sure, he was the first to make the co-working concept work in Egypt. Sure, it's grown into a thriving community hub of dreamers, doers, innovators and collaborators. But what really sets Helmy apart – what really sets any promising entrepreneur apart from the seemingly endless pool of hungry and hardworking startup owners – is his vision.
Ask him what his next big project is, and he has to pause just to collect his thoughts because he's got so many up his sleeve, from an underground cinema to expanding the idea of The District to other geographical locations. And no, not just to the other side of Cairo and not even necessarily in the Middle East – maybe, he says – but where he really wants to go is south, to central Africa.
But his "ultimate, ultimate goal"? That buzzword: that vision?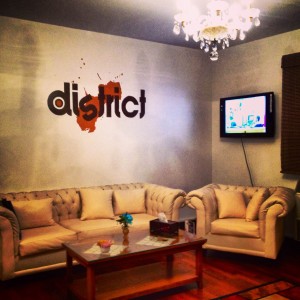 "Hopefully in ten years, we'll be working with changing villages and cities. This is the idea – it's not just about workspace, it's a lifestyle. So how can you apply this – building a community? Actually, it's the same, whether it's a five-member family up to a whole country."
This young Egyptian wants to change the world.
But who doesn't, right? Of course successful enterprises aren't built only on passion and an inspiring idea, although these qualities did spur Helmy to sign the contract on The District property before he even had the money.
By his own account, it took the last three years of trial and error, tweaks and adjustment to shepherd The District into what it is today. One of his biggest miscalculations, he told me, was expecting to work hard for just six months to kick start the project and then withdraw to the beach. "It doesn't work that way," he laughs.
"It really took us three years to understand, actually, what we're calling 'our DNA' – what makes us different from others. And it's not about the furniture, it's about the experience that we are delivering," he said.
Helmy makes a distinction between a "space" and a mere physical place: "A space consists of the furniture, the people, the spirit and the whole environment. So for us, The District is a space where your productivity, inspiration and your social life intersect together," he said.
"We really care about every small detail in the space – it affects how people are living and it affects their experience… It can be the blackboard or the clock or having flowers or chocolate or the type of coffee that we are offering," Helmy explained.
Co-working is a relatively new concept even internationally and, by its nature, there is no single formula for how to do it.
"It has to be a horizontal community," Helmy said, a "platform, this foundation where people are interacting together and shaping it."
"It's demand-driven, that's what people want. Once we start imposing on the community what we think should be right for them, 5alas, you are ruining everything."
"We decided, for example, this room will be 'The Bubble', the calm room. And then we figured out that this is not what they want. When we asked them, 'Does it bother you if other people are talking?' They said, 'No, we want it like this!' 5alas, it's not the calm room anymore. It's really just what you want it to be," he continued.
By this standard, ideally, The District will never stop evolving. Especially because co-working is not just about interior design.
"For me, it's really a lifestyle… You are taking it with you after you leave… So this is more or less how you are living, like I'm trusting you, you are trusting people, you are open to share," Helmy explained.
"Just seeing how the community is growing and interacting, that's really amazing and fascinating," he said. "Every day there is new activities… and all these things bring, for us, newcomers, new members to the community. It's new blood. It brings a dynamic experience."
"We don't have criteria. We figured out that the concept itself does selection. So people come here, we take them on a tour, we introduce them to the concept and the people here – and if they fit, they fit," he continued. "If not, 5alas it's not his place."
Ultimately, Helmy – who has a background in professional swimming (he was part of the national team), engineering (he worked on conventional construction projects in a conventional office that he hated) and development (he started an NGO that, among other things, worked to raise awareness about HIV/AIDS and was eventually shut down for its efforts) – wants to take the core ideas of The District and apply them beyond co-working spaces.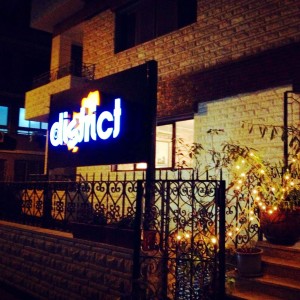 "Take, for example, a neighborhood like Zamalek, or any neighborhood, like Boulaq. We need to change the perception and how people see their surrounding and how they're interacting with it… How you are setting up the streets and the public areas, the service areas," Helmy said.
"You can wake up to two people fighting in the streets – this is a small detail that can affect your mood and your spirit and you are interacting with other people so it affects other people's lives," he explained.
"And you can wake up in the morning with a very beautiful flower in front of your face or your spouse or whoever. These small details, if you're really considering them when you're designing your daily experience, they can create a really positive impact on everything."
Beyond thoughtful urban planning, Helmy also aims to propagate the spirit of The District: a decentralized community bound by trust, accessibility and people coming together for a greater goal.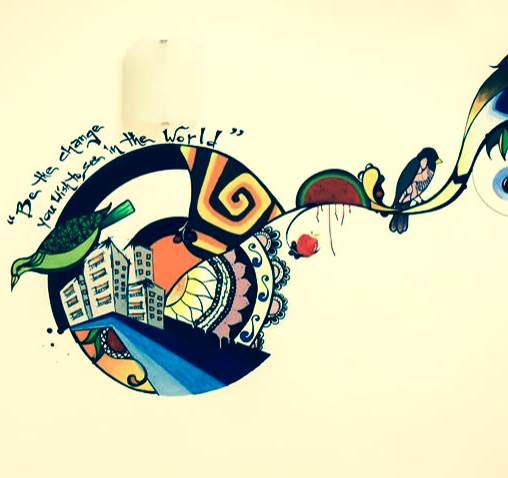 "We started with our small community inside The District. But then we figured out, it doesn't work like this, we are working with other people, with the neighbor, with the landlord, with the guy who's helping you park your car, with other companies together, or the ballet school – all these elements are part of our ecosystem and we have to work together," Helmy said.
"Because if you look at our revolution, 2011, people came together around shared interests, but they were together around deficiencies. 'I'm having this thing that I'm missing and I want you to compliment it'," he explained. "Then 5alas, once the problem is gone, they're not around each other again… that's the mistake."
"The other way – and this is the way we are trying to build this – we are building our community based on talents, so you are coming or you are joining this community because you have something to add and something to share with the rest," Helmy continued. "And then you are working together and shaping it and living in peace, justice and fairness. Otherwise, it will never work. It will never be sustainable."
WE SAID THIS: Check out The District on Facebook at https://www.facebook.com/DistrictEgypt.