By Nada Hamouda
Have you ever thought about time traveling to an era when people used to go to a 20th-century tavern for entertainment? Well, every Wednesday from 8 PM to 10 PM at the Egyptian Center for Culture and Arts-Makan, Mazaher band would take you way back to a time of Zar music in the medieval era of Egypt.
Mazaher plays Zar; which is a community healing ritual of drumming and dancing that's mostly carried on by women. Mazaher's music is inspired by three styles of Zar music; Abul Gheit Zar, the Upper Egyptian Zar, and the Sudanese or African Zar.
The band has performed in several countries worldwide such as Germany, Belgium, Spain, France and so many more. "In the Arab world, we've traveled to Lebanon, Tunisia, and Morocco. the concert in Morocco was one of my favorites as Morocco is actually one of the leading communities in terms of Zar music," Umm Sameh, the lead singer of Mazaher ensemble, said to Scoop Empire.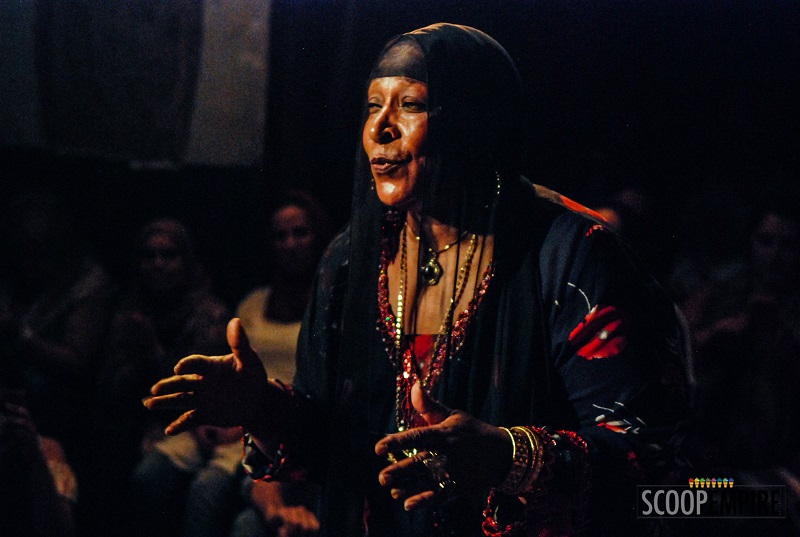 Mazaher's magical performance is polyrhythmic as it's played on Drums and Mangour. However, the show has three main sub-shows; it begins with a group performance. Then, one of the women performs a call and response singing. With hip-shaking, one performer uses a belt of goat hooves. As the show begins with enthusiastic vibes, it also ends with the magical tunes of the flute.
The performance is built on an intense contact with the audience from different nationalities sitting on pillows or vintage wooden chairs. The oldie stereo machine in the background, the colorful rugs on the floor, and the tea glasses used in the break time are just the best combination for the whole experience there.
Mazaher was founded by Makan owner Ahmed El-Maghraby in 1999. Makan, located in Saad Zaghloul street in Cairo, focuses on music from different minority cultures. "We're not just a platform for bands to perform on but we're also trying to organize workshops for different types of arts," Ahmed, one of the coordinators in Makan, said.
The band includes members from different governorates in Upper Egypt. "Zar music is something we inherited from our parents and grandparents. We're raised with these musical tunes in our system and we've learned it by practice," Umm Sameh, explained.
Photo credits: Aly Hegazy
WE SAID THIS: Only with art, we can actually save our cultural heritage!