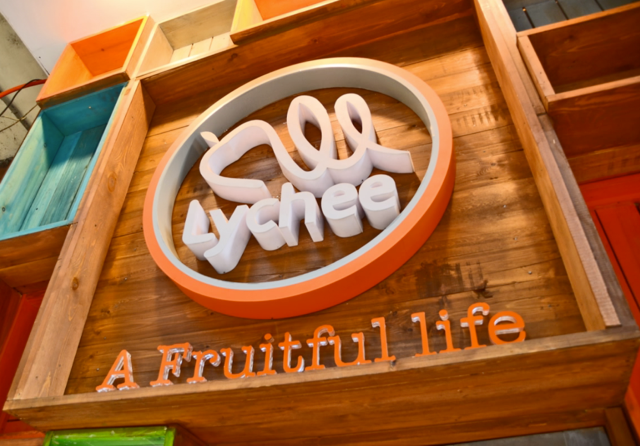 With the daily openings of new food outlets all over Cairo there is a new trend of 'healthy living' that is starting too take over. With new salad bars popping up along side the many other boutique restaurants that give you a quick bite of heaven and then send you on your way. One thing that has been lacking is the simplistic concept of a one stop shop for a quick smoothie, juice or a fresh fruit platters without feeling the need to pass by the nearest grocer and go through all the hassle that comes with.
A new hub for just that has opened it's doors in Zamalek's Brazil St. Located across from Mobinil & Nola. You are first introduced to the brand through an eclectic sign full of color and life hit with the slogan "Lychee" "A Fruitful Life". The venue inside only stresses the feeling of excitement you had with your initial curiosity when passing by. Lit with yellow lighting, high ceilings, a set of iPads on the left wall there for you to scroll through the menu, make your own smoothie or simply make your order. With the right side hosting a large wooden table and fresh fruit baskets laid in colorful blocks.
In simple words it's pretty!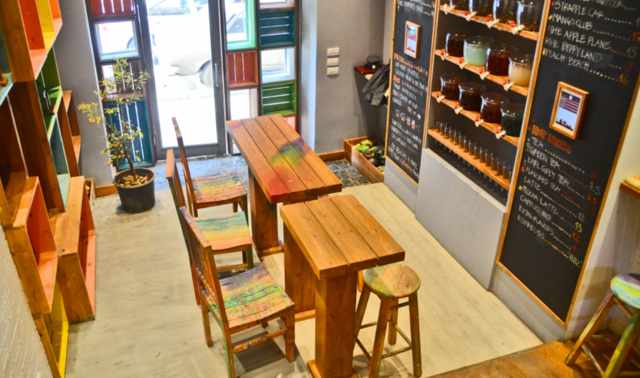 The menu is written up on tall black boards, with miniature pictures associating the 'smoothie' or juice to the mentioned fruit. We loved that the furniture is set with splattered paint on raw wood which seems to seal the deal of funk and innovation. Although a simplistic technique the venue gives you the fresh and alive feel you need.
The menu gives you an array of different choices of Smoothies, Juices and Hot drinks. Having said that we only had the opportunity to experiment with three different smoothies choosing the The Berryland for 17 L.E, Peach Beach 16 L.E & The Apple Kiwi Book 14 L.E.
Starting off with the berry concoction that is The Berryland, the mix works for all those looking for something sweeter being a mix of blueberry, raspberry, cranberry's, strawberry's, banana and yoghurt. Extensive but definitely worth a try this was our favorite of the bunch.
Moving on to something a little more bitter The Apple Kiwi Book gives the overbearing taste of fresh apple juice leaving you with the finale taste of kiwi. A very straight forward drink but as I said a little more on the bitter/sour side due to the residue of kiwi present in the drink.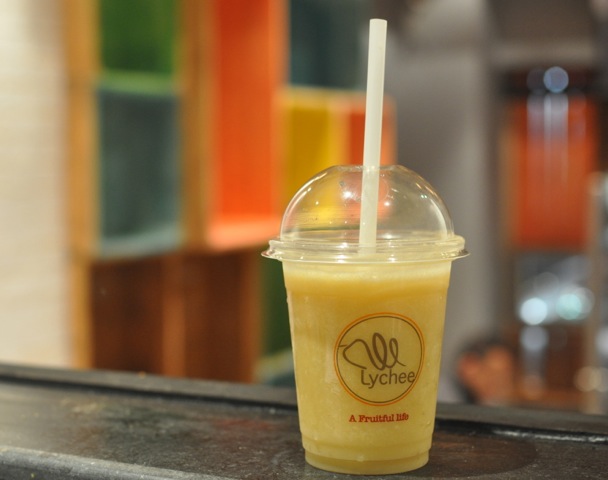 The Peach Beach, gives you the distinguished taste of peach with a more subtle touch of pineapple juice to break the flavor. A mix of both something sweet and sour, I recommend this for anyone who truly is a lover of peach drinks and something a littler heavier and filling.
All drinks are served in plastic, quick to go branded cup's with cardboard sleeves to help with the freeze factor. Overall a very pleasurable experience, I loved the venue, concept and execution.
We applaud Lychee for thinking out of the box and taking a risk, now to see how many new juice bars will 'all of a sudden' stem out from this one.
Check their FB Page for more information on location and expansion plans. For now you can find them at 5 El Brazil Street, Zamalek.