By Mariam Nowar
Nabil "TIBA" Samy, 23, settles down opposite to me at a burger joint before a waiter passes by to take our orders. We both ask for burgers and fries, but before the food arrives, TIBA is already playing his yet-to-be-released track Gahez Lel Beef that echoes from his phone in anticipation for what's coming next. "We have really great producers here in Egypt, and as they get better, the need for good rapping has lessened and rappers are getting lazier," he says as the track reaches its final verse. "Gahez Lel Beef is not released to pick a fight with anyone; I'm actually quite a peaceful person, but I just want to challenge those in the rap scene to step up their game."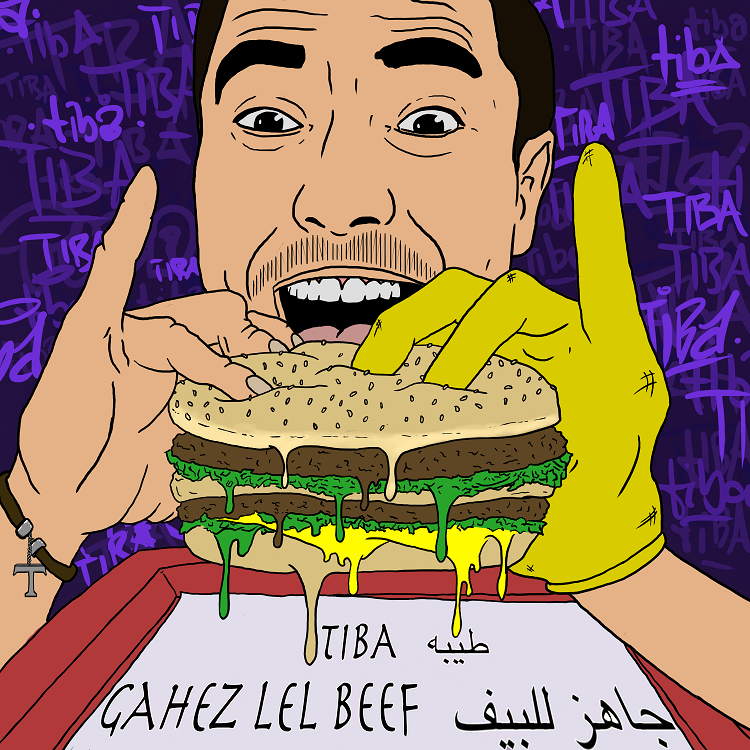 Taken from his favourite rapper Earl Sweatshirt's real name, Samy chose to go by TIBA in order to pay homage to ancient Egypt as well as his personal idol. "I also want to kill them with kindness," he adds, since TIBA translates to "kind" in Arabic, it was the perfect match. TIBA hit it big with his debut track El Rap F Masr, which had been released earlier in August and had only ignited his venting frustration about the current local rap scene.
Listen to El Rap F Masr on TIBA's official Facebook page here.
El Rap F Masr allowed TIBA to flex his muscles on the mic and, considering he's one of the very few locals to rap on a lo-fi beat in two different languages, he delves into how he would never sacrifice quality over exposure or extra cash. "I want Egypt to have its own rap direction that can be recognizable amidst hundreds of different styles that exist across the globe. I want listeners, locally and internationally, to be able to relate to the music even if there's a foreign language involved."
Despite being told that he doesn't look like a rapper, TIBA believes he represents authenticity in his own way. He aims to create unique fresh sounds that will allow him to remain true to his message. When it comes to inspiration, TIBA has huge respect for Jay-Z and Nas, who both have the total package in his eyes "Their personalities, subject matter, charisma and technical abilities are on point. I also really respect a local rapper called Hesham Raptor, who is able to bring something new to the table in Alexandrian dialect – something I hadn't heard anybody else do before."
TIBA also has utmost respect for Gondi, whom he considers a hit machine and an incredible producer. "Everything he touches turns into gold! People should keep an eye out for him and another rapper called Ali Emara, who doesn't waste a single bar on meaningless topics."
With most Arabic rap tracks, random bars may rhyme flawlessly, but you aren't entirely aware what the track was about by the end of it. "This is an issue that doesn't just occur in the local scene but worldwide. With my tracks, the topics are clear and relatable even when I switch from one language to the other, it's the same energy and same personality."
TIBA explains that there's lack of purpose in Egypt and rappers are constantly copying whatever is mainstream. Although he's still figuring himself out with every track, TIBA hopes to bring originality and meaningful messages back in style, which brings us to his latest meaty score, Gahez Lel Beef, that he just dropped on the 27th of August.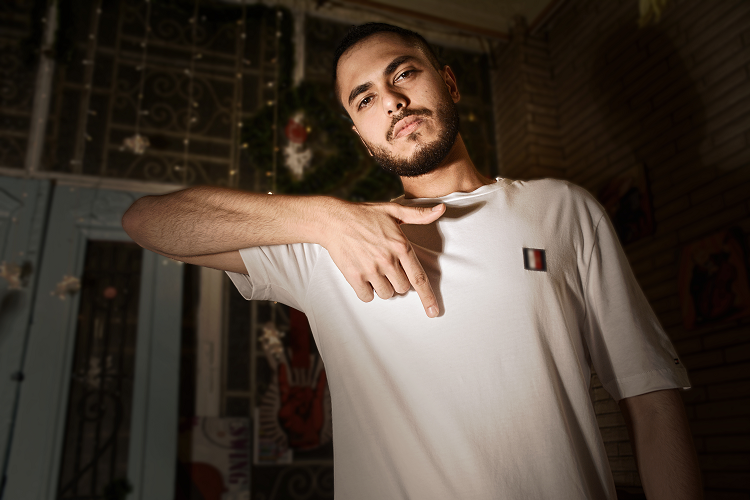 On the one hand, Eminem's surprise album Kamikaze featured plenty of disses of everyone in the music scene, but they were aimed towards those who didn't like the new album. TIBA explains that Em's approach is very different from what he is attempting with Gahez Lel Beef.
On the other hand, "I don't think Gahez Lel Beef is on the same level as Kendrick Lamar's Control verse, but our direction is very similar because Lamar had literally called out everyone in his field because they needed a wakeup call," he adds. "The lack of passion, blatant plagiarism and laziness in the local scene are apparent, and my tone in Gahez Lel Beef is aggressive to rub off rappers without personally attacking anyone. I just want to pinch them – musically, of course."
In Gahez Lel Beef, TIBA goes for the big dog, the "king" of the local rap scene, Youssef "Abyusif" Altay. The track opens up with a phone call, which can be interpreted as the wakeup call Abyusif's been waiting for. As for the actual diss, it shows up around the middle of the track, where TIBA says goodbye to Abyusif because "time is running out and people are getting distracted" from Abyusif's humorous gimmicks.
"I stumbled upon a video of Abyusif that was posted a year ago and he was talking about all the listeners who weren't happy with his new music. He was saying 'kollo barseem w esma'o wento sakteen' which means eat greens and listen to the music silently," and that's why TIBA felt that Abyusif is almost too comfortable at the top and needed to know his throne was in jeopardy. "Instead of giving effort to master his craft and bring it on, Abyusif has hunger for approval from the mainstream audience instead. He needs to know if he doesn't stop being complacent, someone will eventually rise to steal his spot."
Listen to Gahez Lel Beef on Facebook here.
Eh tany? Ah, Youssef Altay
Mesh hab'a ghaltan lama a'olak bye bye
Leeh? Enta gamed, okay
Bas el wa't beyentehy, el kol beyetlehy, ah
Wana el gedid, Tiba haygeeb el fans fel kees
El fans hatzeed da mesh tahdeed
Da bas talkeek ankoshak a'olak eni geet
TIBA isn't threatening Abyusif but is rather warning him about the repercussions of his careless misdemeanour. "The track isn't necessarily directed at Abyusif, but at most, arbitrary rappers. I didn't have someone specific in mind, but I thought if I should come at someone, I should aim for the king."
Name a local who can do both
I carry rap on my shoulders when it needs me the most
It's so easy to boast
Like I got you on toast
But I back it up so back it up
And leave through the door
TIBA banks on the fact that he delivers both Arabic and English rap verses in equal quality of flow and rhythm. He asks people to name rappers who can rap in both languages well, "I'm pretty sure there are many that I'm not aware of but it's pretty apparent that one is always better than the other. Prove me wrong!"
The reactions TIBA receives are always different and his audiences have learned to not expect a certain sound because his diversity keeps them on their toes. "I wasn't even thinking about whether or not Abyusif will respond, but I want him to hear it and feel something – regardless of whether he responds or not," he says. "There is a message there that he needs to hear and maybe he's surrounded by yes-men all around. If he does respond, I'm game, but if he doesn't, at least it can strike a nerve."
TIBA is giving Scoop Empire the scoop by sharing that he is currently working on a music video that should be out soon and will carry a different sound from anything he's ever released before. He also has a feature coming up with Gondi that he thinks will shake the scene up, along with many other things he can't talk about just yet.
UPDATE: Abyusif's representatives could not be reached for comment. Is there a diss track in the making from Abyusif's side? Stay tuned for the full scoop!
WE SAID THIS: Follow TIBA on Instagram for more killer rhymes!