Are you bored with the monotonous routine of traditional hotel stays? Seeking a transformative retreat that seamlessly blends luxury, fitness, and well-being? Renowned developer People & Places has partnered up with fitness powerhouse LA7 to create a new progressive concept; the Middle East's first fitness hotel. Nestled within the developer's esteemed coastal community, the LA7 Hotel is currently underway in its construction phase at Ras El Hekma is poised to make its grand debut by 2024. The momentous signing ceremony, attended by People & Places' Founders Karim Al Assal, Mohamed Al Assal, Nabil Amasha, along with LA7's Founder Omar El Ghazaly, marks the exciting new beginning of this unique project, where individuals can embark on a transformative journey towards mental and physical well-being.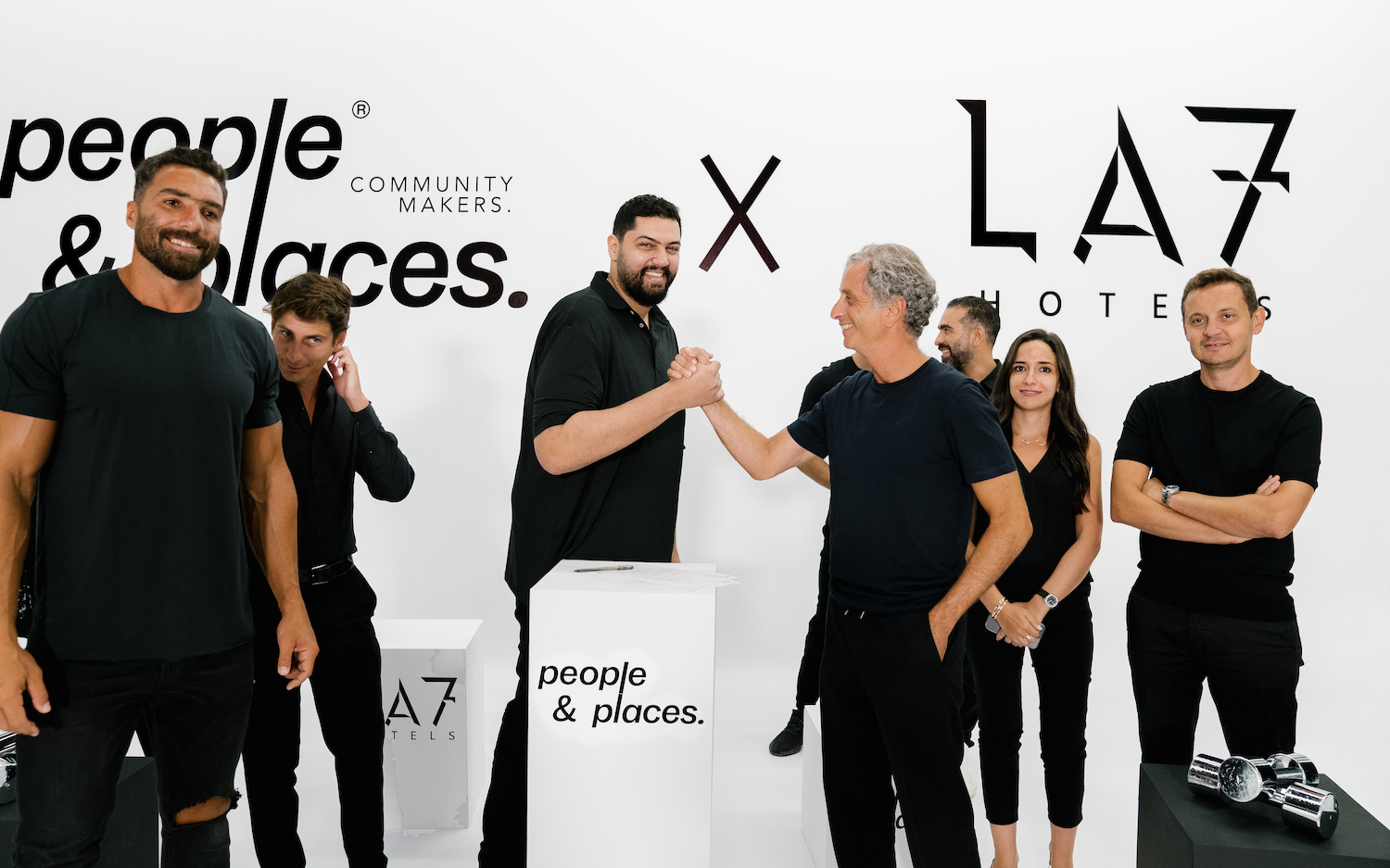 With its powerful presence in five different locations across Cairo and the North Coast, LA7 has earned an esteemed reputation in the fitness world for its original training techniques, professional team, and ability to cater to high-end fitness needs. By joining forces with People & Places, they bring an unparalleled level of expertise and value to The Med community. Co-Founder of People & Places, Karim Al Assal, shared his feelings on the cooperation, stating, "we are thrilled about our partnership with LA7, and being able to expand our international-level hospitality portfolio on Egyptian land. This project represents an extension of LA7 and People & Places' shared philosophy, prioritizing people and providing a haven for individuals seeking mental and physical wellbeing."
Envisioned as an extravagant wellness sanctuary, you'll be entranced by the architectural elegance and the soothing earthy ambiance the hotel radiates, which sets the stage for a transformative chapter in your wellness journey. Every facet of your fitness and wellness desires is considered as you immerse yourself in an atmosphere that invites personal growth and transformation. The hotel caters to every accommodation, level and aspiration, elevating your fitness and wellness experience to a whole new level of satisfaction. 
Prepare to be dazzled by an array of versatile programs, including transformational camps, detox plans, yoga and meditation retreats, and dynamic dance programs. But that's only the beginning of the extended fitness galore it offers. Indulge your senses in a holistic pool experience that invigorates both body and mind, partake in life coaching sessions that empower and inspire, and Immerse yourself in the art of culinary mastery through cooking school camps.
The hotel also offers an outdoor sauna where you can relax and unwind, and nourishing, tailor-made nutrition programs. And for those in need of specialized care, the hotel provides comprehensive rehabilitation and post-operative recovery programs. As if that wasn't enough, the hotel plans to provide indoor and outdoor gyms, a fully decked spa, and specialty restaurants that focus mainly on healthy and nutritional dishes.
Omar El Ghazaly, CEO and Founder of LA7, expresses his enthusiasm for the partnership, stating, "partnering with People & Places to launch the first wellness lifestyle hotel in the Middle East is a great pleasure. Our visions align perfectly, and I am incredibly optimistic about this collaboration. LA7 Hotel will be the first of its kind, offering detox and wellness retreats, life coaching, fitness and transformation camps, dancing and cooking camps, and much more, all under one roof." In addition, Co-Founder of People & Places, Nabil Amasha emphasizes their commitment to the living experience of residents and highlights LA7's integral role in designing and managing the sports areas at The Med, providing fitness and wellness activities for the whole family.
LA7 Hotel goes above and beyond the ordinary to redefine wellness and provide its guests, who are an extension of the LA7 Hotel family, with a complete, customized wellness experience. Beyond the realm of fitness enthusiasts, the hotel warmly embraces children, individuals on the road to recovery, those seeking motivation, and those grappling with mental health concerns or unhealthy eating habits. At LA7 hotel, guests can immerse themselves in a tranquil, enriching experience that surpasses any limitations, allowing them to fulfill their ultimate wellness aspirations.
WE SAID THIS: Don't Miss…Picturesque Hotels With Stunning Scenery For The Perfect Getaway