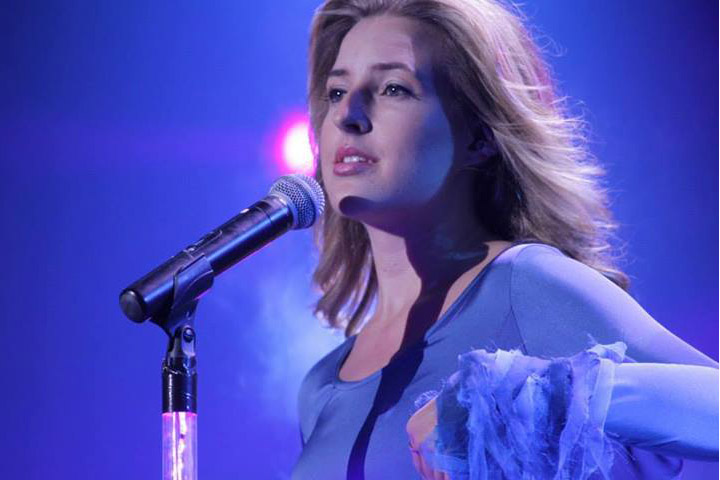 Jennifer Grout is changing the face of Arabic music. This all-American girl has become the buzz of this season's Arabs Got Talent.
The 23-year old star has become a favorite contestant, but her heritage has no doubt raised controversy.
"You don't speak a word of Arabic, yet you sing better than some Arab singers," said Lebanese judge Najwa Karam.
For her audition, Grout played the oud and sang a song by the most revered artist in Egypt, Umm Kulthoum – a choice many Arab singers feel too intimidated to make – and nailed it, stunning the judges and audience.
"We have for so long imitated the West, but this the first time that a person who has no link whatsoever to the Arab world – an American girl who doesn't speak Arabic – sings Arabic songs," Karam said.
Grout is from Cambridge, Mass. in the U.S. and attended McGill University in Montreal, Canada. She comes from a muscial family and has been studying music since she was five years old. Her first brush with Arabic music came in 2010, when she learned about Fairouz and immediately "fell in love with [her voice]".
Since then, she's been studying classical Arabic music and learned how to play the oud. After graduation, she moved to Marrakesh, Morocco.
"So many times I've heard the comment "It's 'Arabs Got Talent', go back to America.'" Grout said.
While she's gotten quite a bit of criticism for her appearance on the show – some accuse her of cultural appropriation and others dismiss her as a mere "novelty" – truth is, the girl's got talent.
"She can reproduce the microtones that are so important to Arab music," Simon Shaheen, a Palestinian professor at the renowned Berklee School of Music in Boston told the New York Times. "The other critical element of Arab music involves ornamentation, to enrich the sound. She does this, and she reproduces the Arabic words, including the vowels, very nicely."
The debate over "an American (possibly) winning Arabs Got Talent" draws parallels to the uproar over Nina Davuluri's Miss America win this year, when audiences questioned the "appropriateness" of a woman of South Asian heritage (the more ignorant folk chattered about her being "Arab") taking the crown.
Americans have also competed in Britain's Got Talent, a wide array of nationalities have performed on America's Got Talent and contestants from different countries have competed on Arabs Got Talent as well.
"I decided to go on Arabs Got Talent not to spark some movement, but simply because I wanted to perform for an audience that appreciates what I do. And that's it," Grout explained.
She's no stranger to Arab audiences – in fact, that's who she's mostly performed for since picking up the art. A Syrian restaurant in Cambridge, the trains on Paris's metro lines commonly used by Arabs, Marrakesh's Jemaa el Fna square famed for its musicians – these are the venues where blonde, blue-eyed Grout has found responsive and enthusiastic listeners.
And now she's competing in the finals of Arabs Got Talent.
"I'm really happy because this music is so special for me, but it doesn't really get much acknowledgment in the West," she said. "And I feel like I'm bringing a new audience and almost giving the music the justice it deserves."
So, should Jennifer Grout, an American, win Arabs Got Talent? Well, that's for the audience to decide. If she does take the contest, at least it will be with the support of the region's voters.
WE SAID THIS: Don't miss the finals this Saturday in Beirut, which will be broadcast live on MBC.