NBA fans have already familiarized themselves with the rumor of 23-year-old Deandre Ayton leaving the Phoenix Suns. Well, the news is true. The Phoenix Suns' are reluctant to extend Deandre's 2018 maximum rookie contract. Even though the negotiations have been stalled, the Phoenix Suns have not shown any interest in an extension.
Ayton shouldn't accept an NBA deal that offers less than the comparable max contracts signed by his fellow 2018 NBA draft classmates, including Denver's Michael Porter Jr., Atlanta's Trae Young, Oklahoma City's Shai Gilgeous Alexander, and Dallas' Luka Doncic.
Before we find out more about Deandre Ayton top-five NBA centers and his future in the NBA league, we have exciting news for Arizona's Phoenix Suns fans! If you want to place bets on your home team, now you can do so by accessing online sports betting in Arizona!
Deandre Ayton NBA Stats
Height: 6'11
Weight: 250 pounds
Age: 23 years-old
In his early 20s, Deandre Ayton was one of the most promising players of the 2018 NBA Draft Class. He was the No. 1 pick for Arizona Phoenix Suns after graduating from the NBA Draft Class. Since then, Deandre has played in 69 of the Pheonix Suns' 72 regular games. He has had high-career percentages from the field and free-throw line in each of the games.
Besides, Ayton has averaged 14.4 points, 10.5 rebounds, and 1.2 blocks in 30.7 minutes per game. He showed up big time in the magical play runoff and made 65.8 percent of his shots and 15.8 points and 11.8 rebounds per outing.
He has an unbelievable record of 79.6 percent from the field in the first round. He even started the playoffs by averaging 21.7 points and 12.3 boards in his first few matches.
Many a time in the last three years, Deandre Ayton or "Dominayton" was one of the best players on the court that features LeBron James, Carmelo Anthony, or even Anthony Davis.
There were times when fellow Phoenix Suns teammates Chris Paul and Devin Booker needed Deandre Ayton to step up his game postseasons, and Ayton didn't fail to deliver. During his career with Phoenix Suns, he has broken and set many records in his first run.
By now, the world is already ready to accept the truth – Deandre Ayton is one of the best centers in NBA league history.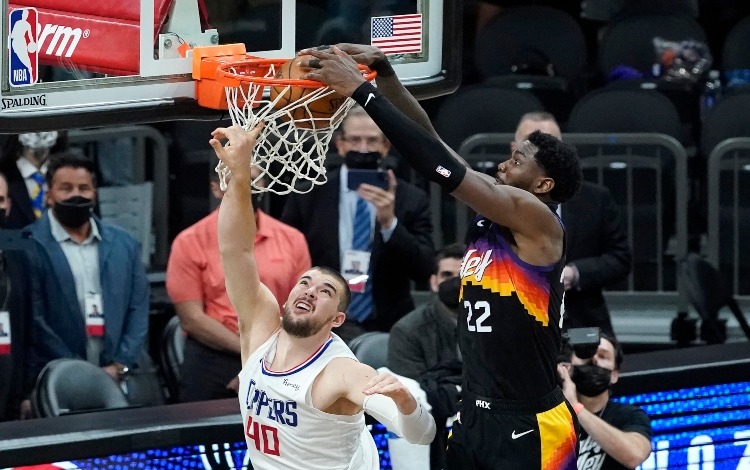 Deandre Ayton's strengths and weaknesses
In the NBA Finals 2021, Ayton has proved that he can be dominant on both ends of the court. His games have shown the least inconsistency in the past season compared to any player from the last few Draft Class. However, it cannot be undisputed that there is a lot of untapped potential in Ayton till now. As great as he was in the previous seasons, fans know that he can be better.
On offense in the last nine games of the season, Ayton has averaged 6.8 field goal attempts for 10.2 points and 9.4 rebounds. In his first three games of the season alone, he averaged 21.7 points.
On the glass, Ayton has had 26 games where he grabbed around 8 rebounds or less. Between January to February earlier this year, he averaged around 14.2 boards.
Again, as good as he is on the defense, Ayton can become much better. For instance, his shot-blocking does show a lot of potentials. There were a record 30 games where he didn't swat and about 29 games with two or more. He had about 7 blocks in the last three games of the finals.
It must be remembered that Deandre Ayton just turned 23 years-old, and he has his entire career ahead of him. Besides, he oozes talent. It's just that his potential hasn't been unleashed to the fullest extent yet. Once it is, he will be a beast on the court.
The addition of JaVale McGee to the team will assist and push Ayton to be one of the best players in the NBA.
Is Deandre Leaving The Phoenix Suns?
As we said at the beginning of this article, The Phoenix Suns have no intention of extending Deandre Ayton's maximum rookie contract. Even though Ayton was a vital part of the Phoenix Suns' run to the NBA Finals 2021, they don't want to renew the terms of his contract.
Ayton was seeking a max contract, which is typically a five-year deal that starts in the range of $172.5 million and amounts to $207 million with incentives. However, the Phoenix Suns were not in favor of this deal.
Deandre Ayton will remain in his previous contract until the 2021-22 season is over, but he will become a restricted free agent if a deal isn't reached before next summer or an October 18 deadline. This could potentially impact the Phoenix Suns' long-term relationship with Ayton. A major part of Ayton's development as a player is the mentorship and trust provided to him by coach Monty Williams in their two seasons together. This will be tested if Ayton decides to become an unrestricted free agent.
If Ayton doesn't agree to an extension in the coming season, the Phoenix Suns could try matching offers for the following offseason. On the other hand, Ayton can also pursue an unrestricted free agency in 2023 by signing a qualifying offer for $16.4 million. However, this would be a pretty risky proposition, which could not only leave $10s but $100s of millions on the table.
Technically, the Phoenix Suns should offer Deandre Ayton the qualifying amount if they want to match the contracts in unrestricted free agency.
In these circumstances, if the Phoenix Suns owner Robert Sarver doesn't come to an agreement with Ayton before the October 18 deadline, this will raise doubts over his commitment to his team.
Ayton has had a significant impact on the Suns' run to the NBA Finals. He was the primary defender against Anthony Davis in the six-game series. Therefore, the Suns need Ayton more than he needs them.
WE SAID THIS: What do you think of Deandre Ayton's decision?