As an AUCian who majored in TV journalism, Yara Hassan decided to take an unexpected ride into Egypt's media world, not knowing what to anticipate or where it would lead. She rolled up her sleeves and took on the first job that came her way: a position at a governmental TV channel.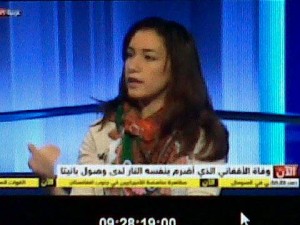 Not the least bit intimidated, Hassan decided to take the job as a reporter for El Beit Betak. This was followed by another opportunity at Sky News Arabia in Abu Dhabi and, before she knew it, everything started to fall into place.
She proved herself very quickly despite being stereotyped as "that girl from AUC" – or, in other words, a pampered brat who wouldn't be able to handle the rigors and pressure of the challenging, male-dominated media world.
Hassan proved everyone wrong and, bit-by-bit, rose to become one of the youngest producers in the field and – at 31 years old – one of the youngest female producers in Egypt. She also built her own production company, Fekr, from scratch and without partners – just her time, energy, passion, dedication and persistence.
With devotion and hard work, this production house has evolved and now has two hit programs airing: El Sem Fel 3assal on MBC Masr and Microphone on OSN and soon on MBC Masr as well.
Her journey serves as an example to all Egyptian young females, sending the message that if they put their mind into something, they will go places.
Hassan's biggest dream is to broaden Fekr into a media empire and expand its horizon. She has the passion, the guts and the knowledge for it, and we can't wait to sit back and watch her conquer the scene not only in Egypt, but in the entire Middle East with steady steps.
And to top it all off, Hassan is not only a TV producer, she is also a wife and mother. Balancing between her family and her work is remarkable, challenging and inspiring all together. It proves that family will never hold you back from what you want to pursue; on the contrary, with their support and tolerance, they can push you forward beyond even what you are aiming for.
"My family is my support system," she explained to us. "I couldn't have reached where I am today without their continuous support and belief in me. I'm very grateful and lucky."
WE SAID THIS: Don't miss 8 Egyptian Women Kicking Butt Abroad.