By Salma Khattab
A video was recorded and shared on social media recently, in which an Egyptian traveller, Hassan Salamah, was treated violently by Romanian security forces on board a plane about to depart Bucharest for Cairo.
An Egyptian family of three was on the plane when things took a dramatic turn as a brawl erupted between Salamah's wife, who had taken the seat next to the emergency door, and the hostess. The claim is that she put her handbag on the floor in front of her, which isn't allowed on all aircraft as the way to the emergency door must be kept clear at all times, and the hostess was instructing her to remove it.
However, this is not the case. The lady did not speak English, only French, so she did not understand what the hostess wanted to say to her about removing her handbag. She asked for a translator and they did not agree, saying that English is an international language that anyone should know.
Viorica Hagagg, who was on the same flight, recorded the incident and posted it on Facebook, along with a full account of what happened. It has since been removed yet you can still read the original post here and here. In her post, she said that on the plane, they understood that an altercation between security personnel and a passenger was due to the previously mentioned reason. She said: "later we found out that the reason for requesting the lady to leave the aircraft was not that she did not understand or did not want to follow the instructions related to the emergency exit rules but because she spat on one of the flight attendants (security)."
It developed into a violent confrontation as Romanian airport police got involved upon the captain's request. They started asking the lady for her passport which prompted her husband, Salamah, to leave his seat to understand what was happening.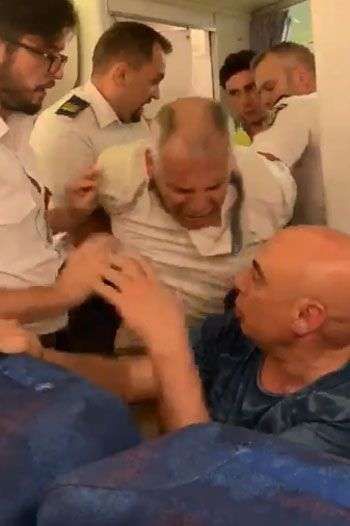 Unpleasant to watch, the video shows the security officers removing Salamah with a disproportionate use of force. Salamah, his wife, and their child were also forcibly dragged off the plane.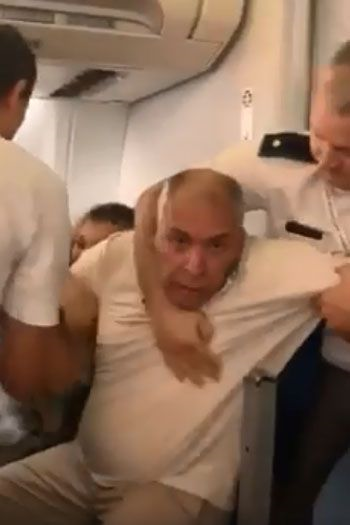 Obviously, these security measures were far from calming the situation down. Most of the other passengers reportedly stood with the family and refused to continue their flight. They all left the plane and the trip was cancelled.
Salamah was interviewed by Egyptian TV host Amr Adib, where he talked at length about the incident. He revealed that his wife has diabetes and she started to suffer symptoms as a result of the event. This was also mentioned by the witness, Hagagg, who said that the lady's health condition deteriorated rapidly over the course of the altercation.
WE SAID THIS: Leaving situations to security forces in such situations does not help.