It's already Halloween season, and we don't want to start planning for the costumes last minute…like every year! Since it's less than a month away, we'll help you pick the most brilliant costume ideas for lovebirds. Last year, me and my friends scrolled down Netflix's homepage, searching for ideas; thus, this list will be 100% inspired by characters that appeared on Netflix.
Light Yagami and Misa Amane – Death Note
Although I liked the anime way more than I liked the Netflix movie, I still think Light and Misa are the most badass couple there is.
You can buy the customized Death Note notebook from here.
Rick and Morty – Rick and Morty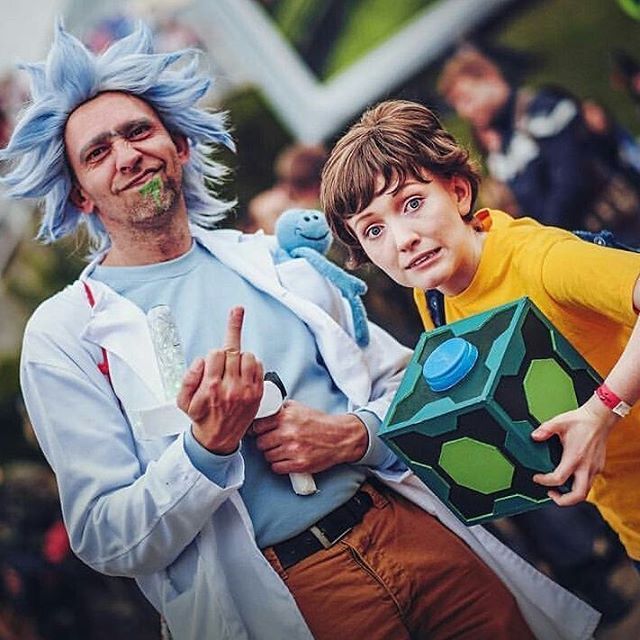 I'd love to third-wheel with a couple dressing up as Rick and Morty, so I can shamelessly dress as Mr. Meeseeks and finally embrace my existential crisis.
Jessie and James – Pokemon
Yes, Pokemon is on Netflix. And yes, this is way better than Ash and Pikachu. Prepare for trouble, and make it double!
Walter White and his crystal meth – Breaking Bad
"I'm not in the meth business, I'm in the meth empire!"
Pablito and his coke – Narcos
Sorry Maria, the coke is way more Instagrammable than you. Dressing as Pablo is really easy as well, if you're already equipped with his mini kersh. All you need is his mustache and tucked-in polo shirts.
Joyce Byers and her wall – Stranger Things
Very strange couple indeed! Didn't expect less from fans of this weird tv show.
Daredevil and Electra – Marvel's Daredevil
Good luck pulling off that leather suit though.
Carolyn and Bojack Horseman – Bojack Horseman

I won't be able to promise that the list won't get any weirder, but I agree that it started to get weird.
Gannicus and Saxa – Spartacus
You still have time to get those six packs ready!
Ragnar and Lagertha – Vikings
"I came into this world kicking and screaming while covered in someone else's blood. I have no problem with going out the same way."
Neo and Trinity – The Matrix
Watch out from people giving you pills in Halloween parties, they're not Morpheus.
Valerie and the Wolf – Red Riding Hood
Indeed, it isn't safe for a little girl to walk through these woods alone.
WE SAID THIS: Make sure to watch these characters on Netflix before the 31st!