Wanna showcase your delicious signature dishes and sell your magnificent food online?! Then Yumamia is the perfect platform for you!
Yumamia.com is a professional and user-friendly website for ordering  homemade food online. It is a platform that connects talented home cooks with homemade food lovers! It helps cooks organize their menus and facilitate the  process of ordering as well as helping them show off their cooking skills with just a click of a button!
Yumamia was first launched in Dubai six months ago by two best friends who share a huge passion for everything digital and of course, food. It was inspired by the growing number of friends they know who are extremely talented cooks offering homemade meals and desserts to foodies in their community using Facebook and/or Instagram to connect with their customers.
While those home cooks are managing their home business well through their Facebook pages, they've had a few obstacles stand in their way, like getting last-minute cancellations that forced them to bear the entire cost of the food wasted or receiving random calls past midnight.
They thought there must be a better way for home cooks to manage their orders and for foodies to find homemade food, and hence the idea was born!
Yumamia allows cooks to gain new customers, manage the flow of orders, clearly see their reviews and rankings and, more importantly, secure their money in advance through credit card or Fawry payments before they even start cooking, which kind of overcomes all the obstacles they had to face before.
Trying new food is a very exciting experience, but it can also be a bit daunting. So by having proper ratings and reviews for every cook, Yumamia helps put foodies at ease while trying new chefs.
How does Yumamia.com work?
Here are the initial steps to guide you through the whole process. It's literally a piece of cake!
For Foodies: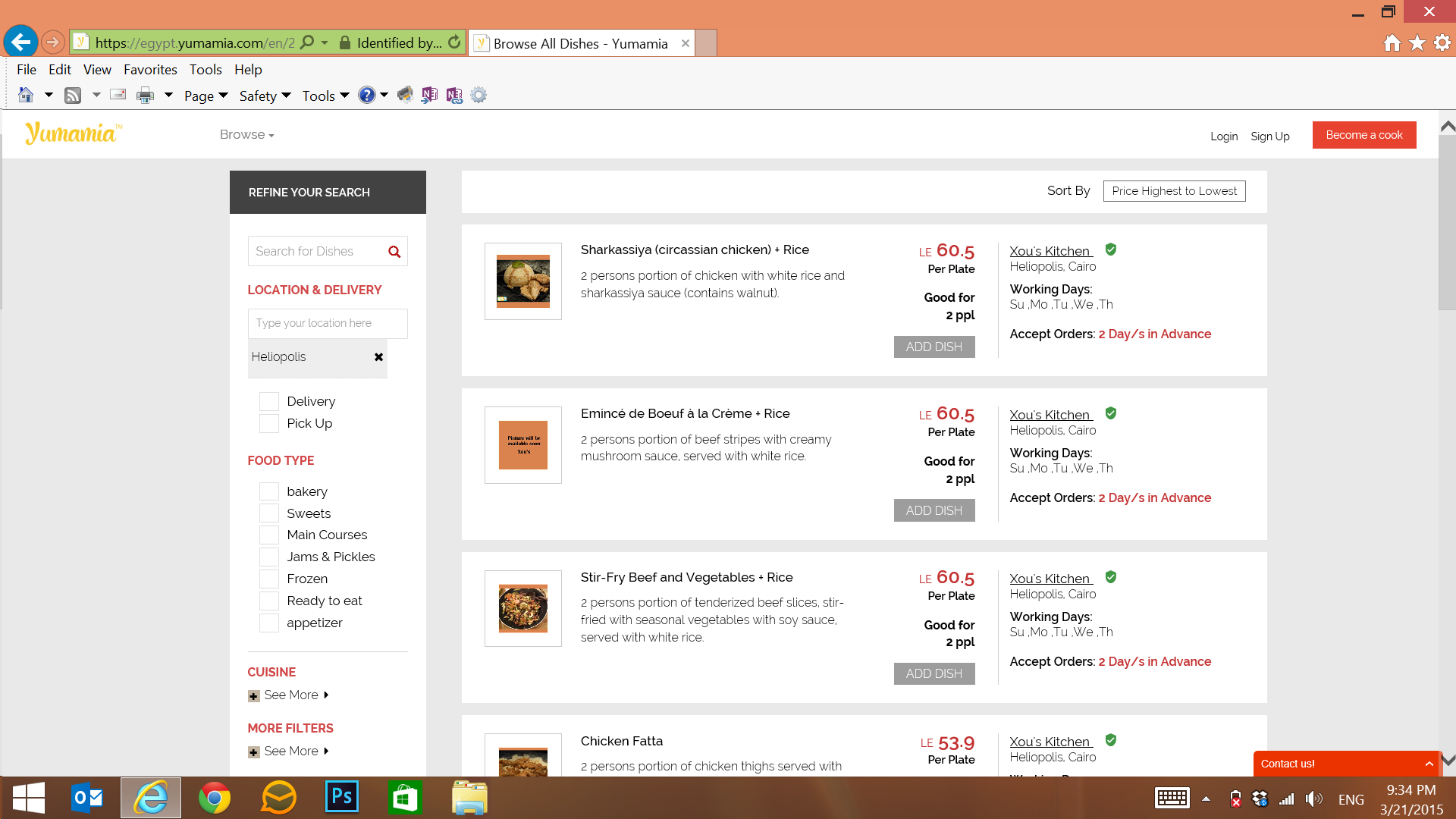 As someone who wants to order food, you will visit Yumamia.com and use the search bar and filters to look for cooks near you.
Once you find a dish that you like, you click on it and it takes you to the cook's profile where you can see all the cook's information: ratings, reviews, biography and other dishes.
You then add your selected dishes to your basket and proceed to check out where you'll provide your address, the time you need the order and the payment method you prefer, whether it's Fawry or credit card.
The request is then sent to the cook and they will confirm whether they will be able to handle your request or not.
If the cook approves your request, then you will be required to make the payment for the order in advance. Yumamia acts as a mediator between the cook and the customer to protect them both by holding the customer's money until the order is delivered and then the money gets transferred to the cook.
Once your order is ready, you will be notified by e-mail to go pick up your food or if you agreed with the cook to deliver, you will receive an e-mail update notifying you that your food is on the way.
For Cooks: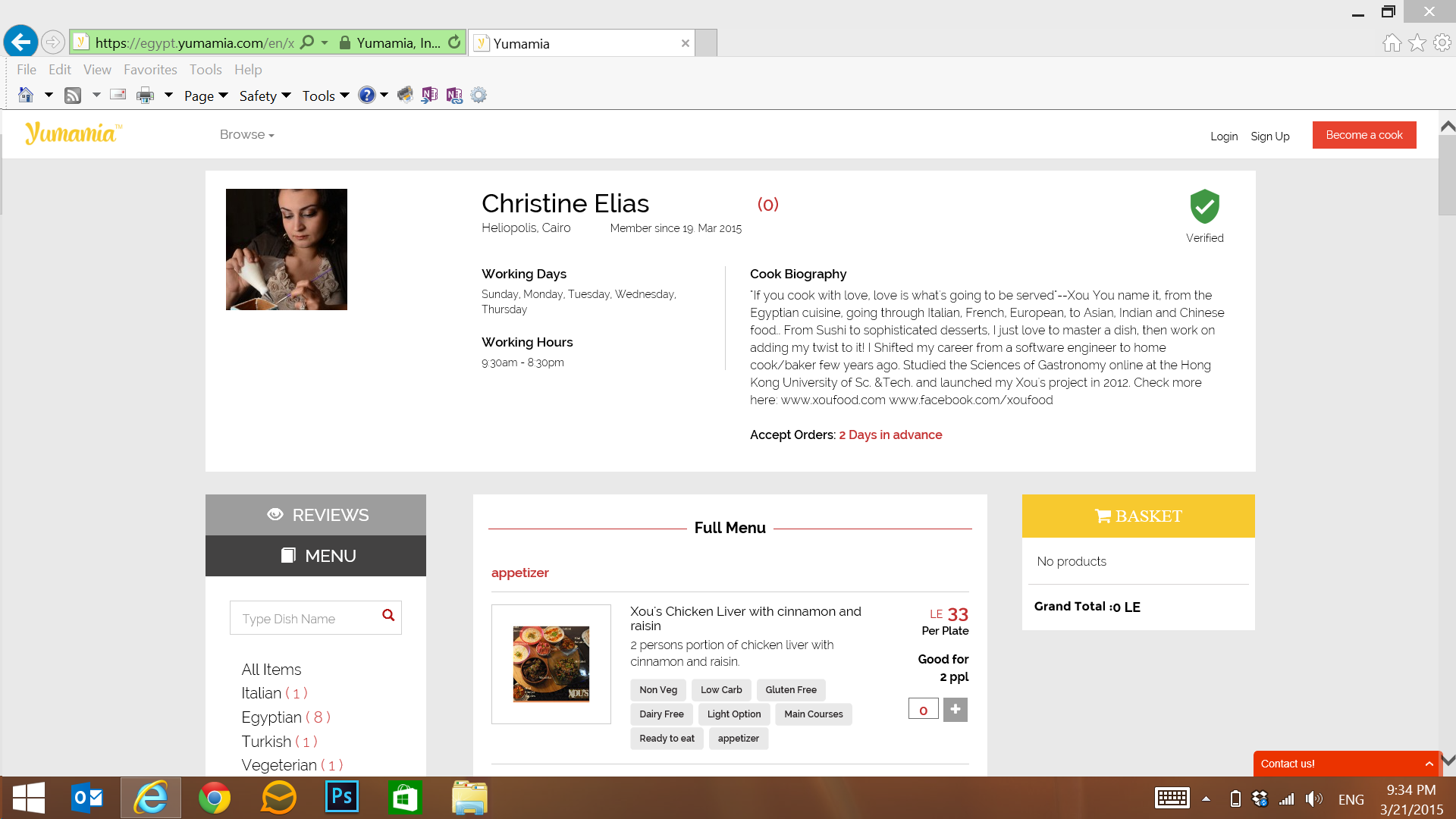 If you are someone who is interested in cooking on Yumamia, you simply create a cook account and set up your kitchen by adding your working hours, menu items with prices and images and whether you'll offer delivery or pickup.
After you complete your profile, you'll be visible to hundreds of foodies looking for home-cooked food on Yumamia.com.
When a foodie sends you an order request, you'll be notified by e-mail and by SMS and you'll need to quickly accept or reject the request.
Once you accept the request, the foodie is required to pay in advance through Fawry or credit card. When the payment is collected by Yumamia, you will be notified so you can start preparing the order.
When the order is ready, update the order status to "ready" and your customer will be immediately notified by e-mail so they can come pick it up or wait for delivery (if you offer delivery) at the agreed time.
Once the order is delivered, you update the order status to "delivered" so that the money registers in your account.
WE SAID THIS: Don't miss 14 Creative and Healthy Ways to Use Tahina!