Driving into the sunset is a not-so-distant dream when it comes to living in Egypt. With endless sea mere hours from the city centre, weekend getaways are always an option. For those lucky enough to add a few more days you can add more kilometres to your road trip. The story of this special road trip filled with golden sun and salty air begins in Cairo and ends in Sinai's Taba. Colourful mountains, rich in minerals, will be your main companions for the long therapeutic ride. Once equipped with a bountiful of snacks, download a music playlist, as network will fail you during most of the drive and then make sure that your car type is permitted through check points as four-wheel cars are not allowed. You can also opt to take private transportation to each location but in this case, you will be tied to specific times and comfort is almost none existent defeating the purpose of the road trip.
Assuming you are car and playlist ready, company is key, as a wise local proverb reads, "heaven without people isn't worth going to" and rest assured you will be visiting pieces of paradise.
Ras Sidr
Your first location is to Ras Sudr, the closest town to the capital Cairo, and lies on the Red Sea Coast, Sinai. The 200 km journey to Ras Sudr, on the Gulf of Suez in Southern Sinai, is spiritual to say the least. That stopover is an all-in-one experience, the weather perfect. Glancing at the approaching water colours along a 95 km long beach stretch as one gets closer to the destination is an ultimate goal. Ras Sudr happens to be a complete location in itself. It is said that the hot springs in Ras Sedr have been made when prophet Moses struck it with his rod to find potable water. The town also houses the Pharoah's Bath. The latter which exists within a cave is said to have offered a refuge for Christians escaping the Romans.
Ras Sudr is most famous as a kite surfing destination for both advanced and beginners with many spots offering introductory courses and gear to rent. The best time to be there is when it isn't too cold and wind is available for kitesurfing, the months May to October. Make sure to have swimming shoes as the sea beds have thorny sea urchins…all year round.
Assuming you're taking a kite surfing course you will be spending 3 to 4 days in Ras Sudr for an 8-hour course. Kite surfing hot spots where you can also stay are Hacienda, Green Sidr and Fly. Now that your sun kissed and contemplate leaving your job and selling thorny sea urchins for a living it's time to recharge on snacks and hit the road once again for a longer drive.
Sharm El Sheikh
You are now heading to the Egyptian jewel Sharm El Sheikh.
Driving on Peace Road (Al Salam), the mountains start to appear more grandiose and majestic, filled with natural minerals you will see colours reds and greens, a sun rise hitting the mountain's jagged exterior will create the required dramatic set up for the adventure ahead.
The journey by car takes around 3 hours to cover 315 kms. The road trip is hardly tedious due to the scenery combined with dry healthy weather, that being said you can simply fly to the Sharm El Sheikh airport if you're skipping road trip and Ras Sidr.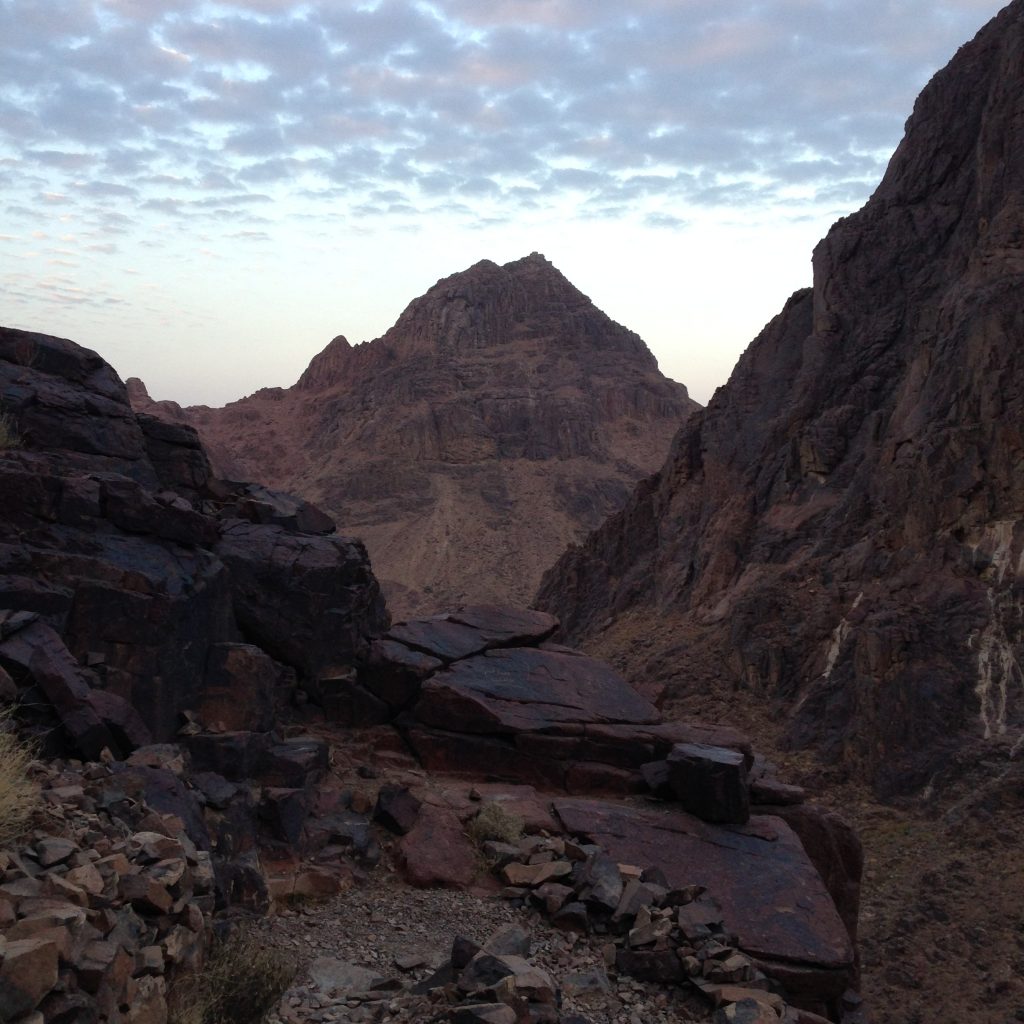 Sharm El Sheikh is famed for diving, snorkelling, hiking and a rich night life along the famous Naema Bay promenade. However, since the nineties and due to the success of several political conferences in the heyday of Middle East peace talks, Sharm El Sheikh has become a conference venue hub.
Economic, political and cultural and more thematic titled conferences take place in Sharm El Sheikh around the year. Stopovers via car and stepping into hotels in Sharm El Sheikh offers an assortment of mankind from all over the world. Conference tourism and a trip away from life's hustle has a continental allure. Sharm El Sheikh, this touristic haven is also the closest destination to Europe, allowing the desert jewel to host both local and international conferences.
Hotel rooms can range from 3000 Egyptian pounds (LE) in high end Naema bay and close by resorts. However cheaper motels, from 400 Egyptian pounds a night are available for back packers and travellers who are averse to glam.
Sharm El Sheikh is the richest in terms of diving along this road trip, many centres offer diving courses but make sure to make it to advanced as this certification grants you access to richer dives. Diving day tours are a must, taking the boat out to dive sites such as the Thistlegorm, a wreck dive accessible to advanced level divers with the ship located at 32m.
Sharm El Sheikh nightlife includes night clubs along Naema Bay having had their heyday in the 90s but coming back with vigor and strength post covid of which include but not limited to Pacha, El Fanar and Pangaea. Post dive and with an appetite you will not go hungry with many sea food options.
Assuming you've taken you're open water diving course, 3-4 days and turned from sun-kissed to a bronze crisp colour, it is your sign to once again hit the road.
Dahab
Your next destination is a dangerous one, known to hold its visitors captive; once you've arrived there is a chance you will never leave…Dahab. A tale is told as to how the spot came to be named Dahab (gold); when it was just mountains, desert and sea, during sun rise the light would hit both the mountains and sea causing the surfaces to turn golden, at sun sets the sky turns gold and the gold hitting the outline of the mountains making them look as if they were on fire. True enough Dahab sunset are a must see as the sky almost always turns passionate shades of red and orange.
Now on the Sharm Dahab Road, you are about an hour and a half from your golden destination. Dahab is both a winter and summer destination, in winter visitors opt to go rock climbing and stay nearer to the mountains, as the weather gets warmer sea activities are plenty.
If you would like to stay close to services, Asala square is a balanced option. Dahab is a honey pot destination and has people from all walks of life living there. The beauty of Dahab is its juxtaposition, everyone is welcome and the differences bring the community closer together. Moreover, Dahab is home to a large freediving community with the sport being most popular as Dahab provides key ingredients that make it a go to for free divers, warm water temperature, depth at shore, calm waters and internationally renowned free diving instructors.
The town is well priced much less expensive than Sharm El Sheikh, with a variety of options. The town is simple and laid back, you can walk around barefoot and rock your bathing suit all day. From the town you can take a half hour drive to Wadi Gnai famed as a key and exciting rock-climbing spot with a variation of routes from beginner level to advanced. The wise choice is to stay over night and camp in the majestic spot, if there is no full moon you will be surrounded by silver mountain silhouettes and a diamond studded night sky.
As for hiking, that is present everywhere in Dahab but though the routes may look simple, you must be accompanied by a Bedouin guide as it is easy to find yourself lost.
As for the deep blue, advanced divers and free divers as well as recreational snorkelling flock the famed 7 km away from Dahab to the North and any taxi can take you. From the Blue Hole many take the boat off to Abu Gallum protectorate with its abondance in sea life and unearthly landscape. Those in for a spiritual 3 hour ride to Abu Galum on a camel are in for a bountiful assortment of corals, hundreds of plants which grow exclusively, birds, canyons, animals. Abu Gallum stretches along land and sea over a distance of 500 km. Abu Gallum is privileged by having both beach and mountains geographically formed at very close range; in addition to being gifted by a network of subterranean caves plunging 100 meters deep –though unstable. A night out at the Blue Lagoon, a hike away from Abu Gallum offers a view of a perfect sunrise and home to experienced kite surfers. Back in Dahab after a long day of exploring you will find a variety of food options with restaurants Dai Pescatori, King Chicken, Shark, Zanooba, Red Cat, Seaweed and many more along the 'mamsha'.
Key spots close to Dahab are the famed Saint Catherine Mountain for a day's climb and Ras Mohamed protectorate for a dive.
Nuweiba
Now that you have finished your 3 day free diving course and have taken three more days to explore hot spot locations around Dahab and you do not remember how you looked like before that golden tan, it is time to hit the road once again to Nuweiba.
The hour drive from Dahab to Nuweiba is scenic with both mountains and sea accompanying you along the way. You can chose to have a fancy lunch at the beautiful Castle Zaman, a castle cradled by mountains but be sure to reserve beforehand. Nuweiba is an eco-friendly area with little to none hotels but camps by the beach. This is a low maintenance area so you will not find restaurants or services but will be dependent on the simple life, it's back to basics in Nuweiba and all you need to have is a torch unless there's a full moon, mosquito repellent, bathing suits and snorkelling gear. The virgin waters of Nuweiba are rich in marine life and home to array of beautiful coral structures, be careful of stonefish usually at the sea bed and lion fish, some prominent camps are Maagana and Basata. A recommendation of three days of unwinding by Nuweiba beaches is recommended following the extensive activities from Ras Sudr to Dahab.
Now at this point you are most probably pealing and have called your boss to let him know that…you won't be making it back to work. You have become accustomed to a slower paced life, the beauty of the outdoors has engulfed you and you can not imagine being surrounded by four walls and an overzealous work colleague.
Your last destination is the breathetaking Taba, an hour drive (70km) from Nuweiba, Taba is home to many treasures.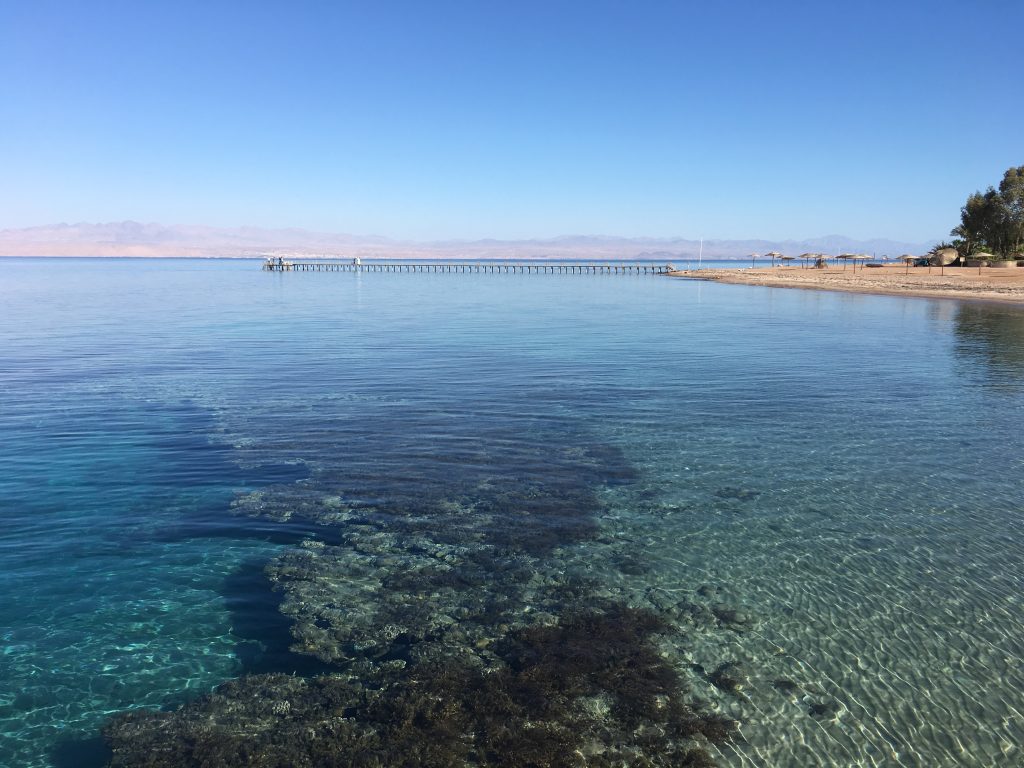 This Egyptian border city is a whole new ball game. Resting at the Northern tip of the Gulf of Aqaba, it overlooks Saudi Arabia and Jordan, with Jordan being a 16km swim across. Of all the diving areas in Egypt, Taba nestles some of the rarest forms of marine life and corals. Taba is also eight kms away from Pharoah's Island, known as the Citadel of Salah El Din. The Arab commander had built the fortress to protect the pilgrims to the Haj and safeguard commerce routes. It is formidable as it still stands stoically tall since the twelfth century and is one of the most consequential Islamic monuments in Sinai. Standing at the tip of the citadel, one can clearly see the borders of the four neighbouring countries. Historically, Taba harbours stories from the era of Salah El Din the Arab commander, the Ottoman's harassments of the Egyptian border and of course, the final handing over of Taba to its rightful Egyptians owners when the Egyptian flag on March 19th, 1989.
A hidden treasure in Taba is Fjord Bay, the clear pool of turquoise blue is nestled by surrounding mountains and when it's not busy, you have your own paradise blue. Be sure to bring snacks with you when at the bay as there are no restaurants close by.
At this point you don't even know why it is you had a corporate job to begin with, the mesmerising blue with its hidden world of treasures has welcomed you and the serene mountains have been your companion and safety for days, your hair smells of sea salt and your cheeks burn red from the sun and you don't remember the feeling of shoes on your feet. You have connected with strangers without even knowing their names on a hike, with network down while camping you've had uninterrupted conversations beneath glittering night skies and have over come fears of mountain heights and sea depth.
WE SAID THIS: Don't miss…On The Deep End: Here Are The Top Red Sea Destinations For Diving