Today, we'll be talking about creating your own customized engagement ring! As the seasons change and with it come its share of weddings and bachelorette parties, let's take advantage of the heat and the sun, or lack thereof to celebrate the weddings of friends and family! What if it's time for you to take take the step? The request, the knee to the ground, the dream setting, the bespoke engagement ring created by you for your sweetheart.
For once, it's easy to order or even create a made-to-measure engagement ring online. Elgrissy Diamonds is one platform where you can get the best custom engagement ring. You can also visit some platforms where a 3D preview of your ring is displayed and you can choose whether you want to work on a bespoke engagement ring or a wedding ring. You can edit the different parts you want to get a final appearance on that will be designed by the vendor. It's that simple. Let's look at other things you should know about when opting for a custom engagement ring!
The Principle of Engagement!
More a matter of principles than real commitment, the engagement stage is in reality a simple materialization of the desire to marry two lovers. An exchange of rings is made, the request is made official, the "yes" too and we can immediately let everyone know and start thinking about the menu for D-Day!
There is nothing official, whether for the state or the church or not, and the very principle of this kind of action is precisely to keep a share of freedom while confirming its will for future commitments. 
This is why we're talking about creating a made-to-measure engagement ring in order to offer a unique side to this moment. Because, it does not commit to anything, it is neither a barrier nor a brake, it is a simple proof of love, sincerity, and desire for more. Purity, in short, poetry for some. And one may agree that it feels more poetic to have a beautiful pen than just a pen!
The Meaning of Stones
Just as there is a language of flowers, there is also a language of stones and sometimes you have to be careful about the stone you're going to choose when creating a tailored engagement ring. The kind of little attention that will change everything in the direction of your approach, as long as your sweetheart is sensitive to it!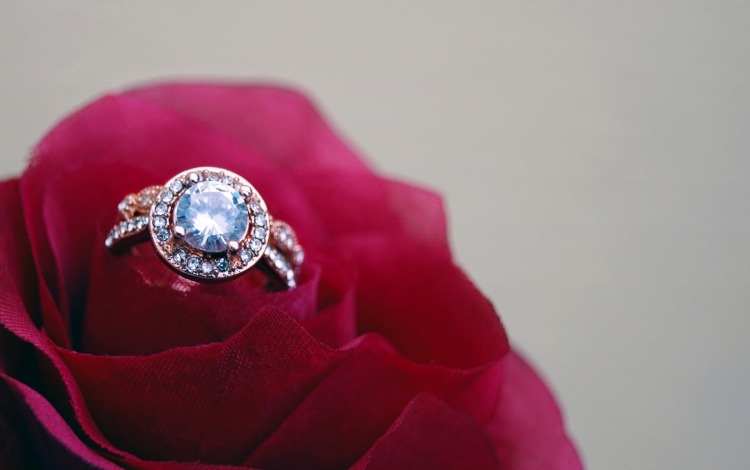 The Diamond
Precious stone par excellence, the diamond is by far the most famous of all gems. Symbol of eternal love and purity but also of power in other contexts, it is very often chosen alone on engagement rings. In the calendar of wedding anniversaries, the diamond nuptials corresponds to 60 years of marriage!
The Emerald
Stone of wisdom and hope, the emerald is a relatively fragile stone because it is sensitive to shocks and chemicals. The emerald promotes love, openness, and sharing. A popular stone, it is considered the mother of stones and shines in a deep green with slight bluish tones.
The Ruby
Before being dethroned by the diamond, the ruby ​​was the most precious of stones, as kings and sultans appreciated it for its color. A royal stone suitable for ambitious and assertive personalities, the ruby ​​is a symbol of fire, burning passion, and exalted relationships.
Sapphire
Jewels of Burma, as for the rarest of them, sapphires are gems of a very deep and very intense blue. Symbols of purity and appeasement in the couple, it was at one time considered a talisman to protect against the forces of evil.
The Jargon of Jewelers!
You don't need a background as a jeweler to get it all, it's just that certain words may strike you off guard or cause you to question yourself, starting with the term "carat." However, it should be understood that this word has different meanings depending on whether it is used in jewelry or not.
In jewelry, the carat is a measure of the purity of a precious metal. It represents 1/24 of the total mass of an alloy. For example, if the setting of your ring weighs 24g and the quality of the gold is 18k, it means that it contains 18g of pure gold. So, if you have a 100g 24k gold piece of jewelry that means it is made from 100g pure 99.99% gold. The highest quality and purity that you'll find!
In jewelry, a carat is a unit of mass for weighing gems. It is equal to 200mg, or the weight of a carob seed, the only seed naturally having a constant weight. Unlike jewelry, a diamond can therefore be 24 carats, 47 carats, or even 100 carats. To give you an example of such measurement, the largest cut diamond in the world, the Golden Jubilee, was 755 carats when it was discovered and was cut to 545.67 carats, or a diamond of more than 100g! It was offered in 1995 to the King of Thailand to be mounted on the imperial crown.
Tailor-Made Flexibility!
A great benefit with this kind of system in creating your own personalized engagement ring is the fact that you can afford an almost tailor-made service at very attractive prices! You can of course go through a jewelry designer who can follow you in all your desires, who can push the bar very far in the creation of custom rings, but the budget will not be the same. It will be necessary to draw the part, calculate its proportions, choose the stone, cut it, polish it, encrust it, etc.
A meticulous and long process that must be planned well in advance to be sure to have the part at the right time. And the bill is often very salty! If you can afford to go this far for a ring, indulge yourself! But you can also opt for a designer offering high-quality products with a semi-made-to-measure system that reduces manufacturing costs. The personalized ring that you will give to your partner will not be less beautiful or less pure, it will simply be less complex to make than if you started from scratch, so find out which one suits you best!
WE SAID THIS: Which stones would you suggest for a mesmerizing engagement ring?