We've always known that Cairo's street food is far from clean or healthy, but today marks the last day we ever go near a foul cart. Social media users find themselves horrified after the photo above went viral on Facebook. A man was caught washing his foul cart dishes using filthy water in Maryoteya's canal.
Heba Khalifa explained that she was on her way to work, when she parked in Maryoteya's Tersa intersection and was petrified by the scene. The foul cart worker started washing his plates in the dirty canal, then filled the same plates with foul for customers.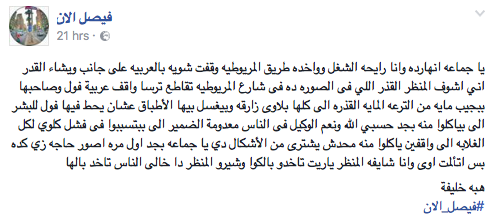 We're not going to fool ourselves, we've seen dishes being dipped in dirty buckets to be cleaned, but we always told ourselves that the worst thing these buckets contain is food debris, but a ter3a? That is just a recipe for Hepatitis A, kidney and liver diseases.
WE SAID THIS: Farewell, food carts.