Finding authentic international cuisine in Cairo – that is also delicious – is kind of rare. When Gringo's closed down a year ago, the city went into burrito-withdrawal.
Thankfully, Gringo's decided to reopen this year and, being the Mexican food-loving people that we are, you can only imagine our excitement when we heard the happy news. We immediately made multiple ravenous orders to answer our Mexican cravings.
We ordered some nachos, steak quesadillas, chicken burritos and a Nutella empanada. The nachos came with sour cream, fresh salsa and a generous portion of guacamole. The nachos themselves were plenty and were very well seasoned. The salsa was super fresh and the guac was packed with authentic Mexican flavors (it got the approval of our San Diego native Editor in Chief, just sayin!).
We then moved on to the steak quesadillas. They were filled with tender beef steak slices, black beans and chilies, all slathered with heavenly melted cheese. The steak was cooked to perfection and all the flavors mingled together to create the happiest meaty-cheesy marriage.
The chicken burrito was a real sight to behold. It was MASSIVE. In fact, it was so bulky that when we decided to split it, everything started to fall out of the burrito. The burrito was filled with grilled chicken pieces, black beans, pico de gallo and rice. The filling was beyond generous, the chicken was tender and extremely tasty and everything was literally drenched in sour cream.
The only downside of the delicious burrito was that we were promised it would come with cilantro lime rice and instead it was plain white rice, which needed a kick of seasoning.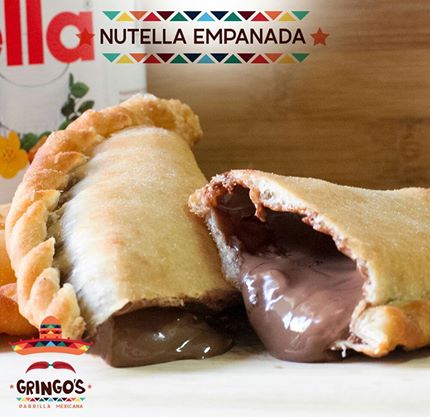 The Nutella empanada was a perfectly shaped pastry that oozed out warm, melted Nutella. Yup, it was as orgasmic as it sounds! The empanada was a handsome size, enough to feed two greedy people in our foodie office. The pastry was perfectly cooked and had great taste, but we would have liked it to be flakier.
Overall, Gringo's definitely fed our Mexican cravings and passed with flying colors and punches of authentic flavors. If there's one thing we hate about Gringo's, it's that they only deliver in Maadi and its surrounding area and we really need more of it around Cairo!

WE SAID THIS: Call 01128000935/45 to order and follow Gringo's on Facebook at http://www.facebook.com/gringosparrilla and Instagram at http://www.instagram.com/gringosburrito.