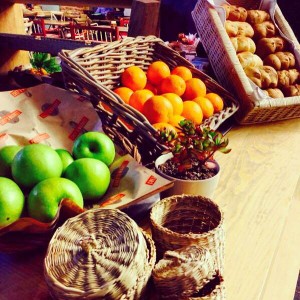 In Citystars, a location where restaurant competition is growing more fierce by the hour, Chef's Market made its official debut in the Mosaique Dining Zone with a bang. We were lucky enough to have a first tasting of the new home-grown brand.
Chef's Market is inspired by the traditional farmer's market – a truly innovative concept. Chef's Market successfully manages to create a unique dining experience that not only evokes your taste buds but teases the rest of your senses as well.
Walking into the restaurant, you are greeted with a spread of seasonal fresh fruit stands, along with some farmer's market detailing (think woven baskets, jarred pickles, lit candle stands, etc).
Add an Instagram filter to that and you've got yourself a work of art. (Follow them on @chefsmarketcairo, you'll understand what I'm on about.) A consistent wooden theme clearly makes up the place with a rough-around-the-edges kind of look.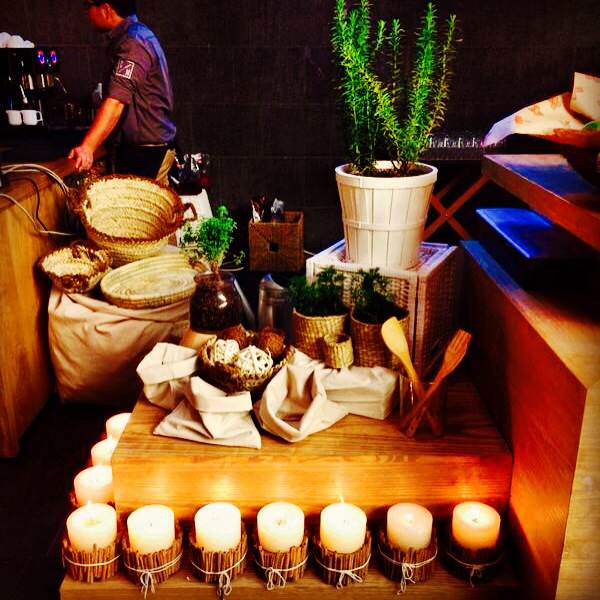 We were greeted with a basket of in-house Baked Bread and Lemon, Roasted Garlic and Smoked Herring Flavored Hummus (36 LE) for entrees, a nice twist to the classic bread and butter sequence. Both bread and dips complimented each other perfectly, but the herring-infused hummus is an acquired taste.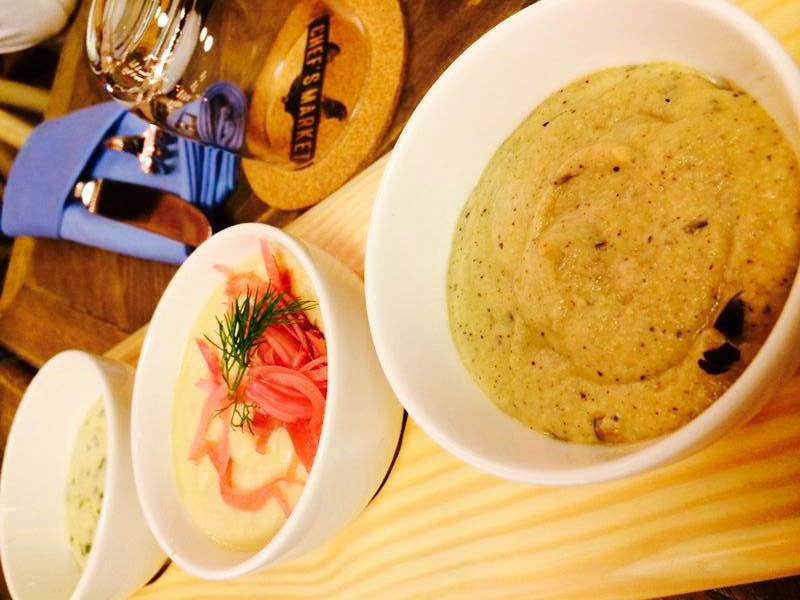 Grilled Chicken, Halloumi and Apricot Dressing (48 LE) was served as our first course. Although when first served we weren't sure what the meat was, we discovered it was slices of chicken breast, which was tender and matched perfectly with its counterparts, all served on a bed of fresh lettuce. The subtle apricot sweetness balanced out the salty grilled halloumi effortlessly – I loved it. It was the kind of dish that left you thinking, "I'm not much of a healthy eater but give me more of this salad – it's delish!"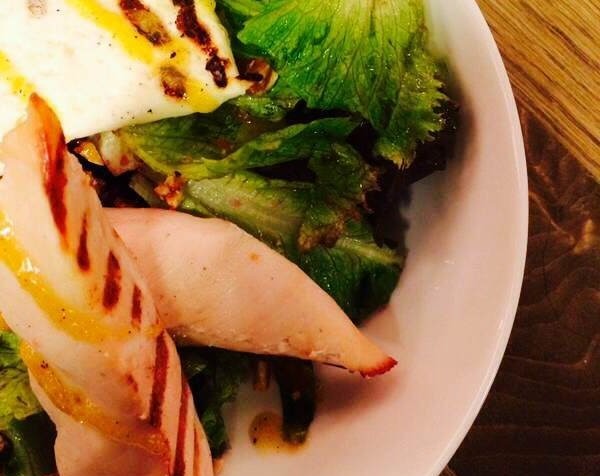 Next came the Tilapia Fish, Caramelized Onions and Couscous with Pickled Lemon Sauce (68 LE). Although presented exquisitely (this was a constant through-out the courses), we have to say we weren't mind-blown by this dish. The tilapia was well-cooked, but may not fit everyone's tastes. The lemon sauce and caramelized onions boosted the taste a tad, but a squeeze of lemon would have equally done the trick. Needless to say, the couscous along with the fish was a combination we haven't tried before and it's always nice to see effort put in something creative and alternative.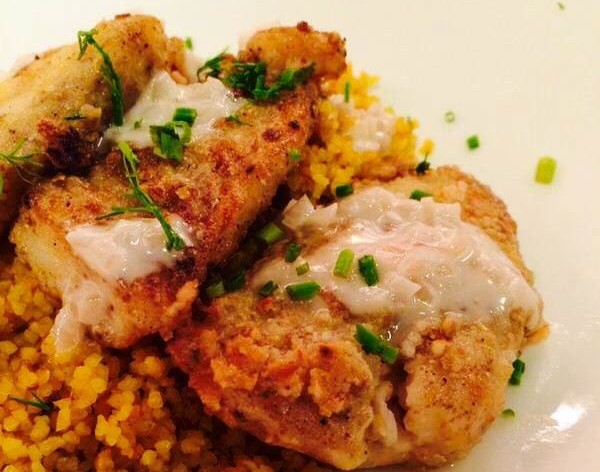 Grilled Tenderloin Wrapped in Beef Bacon, Potatoes, Caramelized Onions and Spinach (92 LE) was our next course. The tenderloin was exceptional. Grilled to perfection, tender and oozing with flavor, this plate takes the gold medal home. Even though we waited more than we would've liked to be served, our patience definitely paid off. The chef boasted his innovation once again, wrapping the classic tenderloin in beef bacon – a first in our Egyptian cuisine experiences but common elsewhere. The potatoes and spinach elegantly stood their place, subtly introducing a softness to each bite. Our recommendation to the chef concerns the overly complicated sauce that was presented with the meal. He should have stuck to the basics on this one, considering the dish is already quite rich. The equivalent of a red wine sauce or basic gravy would have been ideal.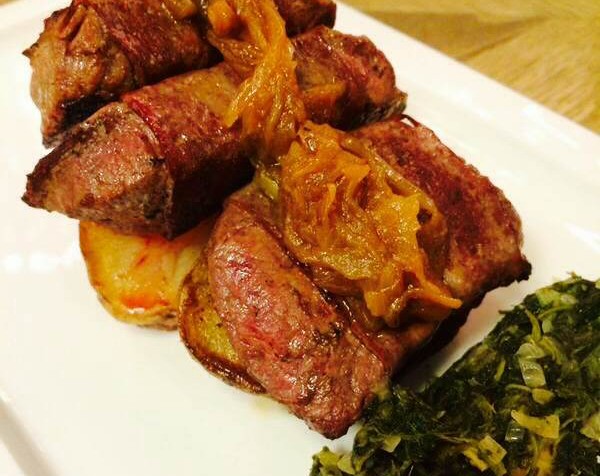 And finally, dessert. Coconut-Infused Panna Cotta with Kunafa Flakes (or what it seemed to be, the little blackboard menus lacked a dessert description). I found this local modern-fusion dish quite inventive, with some interesting flavors that provoked our taste buds (in a good way). The kunafa flakes along with the panna cotta resulted in an intriguing texture which wrapped up our experience exquisitely.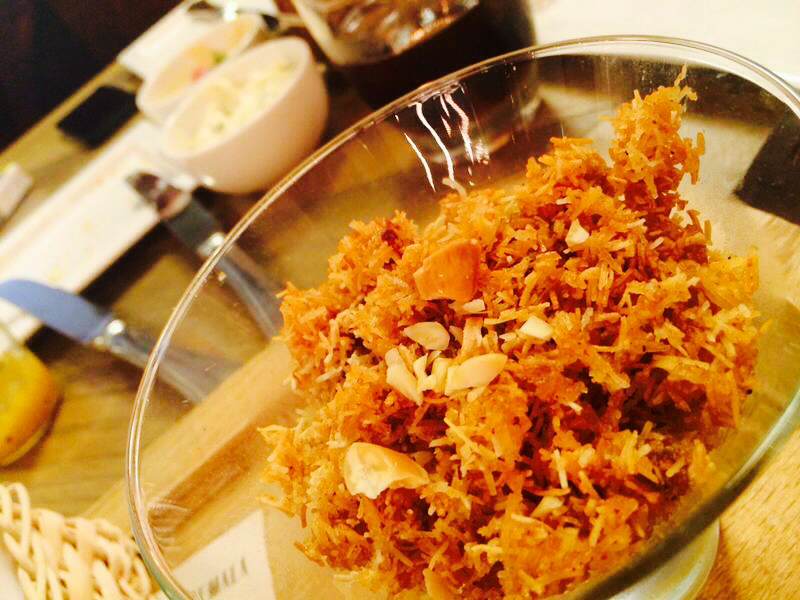 I had a Cappuccino Made with Ethiopian Coffee (22 LE) while the rest finished their desserts, which was, even though a bit strong for my personal taste, rich with flavor and boasted some top notch coffee quality.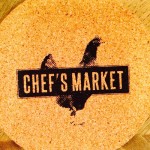 Officially added to our list of restaurant favorites, Chef's Market had us leaving the place smiling, (The caramelized carrot giveaways and wooden serving spoons also helped, I love me some gifts!). We recommend you head out and give this place a try – they definitely won't disappoint.

WE SAID THIS: Congratulations on the opening and a new home-grown brand!