This concept from the UK only opened its doors in Dubai June of this year. Having watched the Speedflex video on its website, I was eager to find out if it was just a fad workout or something really legit. It looked pretty straightforward and, in fact, maybe a bit boring?
Upon booking my first Speedflex session, I was informed that I would need to take an initial orientation before actually starting class. And so it began – dragging a friend of mine to the class, we started orientation on time. The orientation took about 30 minutes and was aimed at getting us acquainted with the eight different pieces of equipment situated around the room.
To start off with, our instructor, Antonio, took our height and weight measurements and then input them into the computer system set up off to the side of the room. This is where things got really interesting – as the orientation session progressed, I became completely intrigued and engaged by all the gadgets and technology that Speedflex uses.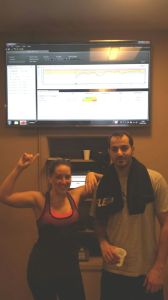 Once our details were in the system, we had to strap on heart rate monitors onto our upper mid-section. Then things got even more interesting! On the large screens at either end of the gym, we began to see our performance statistics being posted in real-time.
Once we had everything in place, the real workout began: 30 seconds pushing ourselves as much as we could with 10 seconds rest in between to change stations. At first, I thought it would be a piece of cake – no weights and resistance that would go up with the amount of energy I exerted – I mean how hard could that be?
As Antonio instructed us to move to the fourth machine of the whole circuit in our first round, I began to wish that I would just pass out and be out of my misery. I could barely breathe and his words of encouragement to push my exertion percentage even higher were only making me feel like I was being a total wuss.
Once the first round was over, I was finally able to catch my breath and longed for the two-minute break to go on just a teensy bit longer. But no. You get maximum benefits from the precise break times and the starting and stopping in that specific formula are what help you see results!
Keeping that in mind, I used sheer willpower to get myself back into the circuit. Round two wasn't as bad, but I needed to know there was light at the end of the tunnel. After receiving confirmation that we only had one more round to go, I was able to make it through the third round and all-but-collapse onto the bench to recuperate.
After my breathing began to return to normal and I had managed to wipe all the perspiration off my body (I never would have expected I would work up such a sweat either!), we listened as Antonio reviewed our results. We had essentially worked out for 20 minutes, 14 of which were in my ideal exertion zones for calorie burning.
I had burned about 184 calories, which was an awesome amount, and something that would have taken much more time had I been running on a treadmill! I felt pretty good about that. Then Antonio brought me back to reality by mentioning that a typical Speedflex workout lasts about 30-45 minutes.
I asked if he was crazy. No way I could last that long. "You'd be surprised," was his response. He walked each of us through our results thoroughly. While I had virtually no time spent in the "red zone", he mentioned that the fitter you are, the more difficult it is to get into the red zone at the 90% or higher exertion rate. I felt a bit better and left the class determined to make it to the red zone next time!
Speedflex is purely built to be a high endurance exercise based on interval training, which will burn fat and result in weight loss as well as improve overall cardiovascular levels. It's a great exercise to incorporate 3-4 times per week and perfect for anyone looking for a short, effective workout that is really low impact on the joints.
I also really enjoyed the 1:1 feel of the class with the instructor. The classes are still new and not really heavily attended so getting that attention is really great. Better yet, they're offering unlimited FREE classes until the end of September! So now is the perfect time to try it for yourself.

WE SAID THIS: Check out Aya's fitness review of 4D PRO, Dubai's latest workout fad.