[Exclusive]: Now You Can Share Your Gasoline Using the New "Tink" Application
FILE- This Nov. 16, 2018, file photo shows gas prices at a pump in West Mifflin, Pa. On Tuesday, March 12, 2019, the Labor Department reports on U.S. consumer prices for February. (AP Photo/Gene J. Puskar, File)
After agreeing to the International Monetary Fund's (IMF) subsidy cuts, the Egyptian government has again increased fuel prices leading many to grow more and more concerned about the daily cost of driving.
So, someone was bound to come up with an idea to help us cope with the current situation. And so a new application called "Tink" answered our prayers, and did exactly what we were hoping for!
When I first came across the idea of the application, I immediately fell in love with it and decided to contact Tink to get the full scoop (no pun intended). Launched around a week ago, Tink is basically a ridesharing app, which connects people from your social network and community. So if you and anyone in your vicinity are going in the same destination, you get to share a ride together.
"The app handles everything from arranging meeting points to sharing ride costs among riders in a simple cashless procedure using Tink Tokens. If you are driving, you'd get 1 Token per 1 Km for each passenger on board. Tokens can be redeemed later for cash or rides. We created this cashless system so users would feel comfortable sharing the ride's costs, and at the same time get motivated by a game- like an experience" said Tink's Co-founder Tamer El-Mahrouky.
"Riders pay at least one third the price offered by ride-hailing apps or taxis. We have been operating for the last two weeks through Tink Sahel Ridesharing, which is a Closed Facebook group; to ensure that the users would feel comfortable and at ease with the experience. Members offer and ask for rides then the team walks you through the app and manages it. We are focusing on providing rides between Cairo and Sahel compounds in Sahel," he added.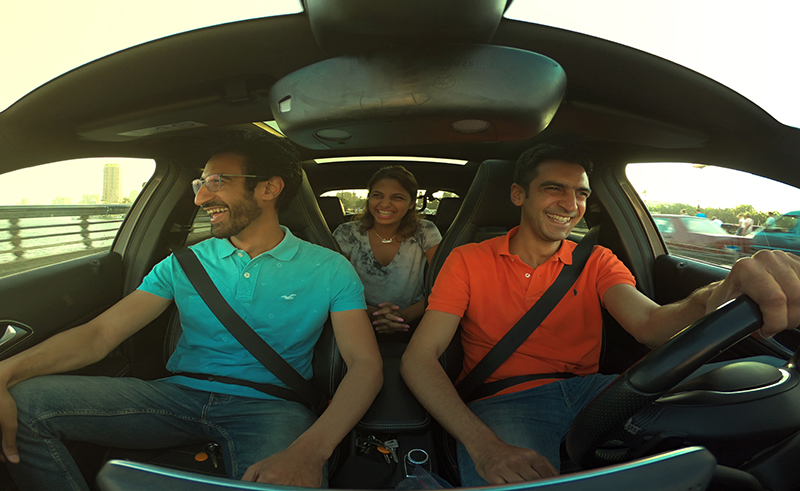 The idea of Tink came initially from Tamer's brother, Adel, and once Tamer heard it, he was struck and kept it in his mind till he developed it into a fully-fledged smartphone application.
Back in 2012, Tamer started an initiative called "Emshy fi Hartak", meaning "stick to your lane", while sharing rides with random people on the streets who were going to the same destination as his, and began posting stories of these journeys. This led him to think of ways to create an affordable, safe and fun method of transportation, and that's basically how Tink was created, Tamer explained.
WE SAID THIS: Major respect to all of Tink's team; Co-founder Tamer El-Mahrouky, and Co-founder and technical director Adel El-Mahrouky, also Co-founder and technical lead Omar Sultan, and the Business Development Director Mohamed Abdel Halim, and finally, Community Manager Amal Abdel-Raheem.