Egypt's Farida Osman Breaks Pro Swim Series Record in the 2019 Competition
Via Cal Bears
By Muhammed Aladdin
The 2019 Pro Swim Series (PSS) in Richmond, Virginia saw Egyptian professional Swimmer Farida Osman dominate the sports world with her record-breaking victory on Friday night. The athlete put up 25.65 seconds to win the 50-meter butterfly category, crowning herself in the process as the new PSS record holder.
Over the past week, the 23-year-old Egyptian athlete has given an outstanding performance before heading to the finals, having gone 26.32 seconds in the morning heats ahead of TAC Titans' Claire Curzan put up a close 26.37 seconds.
Additionally, Mission Viejo's Amanda Kendall went with 26.43 seconds, and the American record-holder Kelsi Dahlia of Cardinal Aquatics came in third with 26.59 seconds.
Throughout the momentum built through the day and at the evening's race, Osman held her spot and went for the win, going even faster and finishing the butterfly race in just 25.65 seconds. The Egyptian sensation was followed by Cruzan who came in second with 26.18 seconds.
The previous record was set during the PSS MESA in April 2018, and it had belonged to Dahlia who came to the wall in just 25.9 seconds. This year, however, Osman had an edge of an additional 0.3 seconds, marking her third-fastest lifetime performance in the 50-meter butterfly category.
With this victory, Osman is currently ranking Number 2 in the world, a few parts of a second away from Sarah Sjostrom, the current Number 1 position-holder.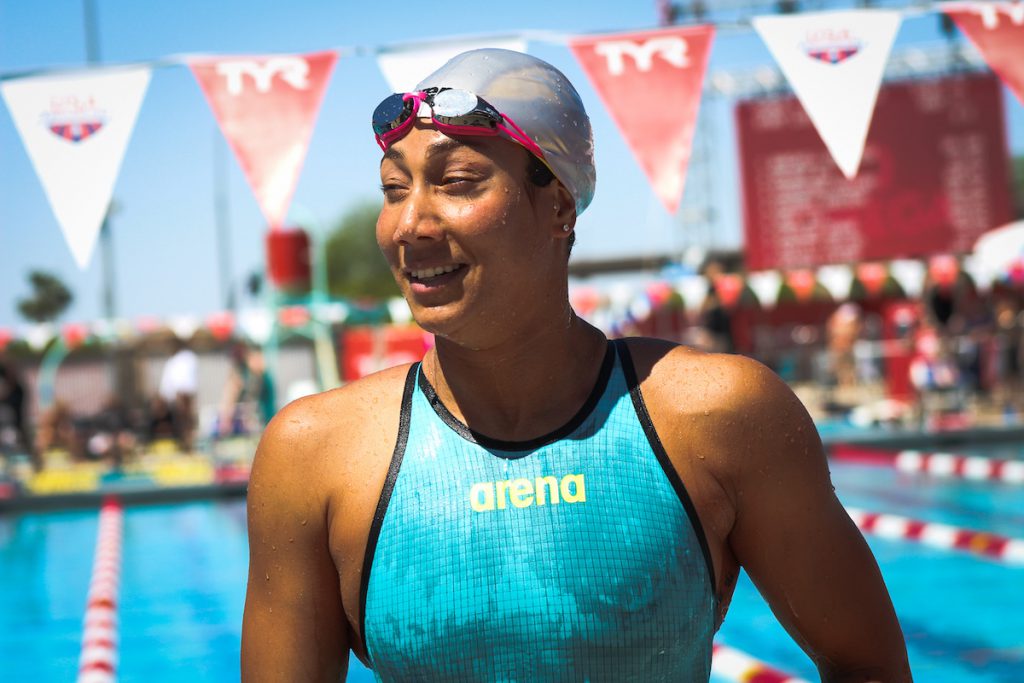 Osman's passion for swimming began at an early age; she was just five when she attended her first swimming lesson at the Gezira Sporting Club. Her talent and hard work had distinguished her, and at the age of 12, she was chosen to represent Egypt in the 11th Pan-Arab Games in Cairo; she was the youngest athlete on the team.
No one expected her to break the Arab record in the 50-meter butterfly race. That well-deserved victory established her as the youngest Egyptian and Arab to ever participate in the event, and not only win but break a record in the process we well.
From that point onward, her career has been teeming with triumphs. She is an All-Africa Games gold medalist and the current Egyptian national champion and record-holder. In addition, she is the fastest swimmer in Egypt as well as Africa.
She is the senior national record holder for all butterfly, freestyle, and backstroke events in the region. Furthermore, Osman holds the African records in the 50-meter and 100-meter butterfly.
WE SAID THIS: Congratulations on the win, Farida. We are rooting for you to get to #1!