Just another day on the Internet where something goes out of proportion and someone gets called out for something completely unintentional. Yesterday, the whole world had one name in mind: Beyoncé. It was finally time for her highly anticipated Coachella performance in Los Angeles and queen B did not disappoint.
The mother of three left our jaws dropped on the floor after a performance that felt like three-hours-long. She danced with every muscle of her body, she sang her heart out, and she brought us Jay Z and Destiny's Child. But while you were mesmerized by her post-baby body and incredible vocals, the constantly offended humans of the Internet had something else to talk about.
Beyoncé decided to channel her inner past-life queen and emerged as the one and only Queen of Egypt, Nefertiti. In a costume designed by Balmain, the outfit will go down as one of Beyoncé best looks ever. This beat her mother nature golden pregnancy dress. Anyhow, just when we thought everyone was happy to see the queen celebrating and acknowledging our culture, Instagrammers said otherwise.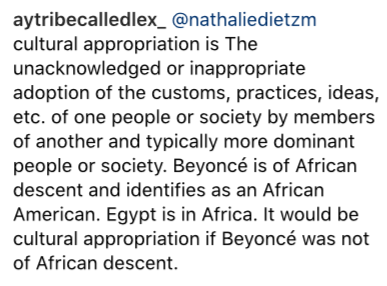 Commenters accused B of cultural appropriation and misrepresenting Nefertiti – We're not sure how- while others defended Beyoncé due to her African descent which she basically makes her part Pharaonic.
WE SAID THIS: It's actually a happy moment for us to see our history on stage alongside the world's biggest artist.