On Friday, the Egyptian Prosecution Office of Southern Cairo ordered the arrest of former Member of Parliament Alaa Hassanin along with 17 other associates on the charges of illicit excavation for and dealing in antiquities. The decision comes a day after authorities caught Hassanin in an Old Cairo warehouse containing 201 artifacts.
According to Al-Ahram, the uncovered cache contains two paintings of a sarcophagus inscribed with hieroglyphs, 36 statues of different lengths, four Ushabti figurines, two wooden statues, an Ushabti with alabaster, two bronze statues and a stone statue that dates back to the Greek era. In addition, 58 coins dating back to the Greco-Roman period, a pottery bowl, and other artifacts were found.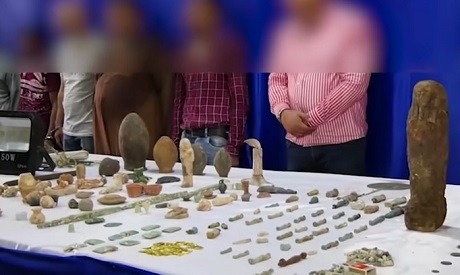 The group is now detained for four days pending investigation and awaiting trial according to a statement by the Egyptian Prosecution. Illegal excavation and smuggling of Egypt's national treasures is a serious crime and is publishable by life imprisonment. Hassanin bankrolled the entire deal pushing funds for illegal excavations in sites all over the different Egyptian governorates.
The distressing news comes at a time when Egypt is taking serious steps in retrieving its stolen artifacts overseas.