Egyptian Man Brutally Assaults Woman and Blames Her for It
Via: facebook
There is an increased number of Egyptian who are trying to forcibly enforce their own definitions of morality. This is especially true when it comes to monitoring the behaviors and interactions of Egyptian females. Indeed, some people feel like they are allowed to punish women who do not follow the aforementioned narrow definitions of morality, by calling such women terms like 'slut' and 'whore', and/or by beating them and assaulting them.
Yesterday a woman named Taghreed Abd El-Rahman posted a video and some pictures on her Facebook explaining such an incident. Taghreed is a 32 year old woman, leading  a pretty normal life.
Her neighbor from hell, however, saw that Taghreed was an indecent woman. Taghreed's neighbor allegedly verbally abused her, and physically assaulted her. He then allegedly proceeded to cut her head wide open, using a sharp object.
Her neighbor's apparent justification – according to Taghreed – was that he had seen Taghreed star in several small roles on television, due to her side job as an actress. He accordingly and automatically thought she was 'shemal' (a slut). What happened to Taghreed is representative of what Egyptian women are suffering form on a daily basis:  sexual harassment, inappropriately suggestive comments, and verbal abuse.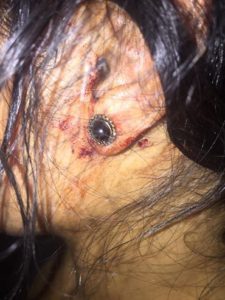 Taghreed filed an official report, against her attacker. The single mum was shaken to her core: "I didn't do anything wrong!" Taghreed states and pleases in her video. For a man to hit a woman is one thing woman, but for him to have the audacity to make her think that she's the one to blame, that is a whole other thing.
WE SAID THIS: When will violence against women stop?