By Mariam Nowar
"I do not abide by any restrictions," radiates the outro to Rassef L'bkariya's latest single Manikan (Manikin) that signals the official rise of a new pop duo that is set to steal the hearts of girls across the Arabic-speaking world. Lead by the steamy vocals of its lead man Dro and a handful of musical wit in Producer Hussein Gamal's talent pocket, I knew I had just stumbled upon the next big thing. After releasing an empowering track on August 27th about the struggles of being a woman in a judgemental world of media with their latest hit, Egyptian band Rassef L'bkariya is quick to exclusively announce that their upcoming song should carry an even more special message.
Rassef L'bkariya translates to "genius sidewalk" yet the band's motto is nothing less than noble. Dro and Gamal started out like any honest musician in Egypt – straight from the streets. Years pass from their initial startup in 2013 before the two artists find themselves in this current formation.
Rassef L'bkariya's biggest hit Leh Matkonsh Kol Haga (Why Not Be Everything) had amassed around 800,000 views on YouTube alone. Having worked with Lebanese Producer Jean-Marie Riachi and Pepsi, Rassef L'bkariya refers to Leh Matkonsh Kol Haga as a step forward in terms of quality. The standard had been automatically set to a higher grade with a brand new sound, woven by Producer Gamal, which became more electronic than the band's previous alternative rock vibes. Leh Matkonsh Kol Haga talks about many characters who have not necessarily been invited into society – the misfits.
Rassef L'bkariya's debut EP with Universal Records ran through a series of emotions and a wide range of music genres, although the band's most remarkably story-telling song is a track named Dahab. Dro and Gamal had been playing music together for over a decade, and a sweet escape led them to Sinai's golden getaway town of Dahab. That's where songwriter Dro had drifted away from his bandmate and the rest of their friends to find himself alone in the Lagoon after a six-hour scavenger hunt for meaning. He found himself writing lyrics throughout his journey until he had a song named Dahab ready to be recorded.
Listen to Rassef L'bkariya's full EP on Anghami here.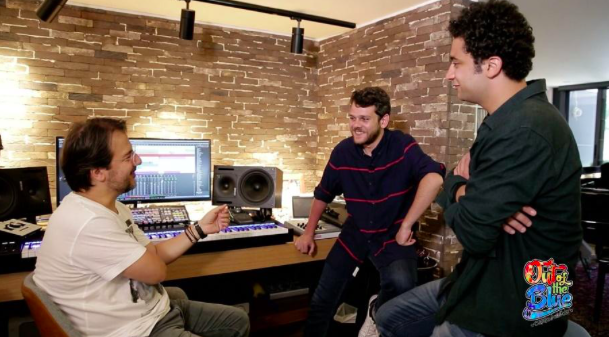 From where I stand, I personally view Manikan as a perfect representation for everyone who is constantly scrutinized by the media – whether they are musicians, artists or regular people; female or male – that dictates how people are expected to live their lives moulds them into just another manikin. The band's interpretation is a little different as Manikan from their perspective talks about an ambitious girl that experiences society's judgemental eye on her rocky trip towards achieving her goals.
Rassef L'bkariya exclusively revealed that their next track, titled Leh Betleffi W Betdouri, will delve deeper into that chase, which is being shot abroad and will carry a completely new sound. The upcoming album is being recorded and should be released later this year, but before you get to hear it, you'll have a few singles coming your way!
"I started singing because I wanted to!" jokingly shares Dro. He adds more seriously that he started writing lyrics in 2007 until, "I started to put actual structures for songs and began rapping with friends in the streets. I wanted people to accept my music just the way it is without having to tweak in order to appease to the masses…"
Rapping was the way in which Dro expressed himself, and he drew inspiration from things he had seen on the street like personal experiences, along with important topics that he felt like he needed to shed light on. On the other hand, Gamal's vast experience in music production leaves it noteworthy to mention that his great uncle was the legendary composer Mohammed El Mougy.
"My entire family is made up of musicians, so I started making music when I was in school playing numerous instruments in recitals," Gamal shares. He graduated from the Arabic Music Institute in Cairo and originally played oud and piano. After many musical phases, he reached a level of not just thinking on a guitar-base, but about the melodies from all its sides.
"I wanted to create a unique sound during my music production, so that listeners can hear a difference from what they listen to abroad and hear the oriental ethnicity in our music. This is what ultimately makes us stand out from anybody else," he concludes.
Find out what the band has to share about their latest music in our exclusive interview
WE SAID THIS: Tell us which song of theirs is your new favorite.