UPDATE 3: The hijacker's "suicide belt" appears to be nothing more than phone cases in white cloth. Cypriot Foreign Affairs Minister Ioannis Kasoulides said in a press conference after the man's arrest that he surrendered voluntarily and was in an unsound mental state.
Officials also said that prior to his surrender, hijacker Seif El-din Mustafa demanded "many things", including to meet an EU official, to go to another airport, the release of Egyptian political prisoners and to see his ex-wife.
UPDATE 2: Cyprus's foreign ministry and EgyptAir have announced that all remaining hostages have been released and that the hijacker has been arrested.
Cypriot state broadcasting also reported that the hijacker demanded the release of prisoners in Egypt. Photos of the man circulating online show him wearing what appears to be a white suicide belt, although it remains unclear whether the device is real or fake.
UPDATE 1: Cypriot news outlets report that President Nicos Anastasiades has announced that the hijacking is "not linked to terrorism". Meanwhile, the Cypriot foreign ministry has identified the hijacker as an Egyptian man named Seif El-din Mustafa.
The Associated Press quotes an anonymous source observing that the hijacker "seems [to be] in love", with a civil aviation officer saying the man handed negotiators an envelope to be delivered to a woman living in Cyprus. Various outlets report that the hijacker's ex-wife is Cypriot.
In EgyptAir's most recent statement, nine people remain on board the aircraft.
According to EgyptAir's spokesperson, a domestic flight on its way to Cairo from Alex has been hijacked. The flight changed its route and landed in Larnaca airport in Cyprus as requested by the hijacker. The island state broadcaster reported that the plane landed safely and the airport has since been closed and all flights diverted. EgyptAir just wrote on Twitter than an official statement will be published.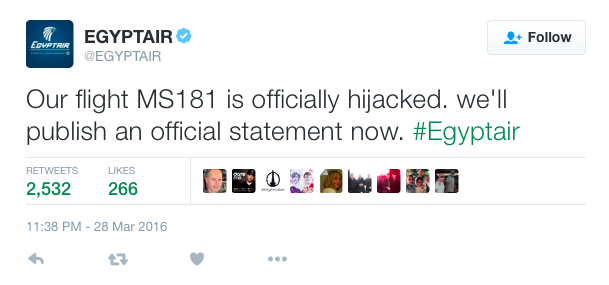 Androulla Vassiliou, the Cypriot former European Commissioner for Education, tweeted that the plane landed shortly before 7 AM with 82 passengers on board, which was later revised to 55 by Cypriot state radio.
The Associated Press quoted a Cypriot official suspecting that there is a bomb on the plane and another said that hijackers reportedly asked all policemen to move away from the aircraft for women and children to be released. The Egyptian Civil Aviation Authority said the pilot was threatened by a passenger with a suicide belt.
EgyptAir said negotiations had resulted in the release of all those on board apart from the crew and four foreign passengers.
Developing…