Contrary to its name, buckwheat does not contain wheat and is actually a gluten-free alternative to the regular white flour. Its rich and slightly nutty flavor makes buckwheat flour ideal for baking a quick bread, banana bread, muffins, pancakes, and many more. Popularly known for its high-protein and high-fiber features, buckwheat flour contains quite a low level of fat despite being heavy on carbohydrates. This makes it a perfect constituent for any healthy diet.
Here, let's look at two breakfast buckwheat recipes that are both scrumptious and healthy.
Simple buckwheat pancakes for breakfast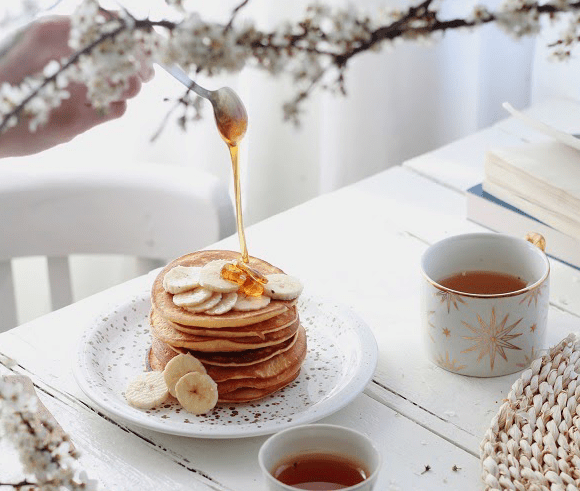 Ingredients
a. 1 cup buckwheat flour
b. ¾ cup buttermilk
c. ½ tsp baking soda
d. 1 tsp baking powder
e. 1 pinch of salt
f. 1 egg
g. 2 tbsp melted butter
h. ½ tbsp brown sugar
i. ½ tsp vanilla extract
j. Blueberries
k. ½ orange zest
l. Coconut oil or any other vegetable oil you prefer for cooking
Directions
1. Heat the oven to 95˚C (200 F) and keep pancakes in it to keep them warm.
2. Mix the organic buckwheat flour, brown sugar, salt, baking powder, and baking soda in a large bowl and stir continuously.
3. Take a separate bowl, and whisk the buttermilk and egg together.
4. Now add melted butter and vanilla extract to the above mixture. Now add orange zest to it and mix.
5. Now combine the constituents of the two bowls and stir to make a batter. Then add some blueberries and stir gently again.
6. Pour some coconut oil or your other vegetable oil in a frying pan, and pour some of the batters into the pan. Cook until you see small bubbles rising up on the edges of the pancake.
7. Slide a spatula under the pancake, flip, and cook the other side.
8. Serve the buckwheat pancakes for breakfast with blueberries, honey, or whipped cream.
Easy-to-bake banana bread
Ingredients
a. 50 g buckwheat flour
b. 1 tsp baking soda
c. 100 g finely grounded almond flour
d. 1/2 tsp kosher salt
e. 3 ripe bananas
f. 60 g arrowroot powder
g. 1 tsp vanilla extract
h. 3/4 cup crushed hazelnuts
i. 1/2 cup maple syrup
j. 2 eggs
k. Some melted coconut oil or any other vegetable oil you prefer for cooking
Directions
1. Prepare the oven to bake, and heat the oven to 375 F.
2. Mix and whisk the buckwheat flour, almond flour, and arrowroot powder together in a large bowl. Now add to it salt and baking soda and mix them together. Then set the bowl aside.
3. Take another bowl and combine the wet ingredients now. Pour the eggs, maple syrup, vanilla, and coconut oil.
4. Now mash the bananas and them to the second bowl. Whisk everything until it is combined well to form a batter.
5. Now add the ingredients of the first bowl to the second one and stir continuously for a bit. Mix the batter till it becomes smooth. Now add the hazelnuts to the batter and stir again.
6. Now the last step is to bake the batter to make banana bread. For this, pour the banana bread batter into the pan greased with coconut oil or other vegetable oil you prefer.
7. Bake the banana bread until it is spongy enough when you touch it. You can make sure that it is ready when its edges are pulling away from the pan, and its top has turned brown. This may take about 45 to 60 minutes approximately.
8. Cool the bread before serving. It's better if you make more than one loaf.
Buckwheat flour is enriched with protein and magnesium, and it is an excellent source of iron, zinc, and all the essential amino acids. However, it is good to check the label before purchasing the buckwheat flour to check for any traces of gluten, which may depend on where it was processed.
WE SAID THIS: Which one do you prefer more?