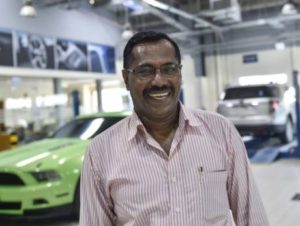 (Gulf News)
It's time to believe in miracles! A Dubai man – originally from India – just survived a plane crash and hit the jackpot. He won 3.67 million AED. The 62-year-old grandfather, Mohammad Basheer Abdul Kadar, has lived and worked in Dubai for 37 years as a fleet administrator with a car dealer group in Dubai, earning 8,000 AED per month. Kadar had made it a habit to purchase a raffle ticket whenever he traveled to his home country.
He purchased a ticket worth 1,000 AED in the Dubai Duty Free Millennium competition on Eid weekend as he flew out to Thiruvananthapuram to spend time with his family. As he flew back from that holiday, he found himself on EK521, the Emirates plane that crashed on Dubai Airport runway with 300 people on board, but no one was harmed.
This week he found out that his ticket was the lucky one, winning him 3.67 million AED, just four months before he was due to retire in December. There are only 5,000 tickets sold in the raffle, and this is the 17th time he's entered the competition. Some would say with luck that this he should give Sbobet a go, but he has already spoken about his plans following this win.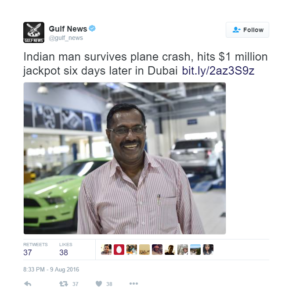 "I have been working in Dubai for 37 years, and I have always felt like this is my country. I live a simple life, and now that it's my time to retire, I feel like God gave me a second life when I survived the plane crash, and blessed me with this money to follow all this up by doing good things," Kadar told Gulf News.
Living in Dubai since 1978, Kadar said he plans to return to India after his retirement to find a job that involves helping people in need: "I don't want to give it to a charity or build a business, I want to go out and find people who really need help and give them money. I was poor, and I know what people go through."
Describing his escape along with other passengers from the Emirates plane as a "miracle," Kadar said he has only God to thank for his survival. "I value the escape as a more precious gift from God and I knew God saved me for some specific purpose. Probably this is it."
Kadar struggled when his son became paralyzed when he was just 13 days old. He had to take a loan of 99,000 AED for treatment for his son – which he has paid back over his career. "I had to spend a lot of money on his treatment. Some years back I had to take a loan of Rs1.8 million (99,043 AED) for a major surgery for him. I have managed to pay it back," said Kadar. He said he won't stop working and will keep his job till his retirement date. "Nothing else can give you the satisfaction of your hard-earned money," he told Gulf News.
WE SAID THIS: I am buying a ticket, anyone interested to join?