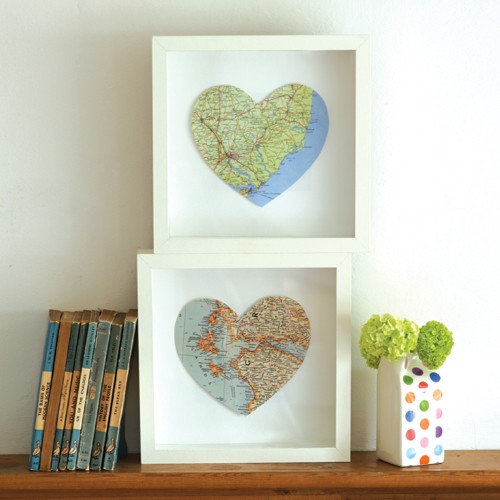 We fell in love with this simple yet thoughtful DIY Valentine's Day gift idea.
What you'll need:
Map(s)
Extra paper to make a heart stencil (you can use printer paper or even a newspaper)
Pencil
Scissors
Frame(s)
Matting for the frame (optional)
Glue
Method:
Make a heart-shaped stencil by drawing a heart onto your extra paper and cutting out the heart shape.
Choose a location on a map that is special to you and your Valentine – maybe where you met, where you took your honeymoon or that one place he or she has always wanted to visit.
Place the heart stencil onto the map with that special city in the center, trace the shape with a pencil and cut.
Glue the map heart in the center of your frame or your matting paper if you want to use.
Feel free to make a matching pair – one for you and one for your Valentine – or even multiple map hearts for all the loved ones in your life.
WE SAID THIS: If you try this DIY for Valentine's Day, send us a photo @ScoopEmpire!