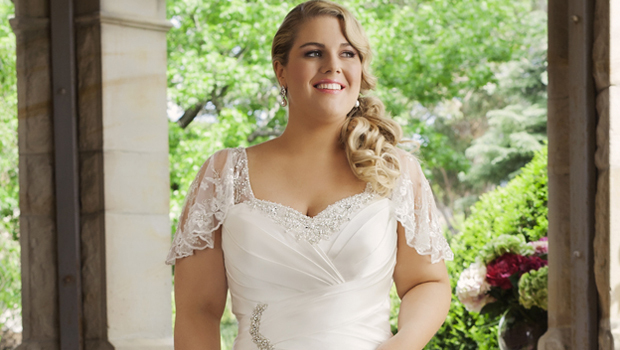 Shopping for a wedding gown can be quite a stressful experience for brides-to-be of all shapes and sizes. If you're a plus-size bride-to-be, you may be a little bit more worried, thinking that there aren't a lot of options out there that will suit you. However, you can easily make your wedding dress shopping experience a fruitful and memorable one, just make sure to pick a dress that perfectly fits your silhouette and complements your body. Here are some tips to help you pick the perfect wedding gown if you're a curvy woman.
1. Comfort all the way
Never go for a wedding gown that is a size smaller thinking that it will make you look slimmer. Opt for a wedding gown that is perfectly your size. No need to leave your boobs suffocating or hinder blood circulation towards your tummy because you're wearing a dress that's too small for you. Make sure to move around, walk, sit and even dance in the wedding gown before purchasing it. If it doesn't fit, don't buy it.
2. Style is the key
The style is the first thing any plus-size woman should put into consideration before buying her wedding dress. Halter necks and thick straps are the best styles you should go for. A strapless gown can draw extra attention to your arms which can make them look wider.
3. Fabric comes first
When it comes to fabric, taffeta is one of the best materials when it comes to flattering your body. Lace and satin can sometimes get too clingy and might leave you feeling uncomfortable. Taffeta will beautifully flow on your body and accentuate your assets. You should also stay away from pleats and heavily beaded fabrics.
4. Define your shape
Embrace your curves and be proud to flaunt them. For more shaping, you can try out wearing shape-wear like SPANX. Pick the perfect bra, accessorize your look perfectly and shine on.
WE SAID THIS: Don't miss "Questioning the Plus Size".