Comics are a special kind of art that appeals to adults and children alike because they often tackle deeper philosophical ideas and serve as a starting point for discussions about history, religion, and culture. While there are not many events dedicated to shedding light on this form of art, the CairoComix Festival is one of the few festivals that sought to spread awareness by honoring comics' significance in our lives and the thoughts they represent. On Nov. 10–12–13, the festival was held on the grounds of the Mahmoud Mokhtar Museum in Cairo's Zamalek neighborhood, directly in front of the opera house. With such a precious opportunity, we decided to go and meet some of the biggest comic artists in the country to know more about their work and the significance of this festival to the artistic community.
Let's start with Mohammed Nasser, whose work has served as an inspiration to countless other artists. Nasser, a software developer by day and a comic artist by night, utilizes comics to express his emotions. He likes to draw cheerful comics when he is happy and sad comics when he is not feeling well. Nasser discussed how he maintains this balance between his main job and his passion for comics and stated that he has no plans to change careers because his work as a software developer earns him a respectable wage that enables him to fund his comics design profession. Then Nasser gave us a unique insight that we don't typically hear. He claimed that when a person's hobby becomes their profession, they start to lose their enthusiasm, and that was exactly what he didn't want to happen to him. Nasser highlighted that in order to maintain his passion for his profession as a comic artist, it will never become his primary occupation and source of income.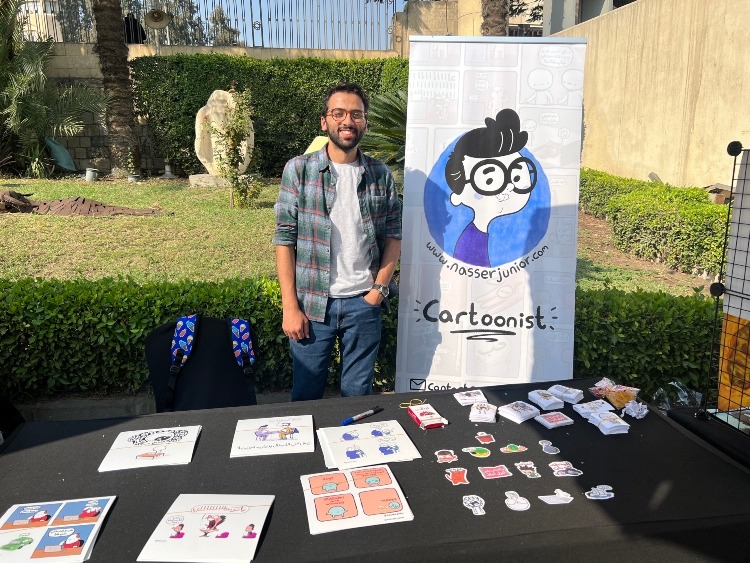 Another comic artist who currently resides in Alexandria is Omar Abdelaziz who is a fresh graduate in architecture. Abdelaziz aspires to become a full-time comic artist in the future, not for financial gains, but for the passion and artistic spirit of being a comic artist. When we asked him about what kind of tips would he give to aspiring comic artists, Abdelaziz expressed that following one's emotions and style should be the priority as too many people get sucked into the social media game where they think that the number of likes and shares is the indicator of how successful they are. Finally, Abdelaziz gave us his own opinion on that matter as he tries his best to find the balance between creating art that his audience can relate to, and also putting his vision and what he enjoys as his number one priority.
This brings us to Mohamed Ali, who is a brilliant Illustrator, comic artist, character designer, and occasional digital painter. His comic book, "A Writer's Block" showcases how many people with different artistic occupations experience mental blocks while crafting their art. It doesn't feature text and that's the beauty of it. Ali wants the reader to start a conversation in their mind based on the art they see in front of them. Nonetheless, Ali expressed how comics are not just relatable for kids, but also for adults. Both kids and adults can experience comics differently and that's the aim of his art.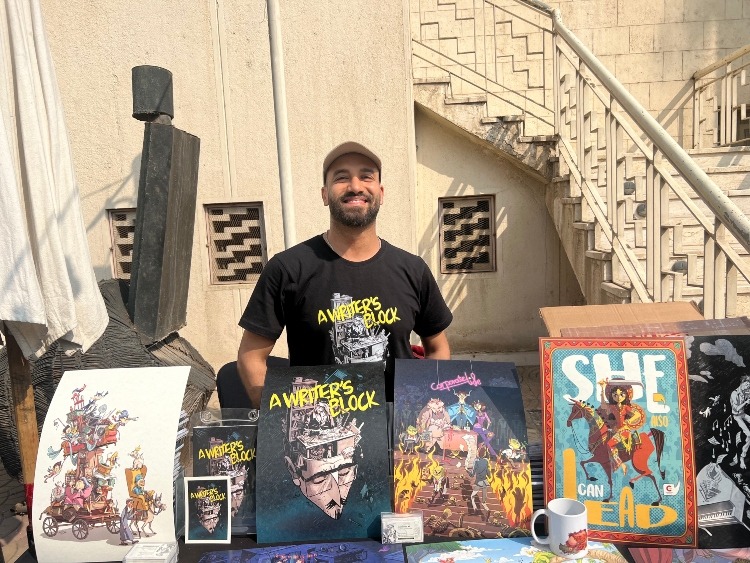 Next, we have the star of the festival and this no-ordinary comic artist as her talent surfaced from an early age. This is Sandy, an 18-year-old who loves digital art and colorful illustrations. She likes to draw anime fan art and cartoon fan art. Sandy's sister has a big influence over her art as she is the one who inspired her to start this journey as they both were the only ones in their family to develop this artistic talent. This is Sandy's first time participating in the festival and she hopes to come back next year and showcase her work.
Mahmoud Refaat, a creative art director by day and a visual artist by night, loves participating in challenges like the #SixCharacterChallenge where he draws specific characters with his own style. He is also a full-time creative director at a game app called Jawaker which creates various digital card games. His historical comic novel "Desperate Times," talks about the time when Egypt experienced hunger during the Fatimid era and it even drove people to eat each other. This novel won him an award during the ANIS competition in Denmark.
Founder of Hobos magazine, Hanya Seleem aims to teach kids about countries and cultures through visually narrated stories. The stories and characters she created are all based on the people she met during her travels abroad in countries like Russia and Colombia. What differentiates this novel from others is how the characters are very different from each other. Seleem even talked about how one of the characters is extremely clumsy and unorganized while another one is very intellectual. Hobos are entertaining for both kids and adults, and it's absolutely worth your time.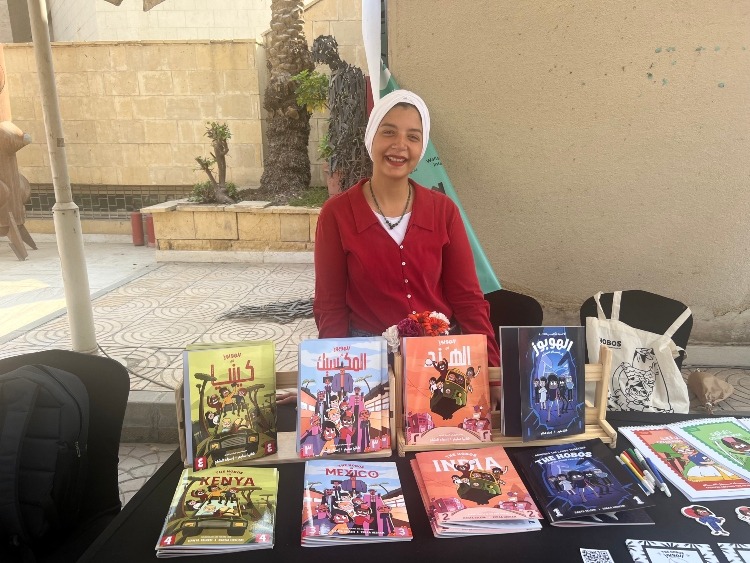 Mohamed Zhran created a sticker pack for his version of Egyptian Pokemon with a detailed guidebook for the audience to learn about these various creatures. He is an exceptional comic artist and his work on social media has been sold to different entities. Zhran hoped that people would collect his stickers collection and immerse themselves into the world of Egyptian Pokemon.
Youssef Shabana, a comic book artist, is an anime enthusiast and enjoys creating art inspired by fantasy. He is an architect and his works are mostly inspired by American superheroes from comic books and Anime characters from manga comic books. Shabana created an Egyptian superhero called Time Spirit which is a character that is inspired by events that are taking place in Egypt. He also worked in El3osba which is a series of comic novels that features a team of five Egyptian superheroes defending civilians against corruption and injustices. Finally, Shabana is not looking forward to becoming a full-time comic artist due to the inconsistency of the industry in terms of financial income. This is his third time participating in the event and he mentioned that each year, more people come to the festival.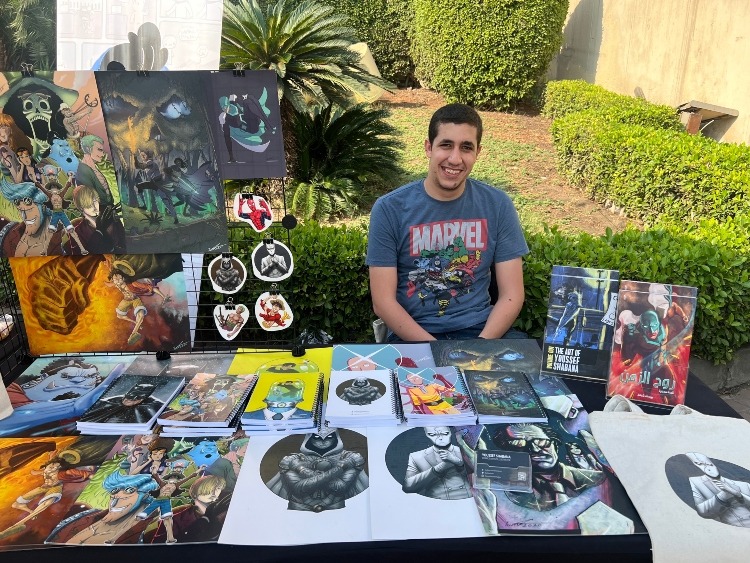 Muhamed El Hagrasy is an illustrator at the famous Majid Studio who also used to work at Majid Magazine. In this edition, he brought his kids to participate in the event and his oldest son, Ali was showcasing his work as he created some extraordinary stickers. This is his second time at the festival and in every edition, El Hagrasy debuts with a brand new comic book. He also asserted that his own work, away from the studio and magazine, gives him a high degree of freedom to be more creative as he is not restricted to specific guidelines.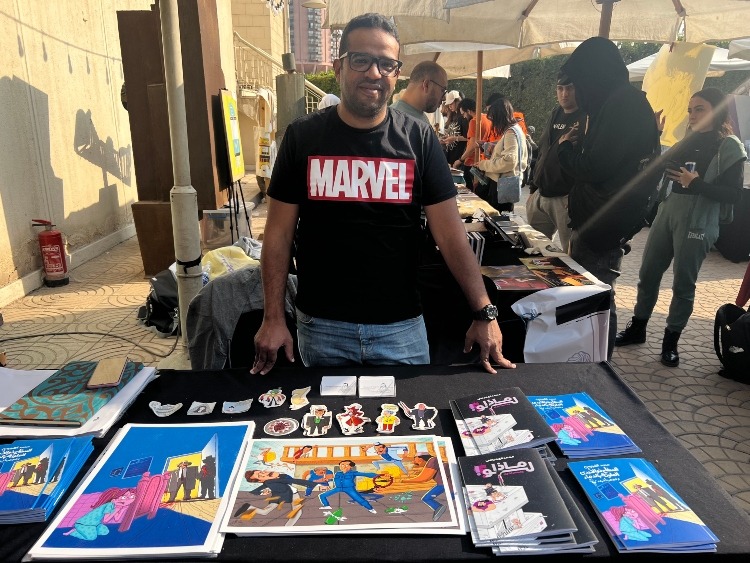 It was evident how important comics are to a lot of people of various ages; as they came to meet their favorite comic book creators from all over Egypt, some of which traveled all the way from Alexandria, Suez, and Port Said. They got to ask them questions and learn more about their sources of inspiration and individual styles. This definitely made for a fruitful edition of the festival and we can't wait to see what's in store for the upcoming year.