Comics have always been a part of our youth. With Flash, Mickey and many more comics playing a huge role in our childhood, it was sad to see them die out just because we got older.
With a number of talents who want to address social, cultural and even gender-based issues through arts, the return of comic books has been evident over the past couple of years, and guess what? They're not just for children!
We face a number of issues on a daily basis in Egypt, so instead of sitting around and complaining, these artists have made their voices heard and address many problems in a simple format that appeals to everyone.
Here are the comics that you should be reading: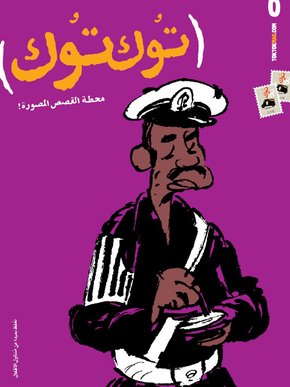 TokTok, which is named after the small vehicles used as transportation in Egyptian alleys, was launched on Jan. 1, 2011. The magazine was established by a number of art school graduates and professional cartoonists in Egyptian newspapers, like El-Shennawy, Hesham Rahma, Makhlouf, Tawfik and Andil.
The toktok makes its way through Cairo's crowded suburbs and main streets, carrying its passengers with their diverse ideas and backgrounds and witnessing a great deal of incidents, situations and issues, which are thus transformed into the content for the comic.
The magazine contains graphic short stories and satirical comics themed around the random jokes and stories that take place in the Egyptian streets. Social and cultural issues are discussed in a funny, light way, addressing the problems Egyptians face everyday.
Tok Tok is most definitely targeted at an adult audience and includes references to sex, drugs and violence. It even has "not for children" written on the cover. The magazine vibrates with life, imagination, humor and emotion. Relating to many incidents and characters, the comic comes to life with every turning page.
In 2011, the magazine won the second prize in the best independent comic magazine section at the International Festival of Comics in Algeria (FIBDA).

Qahera, the Arabic word for conqueror, triumphant or vanquisher (as well as the Arabic name for the city of Cairo),  is a webcomic produced by 19-year-old art student Deena Mohamed. Facing the frustration of social issues and how people remain silent about them, Mohamed created a comic with an a hijabi superheroine based in Cairo.
The series started off as a joke amongst friends, but soon became a viral phenomenon that has dealt with issues such as sexual harassment, misogyny, Islamophobia and Islamist cultural attitudes, mostly within the context of ongoing Egyptian protests.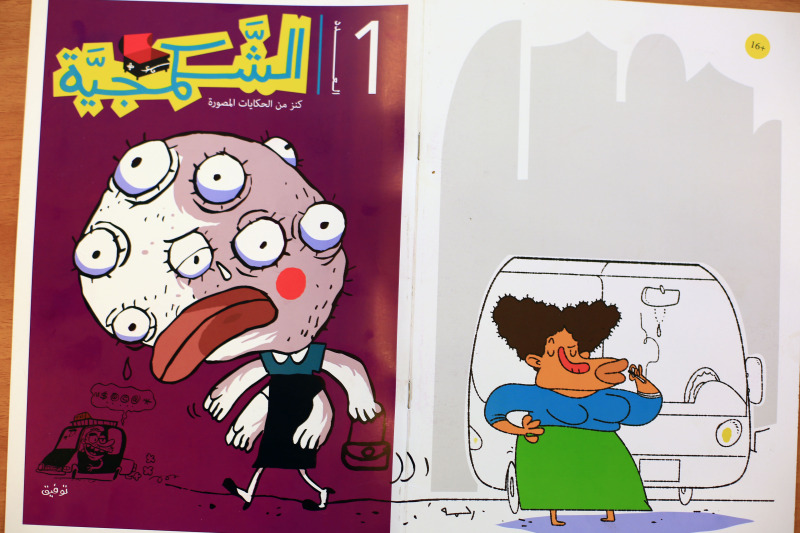 Shakmagia is the first comic magazine in Arabic that raises awareness about feminist issues through art. It uses art as a tool to discuss social affairs from a feminist and human rights perspective, highlighting the issues and problems Arabs face in a very creative or sarcastic way, thus making it lighter for the readers.
"We chose this name 'Shakmagia' because it exists in every house within all social classes, so we believe that our stories represent people's stories in every house and class. We also value all the stories and artwork inside the magazine and we believe that they are treasures that are worthy of  being kept in our virtual Shakmagia", Fatma Mansour, Shakmagiya's founder and Editor in Chief, explained to us.
Being one of the few comic magazines in Arabic targeting adults, the stories and topics are selected according to situations that most adults can relate to.  Every issue of the magazine will be tackling one particular social issue to be discussed from different dimensions and angles.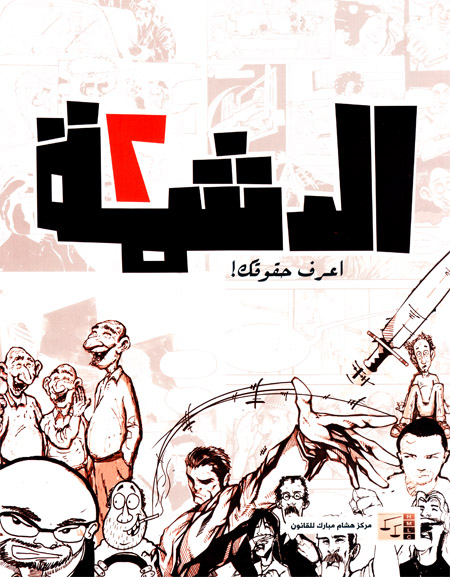 Magdy El-Shafei is the creator of El-Doshma, a comic magazine that is supported by the Hisham Mubarak Law Centre, which fights for human rights by addressing social and political grievances. "El-Doshma" is a word that the comic book writers thought meant "a rock", yet in reality means "a war shelter that contains weapons".
The magazine's slogan is "Know Your Rights", and it concentrates on political and social issues, aiming to raise awareness. The magazine makes it a point to use simple language that can be understood by anyone. Each story is introduced by an article from the Universal Declaration of Human Rights.
The talented cartoonist Ahmed Omar and script writer Eslam Abu Shady put together a story line that highlights the contemporary political and social upheaval going on in Egypt and many other Arab countries. They focus on the widespread issues – primarily of young people – with corruption, rigid conventions and injustice evident on all levels.

A comic book set in 3014 tackles the question of "Where is Egypt heading?", a question we've been asking ourselves over and over again. We expect major changes, but we slowly come to realize that nothing drastic has changed. Corruption, harassment, traffic, political indifference, and pretty much everything is settling back into place.
"So 'Pass By Tomorrow' is my answer to an extension of that question, 'How will Egypt be in 1,000 years?' In my opinion, it will also be about the same. Our chaotic, foolish, half-assed way of dealing with our problems and the world will prevail. On the bright side, we get a lot of surreal comedy on a day-to-day basis; so there's always that." explains Sherif Adel, author and illustrator of Pass By Tomorrow.
Khareg El Saytara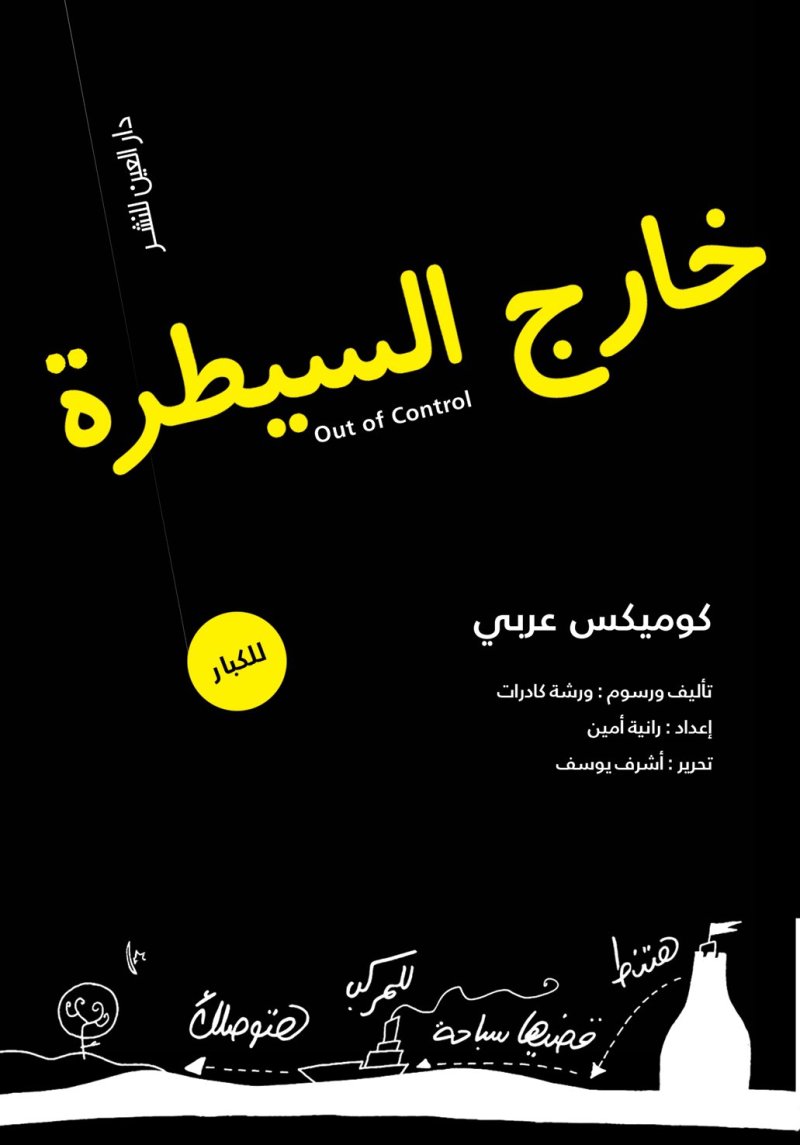 The comic book Khareg El-Saytara (Out of Control), created by Rania Hussein Amin, is comprised of short stories that depict daily life situations in a less satirical but more dramatic style. Each short story is introduced by a famous quote, with the main point of highlighting daily life situations and issues through comics.
Many of the short stories take a dreary and somewhat dark approach, whereas others take a philosophical direction. Of course, there are others as well that are very realistic, to which everyone can relate. Although the styles and even topics are distinctively different, the stories are largely consistent in their general mood.
Autostrade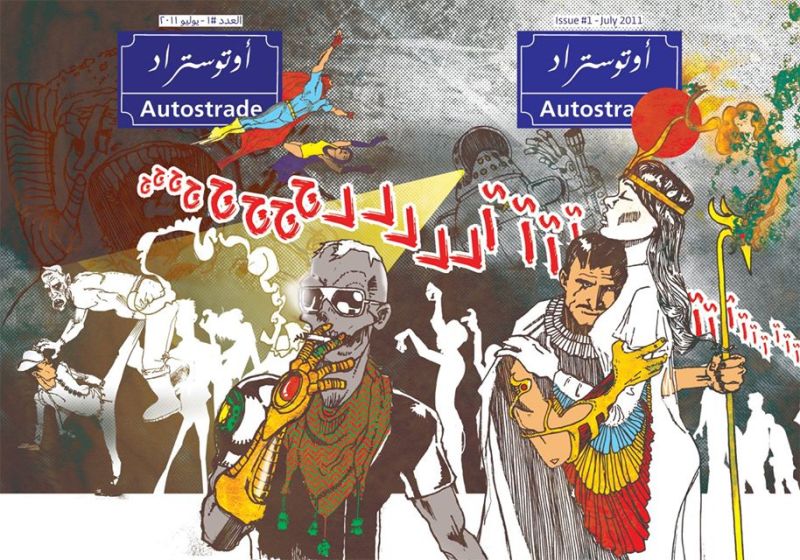 Autostrade is a collaboration between comic artists and writers to create a space for comic books to be read and followed in Egypt by adults. Writers and artists collaborate on a comic book that includes various strips and the readers vote on their favourite comics, which then get published.
Division publishing, founded by Marwan Imam and Mohamed Reda, provide an outlet for comic books to be seen and heard and is the publishing house for Autostrade.
"Comics are the common ground between literature and art, which combines visual and written material," Imam says, "Autostrade is not for kids, in fact most of the stories here are discussing social and cultural issues."
WE SAID THIS: Don't miss "Photo of the Day: Combating Sexual Harassment With… Magic"