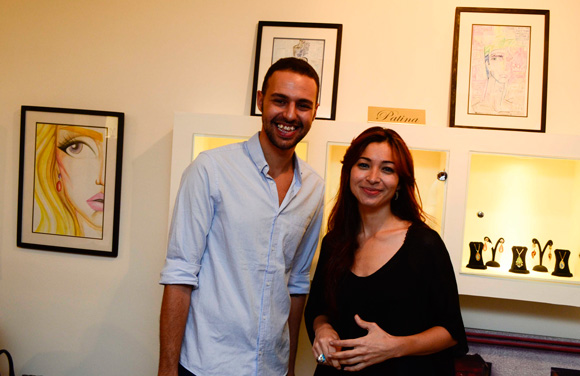 So if you didn't catch the launch last week you have all month to check out the fantastic collaboration of Art & Jewellery by Hassan Hassan and Dina Maghawry.
Both being as fabulous as can be in their fields, well decided to do something different and show of both collections at her new showroom in Zamalek.
We sat down with duo to check out what the thought process behind it all and what the plan is from here.
Dina Maghawry:
After working for non-stop hours on the gallery, how did it finally feel to see it come to life? It felt great, like a dream come true.
What was the most amazing compliment you have gotten so far on the place? "The energy of the place is bigger than the place itself".
Tell us about the new collections you showed in the gallery? The 2 newest collections that came to light for the first time with the shop's opening are El Fallaha and El Gamar Buba, both honor the Egyptian heritage, the first is of the Egyptian countryside, and the latter is of Nubia.
What inspired you to work on this collection in particular? The revolution and post revolution periods increased my love for my country, and I felt the strong urge to promote and honor it, hence came to mind those 2 Egyptian heritage collections.
How do you feel Hassan's portraits compliment your work? How? Most of them are very nice, Hassan has got a special style, that is sensual, artistic and fun at the same time. They are colorful, cheerful and feminine just as my collections are.
What was the most challenging part in the preparations for the gallery? Getting the latest collections out on time was my biggest challenge.
On a scale from 1 to 10, how nervous were you? I wasn't really nervous as I was being more practical about it than emotional, I would say 2.
What is your favorite piece of Hassan's? I really like the Marc Jacobs one.
Is this the first collaboration of this kind for you? Yes, I just opened my shop, and it won't be the last, I will maintain monthly art exhibitions on a regular basis. I love art and would do anything to promote it.
What's is your next step from here? My aim is to keep on growing in my country, giving a helping hand to those who are finding it hard realizing their dreams, teaching others, and improving the jewelry and art industries in Egypt.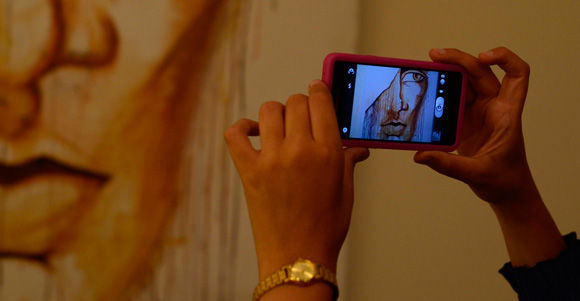 Hassan Hassan
What's the inspiration behind your awesome portraits? I guess it's just everything going on around me. I think everyone needs to stop trying so hard to be inspired and just be inspired. I think I don't limit myself to the things I watch, read and see. In Egypt specifically you have to reach out to other venues because everything is so repetitive or brown. An internet connection is vital.
Looking at some of your portraits in the gallery, I noticed the repetition of a certain figure or a man, is this a coincidence? Or an image of yourself in all your work? It's a coincidence. Recently though in the course I teach at The Fashion Studio, one of my biggest tips is looking at yourself to see where things go. Where the ear starts in relation to the eyes and whatnot, so it's very likely that a little bit of myself comes out in the process.
You have worked with different genres of art before, do you think there is a chance you and Dina designing a collection together on day? I'm doing this thing where I don't say no, so definitely. I think Dina's craftsmanship is excellent and it would be weird to see where we went. I've never even considered jewelry, so it might be fun.
Have you shown your work elsewhere before? Where might we have we seen Hassan Hassan in the past? I've had two exhibitions at Studio 14 and taken part in group exhibitions at Tache in Designopolis and Cala Gallery in Zamalek. I've also collaborated with Zimmer Interiors and The Pink Powder Room.
Why did you choose this particular collaboration with Dina? When we first started talking about it, she was very passionate about giving space for up and coming artists and it was an interesting space and concept. It was all very easy, so I couldn't have said no, even if I wanted to.
Do you feel like that Dina's jewelry has complimented your art in someway? How? Well I was careful in the selection of the pieces I put up, so that the colors and style kind of went with the theme of things. I think the fact that it goes to show that all forms of art – whether it is jewelry or paintings, traditional or modern – can exist together.
What was the best feeling you got in the gallery? It's always a great feeling when people respond positively or tell me they love one particular piece. It's flattering when people can imagine coexisting with a piece in their own space.
Were you satisfied with the outcome of the evening? And were you surprised with the number of attendee's? Very much so, I couldn't have asked for more.
What is next for Hassan Hassan, are there any plans for future shows in the works? I think I'm going to take a break from exhibiting for a little while and focus on making enough pieces for a solo exhibition. Who knows? I've always let anything to do with my art flow naturally and tried my best to give it as much space as it can to develop.