What Egyptians Should Learn From Dumyat
Photo Credit: Sabry Khaled
More than half of Egyptians (51%) suffer poverty; in contrast, if you visit Damietta on a workday, you will see that no one is inactive and all people are busy working in any capacity whatsoever.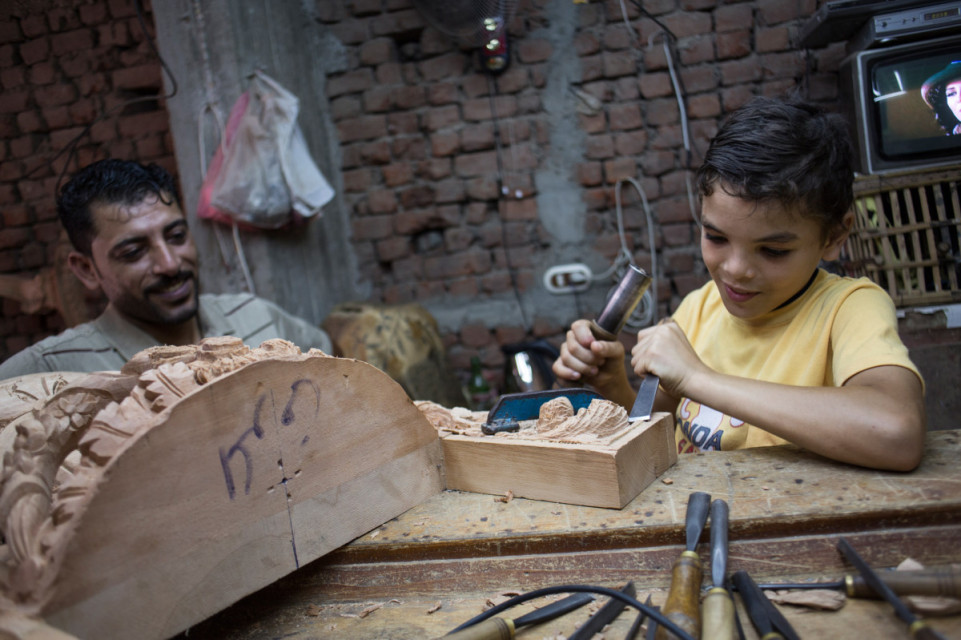 While the total unemployment rate in Egypt is 12.8% and 27% among youth, back in 2006, the unemployment rate in Damietta was 7.5% – the lowest in the country. To most passers-by, the town will seem quite unassuming; the truth is Damietta is far from ordinary.
Egypt is the most populated country in the MENA region and an economic depression has taken over countless countries in the Arab world. Even though the present day reality is stark for many who are struggling to secure and maintain a source of livelihood, Damietta remains a prosperous port town in which handcrafted furniture is produced and exported beyond Egypt's borders to European and Gulf countries.
There are roughly 60,000 carpenter's shops in Damietta and each one plays a particular role in the process of creating and exporting furniture. Some shops specialize in painting, some in sculpting, and some in upholstery.
What do you know about Damietta?
Damietta is located on the eastern branch of the Nile Delta and is known in Arabic as Dumyat. The total population of the Damietta Governorate is over 1 million and roughly 207,000 of those inhabitants reside in the capital city of Damietta.
Of course, there are unmistakable advantages of having the Nile Delta and Suez Canal as a next-door neighbors (as exports are governmentally exempt from taxation) but regardless, small business owners, entrepreneurs and anyone who wants to be self-sufficient in Egypt has a lot to learn from Damietta's dynamic vision and values. After all, the town's synergy and spirit turned a family-run trade into a cross-regional enterprise.
In Egypt, the alarming percentage of youth unemployment isn't necessarily the result of a lack of jobs, but more accurately a lack of good jobs. The effects of the current youth unemployment crisis in Egypt are adverse for countless young people, many of whom are educated and even university graduates – a situation referred to as "educated unemployment."
While Egyptian youth have the capacity to stimulate and reinvigorate Egypt's looming economy, vast numbers of youth are unable to involve themselves in the work force.
In Damietta, people of all ages contribute to the town's thriving, top-notch furniture industry, which continues to grow exponentially each year. Exports seem to double twice every decade and the townspeople claim the cause of their exponential growth is simple – work ethic.
All children who grow up in Damietta begin working in furniture factories at young ages and they are instilled with principles of hard work, a virtue that lasts throughout their lives. A child learns the craft from his father, who learned it from his father, and so on. As Damietta exemplifies, skills that are passed down through generations are enduring and timeless.
When former President Hosni Mubarak visited the town and observed the diligence and determination of the residents, he claimed, "I wish we had 10 Damiettas." The hard work put forth by the people of Damietta undeniably pays off.
WE SID THIS: Don't miss Sabry Khaled's article; Damietta, Egypt's Ikea