As we move forward in time, blockchain technology has been gaining traction in the Middle East. We're talking about Non-Fungible Tokens, to be more precise (NFTs). NFTs have gained a lot of traction recently, with NFT art exhibitions popping up all over the region. Last year, for example, Kuwait's Gallery Bawa, a digital art gallery, held its inaugural NFT art exhibition. Furthermore, female artists are also getting noticed in the industry, with Kristel Bechara becoming the first Arab female artist to debut an NFT tokenized art series in the UAE and the Middle East. However, what is the most important function of NFT? It safeguards the rights of artists and gives them spiritual and material recognition and compensation.
As The Art Newspaper mentioned, Dubai, or "the city of gold," has been a prominent player in the NFT sector, with Art Dubai creating a digital section to investigate the background out of which NFTs, cryptocurrencies, video art, and virtual reality (VR) have arisen since the birth of digital art in the 1980s. With that being said, Dubai is now embarking on a new path that authentically blends supercars with NFTs.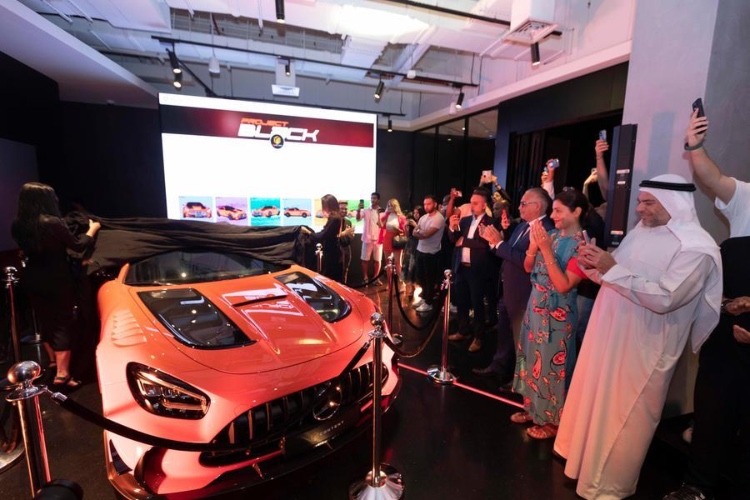 The world's first supercar ownership NFT series titled "Project Black" debuted this week in Dubai, with the first three NFTs selling out in under a minute! It allows 12 NFT purchasers to share ownership and consumption of the AMG premium automobile, which is quite impossible to obtain. The NFTs come with bespoke digital and physical artworks by French-Tunisian artist Idriss B, as well as a month of ownership and driving a Mercedes-AMG GT Black Series.
These one-of-a-kind NFTs have a variety of uses, ranging from owning, driving, and experiencing the car for a month every year according to Khaleej Times. With one month of ownership each year, car enthusiasts who acquire the NFTs will be able to get behind the wheel of an AMG vehicle. Buyers will also receive a special 3D NFT model of the car, as well as a physical miniature of the car built by Idriss B with unique components based on the quantity of NFTs purchased.
"Not only is the concept fantastic, but the car itself is a piece of art," Idriss B told The National News. Because it is furious, powerful, and uncommon, I felt compelled to sublimate it in the best way possible."
Art may be connected with a number of objects and hobbies in our lives, but guess what…the future is here! Supercar enthusiasts may now enjoy their favorite limited-edition vehicles while also being able to portray and own them as art pieces. It is safe to conclude that the NFT market is growing globally, and not only in the region.