When you hear "Sea Salt Nutella Cookies" in Dubai, you think Butter Dessert Salon. This homegrown brand has made a name for itself with its creative baked concoctions, but most famously for its Sea Salt Nutella Cookies. They are just as divine as they sound.
Since Fatma Buhannad, founder of Butter, took baking to a whole new level, we had to get the scoop!
Can you tell us a bit about the company?
Butter Dessert Salon is a seasonal desserts bakery which features desserts from global food trends and as well as our own concoction of baked goods.
Dubai is most famous for being always on the hunt for the "next big thing", whether it's an architectural building, a new sport or the next "it" hangout place.
From that came to us the concept of starting a bakery that aims to create new recipes, as well as bring in our own twist on the latest from the culinary world. Our philosophy is distinctive and the emphasis is on a few items every four months.
When did you start baking?
I can't remember to be honest, but as child, I would always sneak into the kitchen to help my mum out with preparing her baked goods for Eid or family get-togethers. During my stressful days in school and college, baking was sort of therapeutic for me and I loved trying out new dessert trends.
Starting a career in baking was a no-brainer, except for my post-uni years when I dabbled on some jewellery design, scuba diving and worked with a friend at her events management company. Settling on a baking career was my true calling.
How do you feel the baking scene has changed in Dubai over the past few years?
15 years ago, baking wasn't very popular, but when you ate a cake slice from a few prominent coffee shops in Dubai, such as the Lime Tree Cafe or the coffee shop at The One furniture store, they were full of taste and completely done out of scratch.
A few years later, with the cupcake and macaron trends, baking became a sort of trendy activity, especially when New York's Magnolia bakeshop and Paris's Laduree opened up in Dubai.
Dubaians were exposed to more of the major restaurant style of these trendy food items. It encouraged them to bake more and try out different recipes rather an orange pound cake, which was pretty much a staple in most households. From then on, baking has become a necessity for some.
Recently though, with the awareness of the importance of health, some bakers have shifted into vegan and gluten-free baking, such as Comptoir 102, the Zen Kitchen and Spill the Bean.
However, we still have some Dubaians who are more open-minded with trying out non-traditional baked goods, such as Salted Caramel-Dipped Strawberries, Cronuts and our Nutella Sea Cookie.
What's your best selling dessert? (I'm guessing the Sea Salt Nutella Cookies!)
Thats right! It's is one of our best sellers. Next comes the Cronut. We've tried covering six flavours, ranging from the traditional vanilla to Middle Eastern flavours, such as Rose and Saffron, and modern flavours such as Caramelia (a Nutella and caramel flavour), Marshmallow and Popcorn with Salted Caramel. The recent best seller is our Coconut Cake that's topped with dehydrated pineapples.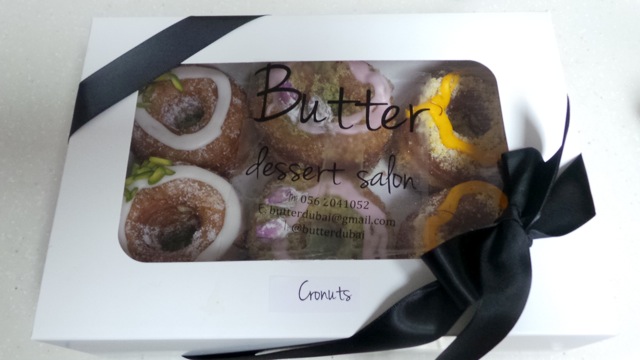 Your stuff is very creative, we saw that you recently started baking with actual flowers? Where do you get your inspiration?
Baking with flowers was an inspiration from my mum, who baked the rose cake more than 12 years ago. I tried developing one more cake by using Japanese-imported lavender, which is much more fragrant than the European and Middle Eastern lavender. I was then inspired by Michelin Star chefs who topped off their salads with fresh edible flowers. Adding it to our tiered birthday and coconut cakes was naturally the next step.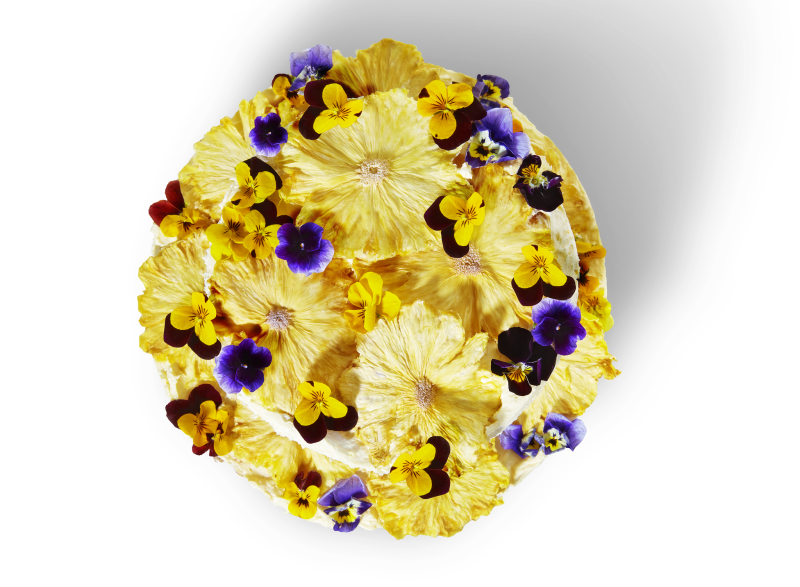 Do you plan on opening a shop soon?
We're in the works of opening up a central bakery and then some pop-up bakeshops.
Where do you see Butter in the next five years?
I am hopeful of having a few branches across the Gulf region inshAllah.
Anything else you'd like to add?
Thank you for featuring Butter Dessert Salon and stay tuned for our next menu coming out this month inshAllah!
WE SAID THIS: Don't miss Chef Talks with Greg Malouf, Michelin Star Chef of Cle Dubai!