In each city, there stands a special landmark, one that plays an important role in its society. Today, we are shining a light on one such institution, Egypt's Bibliotheca Alexandrina. In celebration of this prestigious library, we wanted to look back at the significance and story behind the library as well as the special celebration of its 20 year anniversary.
The Celebration
Today, the special library is commemorating its 20th anniversary in a big celebration headed by Doctor Ismail Serageldin, the founding director of Bibliotheca. In attendance was also Doctor Ahmed Zayed, Bibliotheca's manager as well as some of the biggest scientists and scholars who wanted to be a part of an event that celebrated everything the library was able to accomplish.
Speaking in front of a large audience, Seragelin stressed how Bibliotheca is a hub for the entire world, not just Egypt. From the day it opened, visitors from all around the world entered its doors. To create a bigger impact outside its walls, the library also hosts an eclectic range of events from concerts and conferences to book fairs and summer programs.
The festivities also included the screening of a film called "Bibliotheca Alexandrina in 20 years" as well as the opening of a book fair dedicated to showcasing the 20 years of the library through 1000 books all about the library and its history. Ending on a high note, the Bibliotheca's very own orchestra played an assortment of pieces to commemorate it's 20 years.
Get To Know The Infamous Library
About 2000 years ago, along the corniche of Egypt's Alexandria stood one of the biggest and most important libraries of the entire ancient world, the Great Library of Alexandria, one that was lost to a fire many years ago. Over the years, it was a hub for prominent scholars, philosophers and scientists, as it housed between 200,000 to 700,000 books about everything imaginable from comedy and history to medicine and mathematics.
Re-imagining such an iconic ancient landmark is no easy feat but Egypt managed to revive and recreate it with a modern twist. Egyptian historian and scholar, Mostafa El-Abbadi was the brainchild and promoter of this idea. In 2002, the new Bibliotheca Alexandrina was born, an architectural maverick shaped as a titled colossal sun disk with its walls made of granite engraved with symbols and letters that encompass more than 120 human scripts. Its beauty is not just restricted to its outside, on the inside is knowledge that spans the entire world inscribed in its 8 million books.
Taking A Look Inside
Standing on the outside in the presence of the vast sunbaked structure marked by a sleek, sharply angled façade makes you feel quite small. But on entering through the doors of the library to take a look inside, you then begin to feel microscopic, maybe even negligible among the seven cascading levels lined with endless rows of bookshelves, light would stream in through the sloping glass roof bringing the whole room to life.
Inside is not just one but six libraries. Where you are standing will be the impressive main reading room but from there, you'll also see a Children's Library filled with picture and story books, a Young People's Library, an Arts and Multimedia library, a Microforms Library, Taha Hussein's Library for the visually impaired and a Rare Books and Special Collections Library.
If we were to shift our gaze and look below the main library, we'll notice how its also home to many museums that place a large lens on the history, politics and culture of Egypt and the world. To get an inside look and perspective into one of its museums, we had a conversation with Fagr El Guerzawi, an engineer who was there from the very start as one of the people who took part in Bibliotheca's construction. Today she works in the electromechanical and maintenance department of the library and is happy to be celebrating the institutions birthday.
Speaking with someone who had such a prominent role in the institution made us curious to find out which of the library's museums holds a special place in her heart. Her voice cracked slightly as she recalled how she felt on entering the Sadat museum, honoring Egypt's third president, someone she dearly admired especially as he was present during a large part of her life.
"The first time I went through the doors of the museum, I could feel goosebumps all over my arms especially when I saw the actual blood stained military suit he wore on the day of his assassination"

Fagr El Guerzawi
The entire museum is one that acts as a tangible time capsule of the presidents life showcasing some of his most personal belongings including his radio and desk. Visitors can also hear his voice through the collection of recordings that were said to never have been broadcasted in Egypt.
The other museums also boast unique exhibits that place a large lens on our world's history. With the Antiquities Museum, you will be surrounded by artefacts stemming from Byzantine, Islamic and Greco-Roman periods while at the Manuscript Museum whose entrance is marked by sliding glass doors decorated with colorful calligraphy and looping geometric patterns, rows upon rows of glass panes will stand before you. Below each one are rolled out pieces of parchment inscribed with Islamic text. Each manuscript was specially restored by the expert team of the Chemistry and Environmental Monitoring Department.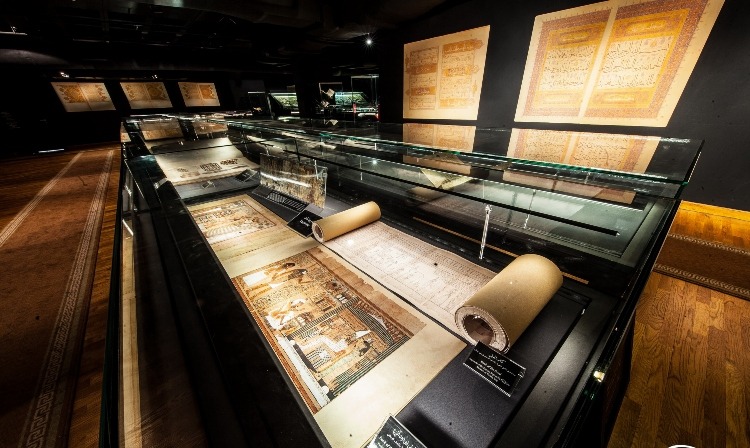 To see the Bibliotheca for yourself, we recommend dropping Alexandria a visit and spending at least half a day exploring the library's facilities as merely navigating through the main reading room alone will take you at least an hour. If travelling to Alexandria is not an option, there are other ways you can witness the work and exciting projects of Bibliotheca. The institution owns several heritage buildings within Egypt's capital of Cairo from which it hosts a range of cultural events that focus on reviving age old traditions of Egypt's past.
A great one to check out is a workshop that will be held at the palace of Princess Khadija at Cairo's Helwan starting from October 16th. By attending, you will get to learn about the history of copper jewelry in Egypt which dates back to ancient Egypt. In the same workshop, attendees will get to make their own copper jewelry the same way it has been done for generations. It all goes to show how Bibliotheca's influence easily branches out of its own granite walls as it continues to bridge the gap between people, history and knowledge.