By Aya Elhelw
Egypt's unemployment rate fell to 11.8 percent in the fourth quarter of 2017 from 12.5 percent in the third quarter of 2017, state statistics agency CAPMAS said on Monday.
According to Trading Economics, Unemployment Rate in Egypt averaged 10.93 percent from 1993 until 2017, ranging from 13.40 percent in the third quarter of 2013 and 8.10 percent in the second quarter of 1999.
Unemployment among males recorded 8.2 percent in 2017, down from 8.9 percent in 2016. For females, 23.1 percent unemployment rate was recorded in 2017, down from 23.6 percent in 2016.
Among young people, aging between 15 and 29, the unemployment rate was 24.8 percent. Within this age group, 20 percent of males and 36.5 percent of females were unemployed, and a rate of 31.8 percent of youth who are degree-holders are unemployed.
A quarter of Egyptian employees was recorded working in agriculture and fishing, 12.9 percent in building and construction, 12.6 percent in wholesale and retail trade, and the last 12 percent in transformative industries.
People who used to work before, now unemployed, was at 27 percent in 2017, down from 28.9 percent in 2016. On the other hand, 45 percent of the population above 15 years old, engaged to the workforce, down 1.6 percent from 2017.
Here is the unemployment rate history from 2015 until today.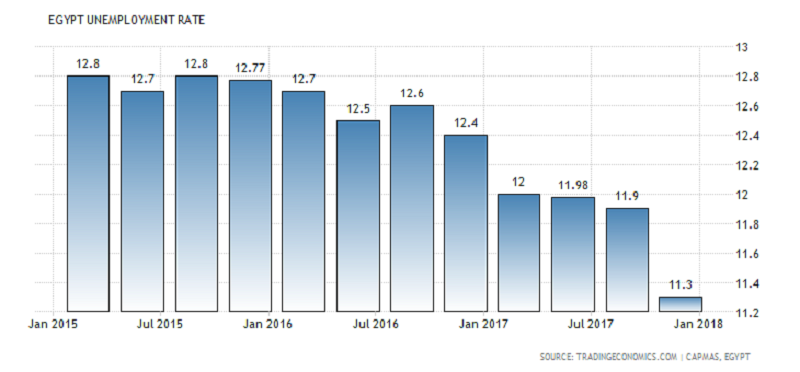 WE SAID THAT: We Hope the percentage would keep on decreasing!