I wore my ruffled yellow polka-dotted shirt, army green pants, and white sneakers, an outfit that will have me located miles away as I headed for the Cairo Opera House. On a Friday, in the heart of Zamalek, Cairo, at one of the most historical and culturally rich avenues known for its talent and beautiful architecture; founded in 1869 during the Khedive Ismail reign, and currently offering a range of classes from tap dance to oud for all experiences and ages in addition to hosting concerts and art shows, the Opera House is full of talent.
With all of that, the moment I set foot I realized that I haven't really been there before. The only time that I remotely came close to soaking this place up was when I attended a concert by Egyptian singer and actor, Mohamed Sharnouby at the "Open Stage." I felt like I was discovering the venue for the very first time and so started my day with the intention of discovering.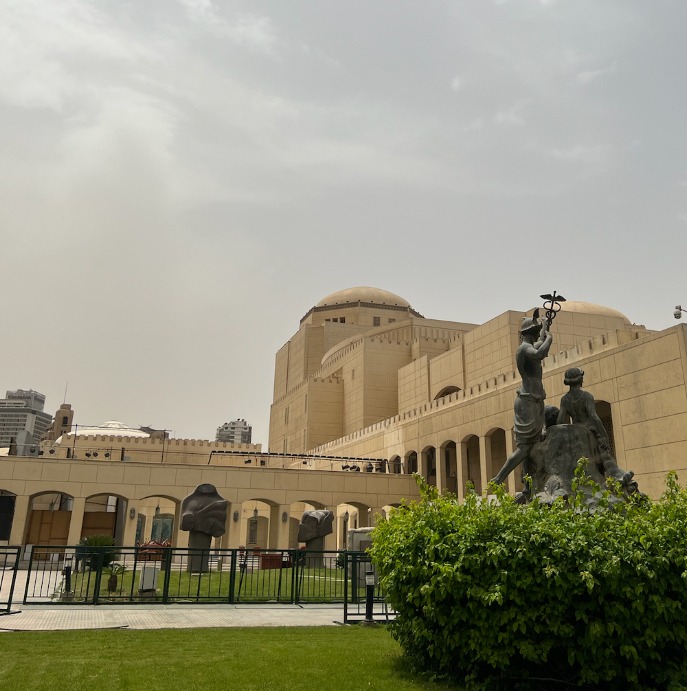 One of the biggest buildings in the Cairo Opera House is the Building For Supporting Talents. From ballet to guitar, this building is a hub or a haven even for the creatives that come from all walks of life to hone their craft. The building houses together ballerinas of diverse backgrounds and stories with the one ballerina that commutes every day from Port Said and the one that learned ballet to overcome an accident. Ganna Amr shared how ballet has helped her in more ways than one, "Four years ago, I used to learn piano here at the opera. I only stayed with it for like three months but then I got bored and quit. I stopped coming then to the opera but when I finished high school, I knew I always wanted to learn ballet and always thought that it was too late; but then I got into an accident and doctors told me that I should practice something that will bring my muscles to move back normally again which led me here where I was able to find a lot of support through a beginner's course."
The ballerina went on about her experience learning ballet at the opera house, "Dr. Basyouni, our instructor, really teaches you. Taking a class with him is different as he truly goes into the core of each movement, breaking it down step by step like no other teacher will." Amr explained that dancing ballet not only taught her physical strength but taught her to be more social. This is definitely an element that has been seen through several creatives as I explored the Cairo Opera House.
Continuing on my journey of discovery I met a multi-talented girl who is not only an artist but a ballerina. Lojaine Mohamed, the 14-year-old who was sketching a girl wearing a beanie as I spoke to her shared her love for art and how taking this art course at the Cairo Opera has affected her life completely, "I came to the Opera House to first learn ballet and while I love dancing ballet, I wanted to pick up art too. Learning art has been a great experience, I love learning from my teacher who is an expert in her field and it has definitely added to my experience of learning ballet for the past four years, now I have become more outgoing and have made more friends in both creative communities."
Following my chat with Mohamed, I got a little hungry so I headed to the kiosk within the building; a hub that is flooded with talent and food, what more do you need? After grabbing a bag of chips to munch on, I continued my walk down the hall of never-ending talent and that's when I came across Howyda Samir, a woman in her thirties who decided to pick up learning the guitar. Samir who has been learning the instrument for the past nine months shared why the Opera House has provided her with a diverse learning experience, "This environment is different as the teachers here give you a wholesome background into the world of music that combines both the theoretical and practical aspects of playing an instrument," she said. Samir ended our discussion of music by stating that it is not only something that is important to learn but also a valuable instrument in aiding anxiety and depression; it is life for some people.
Leaving the Building For Supporting Talents I started taking a walk in the sun again, walking past sculptures of Egyptian actress Faten Hamama and icon Egyptian singer, Umm Kalthum, I eventually stopped as I saw another interesting building, the Music Library.
The Music Library is a swirled cylinder-esque-shaped building that provides a cool atmosphere for talents to practice their crafts. Once you enter the building, you're met with a grand black piano, and this circular two-level building is decorated all over the walls with beautiful art. However, the real art was happening outside when I met Nader Bassem and his friends who were all practicing oud, "I have been learning oud for the past four months. It is been a great experience so far; I have always wanted to learn the instrument after watching YouTube videos but I didn't know where to start," Bassem said. The creative went on to also explain how learning oud not only gave him confidence and a newfound passion but friends, "I have met my current friends through oud and we've become close through our shared love for the instrument." Oud while may seem like an outdated, difficult instrument has bridged the gap between generations and brought people closer to the Music Library.
Why the Opera House is special, well because it comes from the stature of the name itself. As the guitar teacher, Salah Mounir stated that the opera's name is powerful; not just in Egypt but around the world. We need to highlight and market more. People should find out more about what this talent-filled area has to offer and this starts with spotlighting the individuals that truly care for this environment. The Cairo Opera House is the beating heart of Egypt and it's an unmissable destination for everyone's cultural discoveries. You don't have to want to hone a special talent to visit this rich place; it is just a wonderful area for a weekend, offering you sculptures, art galleries, shows and even a cinema to keep you entertained. A well-rounded haven for talents from all over, the Cairo Opera House is a place that continues to birth talent.
WE SAID THIS: The Cairo Opera House is a sanctuary for artists of all types, of all levels, and it's waiting for you to join its family.