In the center of the Gaza Strip, a Byzantine mosaic from the 5th to the 7th centuries was found by a farmer plowing his field. According to French archaeologist Rene Elter of the French Biblical and Archaeological School of Jerusalem, whose team evaluated the artifacts, told Arab News that the mosaic is "in a perfect state of conservatio, "It's a very high caliber piece of work."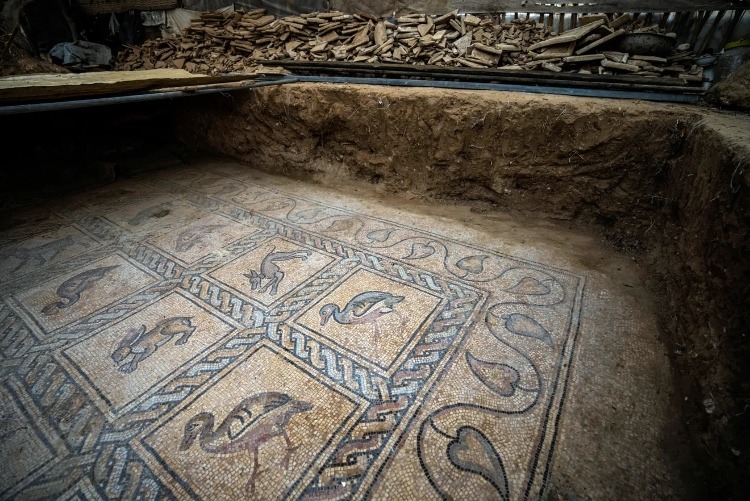 According to ABC News, The Hamas-run department of antiquities is said to publish a formal statement in the coming days with more information. The exact location of the mosaic floor was found inside the Bureij refugee camp in central Gaza. Also, The Associated Press published images of the location stating that the local farmer who discovered the mosaic was planting an olive tree and discovered it after hitting a hard surface with his spade.
The images suggest that the mosaic depicts animals and is in good condition, however, olive tree roots that were previously planted at the location have caused some minor harm in some places. Before the official reveal, the farmer who dug up the mosaic had covered it with a sizable sheet and is refusing to be named emphasizing his desire for financial compensation for his finding.
This new discovery is also drawing calls for better protection of Gaza's antiquities, a fragile collection of sites threatened by a lack of awareness and resources as well as the constant risk of conflict between Israeli settlers and local Palestinian authorities.
This mosaic is the most recent discovery in a string of Byzantine artifacts in Gaza in recent years as per Arab News. After a three-year restoration process, the ruins of a fifth-century church were revealed in Jabaliya in the northern Gaza Strip in Jan. With that being said, Palestine experienced prosperity and flourished artistically during the Byzantine era, which saw the inception of numerous new churches and other structures. Additionally, among the few preserved sites in Gaza is the St. Hilarion monastery, which spans from the late Roman Empire to the Islamic Umayyad period.