Bridging The Gap: Our Talk With Hadia Ghaleb On Launching Her New Inclusive Swimwear Collection
Traveler, marketeer, entrepreneur, and now fashion designer Hadia Ghaleb is making an entrance through her swimwear line. Just in time for summer, Ghaleb announced earlier on her Instagram page, the launch of her new swimwear collection is set to launch in early May.
Having observed an inclusivity gap in the swimwear department, Ghaleb has designed an empowering swimwear line for all women…the in-between. Her line is for women of all backgrounds, bringing much-needed change and inclusivity to the swimwear fashion industry.
The label features two swimwear sets which come in six vibrant shades inspired by the sea and summer sunsets.
We spoke to a driven Ghaleb and asked her about her plans and inspiration for the much anticipated new collection.
First, we need to know, fashion designer?
It's always been a dream of mine to make something that would leave an impact. The Hadia Ghaleb Label is a personal venture for me. For years, I watched the growing gap in the swimwear market between veiled and unveiled women, with separate designs depending on women's faith, culture, and lifestyle. I found myself wondering how we can overcome this division and fill that gap with inclusive swimwear that would speak to and represent all women. This is when the vision for Hadia Ghaleb Label was born.
What Inspired these swimming suits?
The main inspiration for using such bright colors in my swimwear line comes from my nostalgic childhood memories of summers spent on the Egyptian North Coast, full of laughter, sun, and beautiful waves. I really wanted to convey this sense of light-heartedness, the feeling of the sea breeze in your hair, and capture the idea of an endless summer.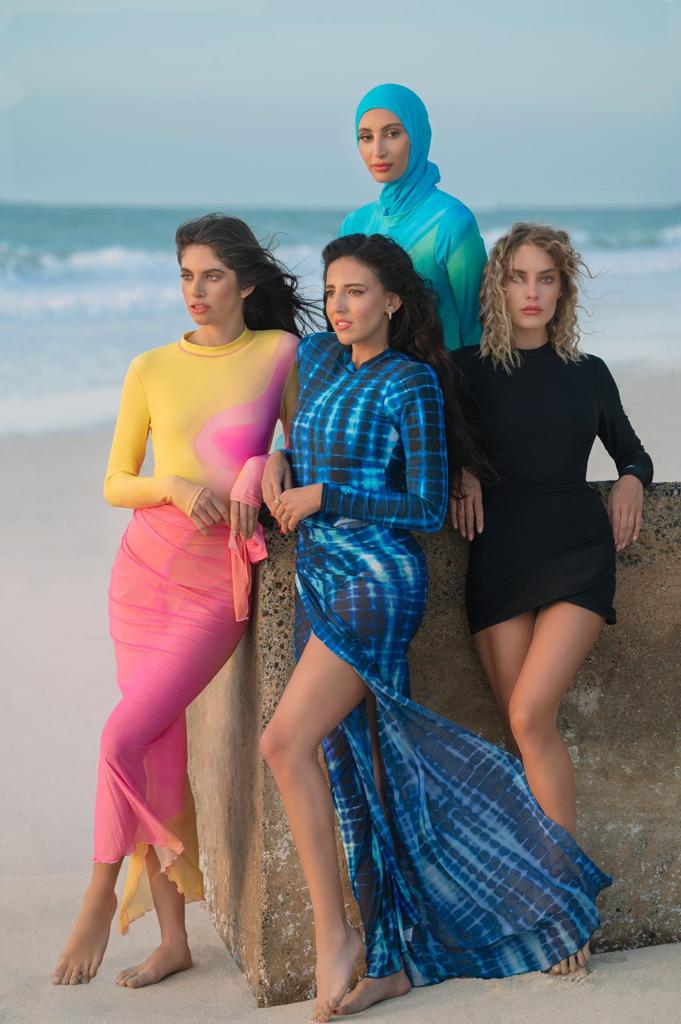 These swimsuits could also be worn for water sports, including diving and surfing. Was this something you had in mind when designing?
I didn't really have water sports in mind but it's such a great bonus to have my products carry this extra utility!
Is there a particular girl you envisioned when you thought of this line? Can you describe her to us?
Of course! This girl is Arab, she is unique in her own way. She loves to stand out from the crowd and she is empowered and empowers other women around her. She's not afraid of trying new things, she's fierce but she's also so humble. She's friends with everyone!
What has been the response from those who have seen what you're offering so far?
Everyone loved it, thank God! They really think that the market has a need for this product, so I'm overwhelmed with positive reactions.
What's next for your brand?
In the short term, I'm excited for the official launch event which will take place in the Maldives, next month from May 3rd to 6th. I will be showcasing the collection along with four other fashion icons and truly inspirational women: Yusur Al-Khalidi, Maryam Al-Khalidi, Youmi, and Shouq. We will also be launching an official Hadia Ghaleb Label Instagram filter, plus a limited edition bag design for all customers who spend over 1000AED.
I definitely have even bigger plans for Hadia Ghaleb Label too, expanding to all global markets and growing beyond the region.
WE SAID THIS: We are excited to see what the Hadia Ghaleb Label has in store for us!