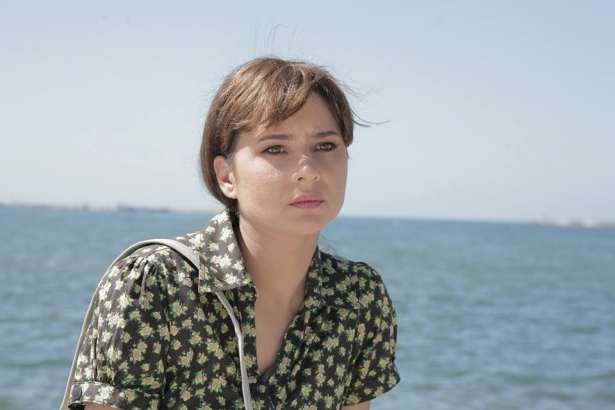 My favorite Ramadan TV series this year is "Bent Esmaha Zaat" (A Girl Called Zaat). How could it not be? It is based on the novel "Zaat" by award winning writer Sonallah Ibrahim. Adding to this, having Mariam Naoum write it into a TV script, and pairing her with Kamla Abu Zikri for directing was a guaranteed success. This duetto brought us the award winning movie Wa7ed Sefr, so expectations were very high, and not only did they not disappoint, they brought us a series that will remain in our hearts forever.
Even the musical score is beautiful and connects you passionately to the series. Abu Zikri and Naoum adapted Sonallah Ibrahim's novel so that it doesn't end in the 90s but continues all the way up to the Egyptian Revolution. Khairy Bishara continued with the directing starting episode 18, because Abu Zikri wanted to do the editing herself, and couldn't find time to do both.
"Zaat" is a multi-generational story of a middle class Egyptian family that lives in Cairo. The first episode is on July 23rd 1952, the same day that King Farouk is ousted by the military, Zaat is born.  Her father names her Zaat Elhema, to represent the nobility and determination of a new era. The series pulls you in on the evolution of the family, their neighbors, their district and interlaces it with the political changes of the country.
The subtlety and the intricacy of the consequences of these political changes shows how Sonallah Ibrahim truly understands Egyptian society as a whole. Each episode includes non-fiction scenes of the times, along with the music and the movies of the times.
The struggles that Zaat faces from the time she is born, trying to find her place in society, happen in parallel with Egypt's struggle to find a new identity, under Nasser, then Sadat, and Mubarak. The tragedies facing both the country and Zaat are endless, and it seems like both their fates continue to jump over hurdles.
One of the main themes addressed in "Zaat" is the shrinking of the middle class which forces many like Zaat's brother to immigrate because they feel they are no longer able to fulfill their dreams in Egypt. This becomes the second wave of immigration. The first one being after the nationalization of the Suez Canal, when most of the foreigners and Egyptian Jews felt the mass xenophobia.
The repercussions and disassociation of immigration are then evaluated after 9/11 when Hassan's son decides to return to Egypt. The remaining of the middle class who do not immigrate are unable to sustain the financial realities and many attempt to find work in Saudi Arabia, and Kuwait. This creates a rift in many families because the men work and live apart from their families, even this model becomes unsustainable for many when Iraq invades Kuwait.
The journey of Zaat, played by Nelly Karim, and Abdel-Megueed (Abdo), played by Bassem Samra is full of ups and downs. Their commitment to each other through good and hard times is so endearing that one cannot but feel gushing emotions at the camaraderie that has developed, kept them together and survived all the obstacles.
Both Karim and Samra do an outstanding job at bringing their characters to life and I would even claim this is one of the best performance of their careers. Intessar who plays Fawziya, Zaat's mother, does an Oscar worthy performance that cannot be missed. The dialogue between Zaat, her daughters, her friends and relatives is very realistic, and natural unlike the Ramadan Series "Elda3eya" where the main role by Basma and her mother have very pretentious, unreasonable and formal dialogue.
The values and ethics of Abdo keep him from earning well. He is adamant about his principles and won't give into the corruption, bribery and tax evasion. All those around him have upgraded their standard of living and given in to the corrupt system under the pretext of "when in Rome do as Romans do".
However his beliefs are based on the Islamic saying "He who does not speak out when faced with a wrong is a mute devil".
He pays dearly for his values, loses promotions, and is even wrongfully accused and jailed.
Their economic situation is difficult and they live without any savings, although both of them work full time. They barely live hand to mouth. Even their attempts at having side entrepreneurial projects fail miserably, and it isn't until Zaat buys a sewing machine and makes clothes that she is able to be the backbone of the family by providing an additional income to both their jobs.
"Zaat" shows how the gradual Islamization in dress is more related to economics than to different values. However there is a change in customs like FGM, which Zaat decides not to subject to her daughters. There is no longer question regarding women's education, and work. Yet Zaat's younger daughter still finds stereotypes when wanting to pursue filmmaking.
The influence of the west, and globalization on the family is captured by Zaat's son, Amgad, who comes late in their marriage and grows up watching so many American movies and cartoons, that he relates more to English than Arabic, and refuses to speak Arabic. He isn't accepted in any government schools and they have to find him a private school.
He also has different materialistic values and is ashamed to be the only one in his class without a mobile phone. He doesn't understand why their house isn't as luxurious as his friends. He represents many of the new generation, who have lost their identity, and don't relate to the values or beliefs of their parents.
I have no doubt that Zaat will be a classic that people will rewatch, I personally plan on watching it again with my kids. With the ease of technology, not only YouTube, but now there is a free app for iPad and iPhone called "elDrama" that has all the Egyptian Ramadan TV series, from classics to all the new shows offered this year. So even at the beach, and while eating Kahk you can enjoy Zaat. Kol Sanna wentom Tayebeen.