When we come into this world, one of the most valuable things we have is freedom. It's what drives us to make choices and seek the route we want for ourselves. We may be influenced by others, but we always have the freedom to make our own decisions and take the actions that we believe are best for us. No one on this planet should deprive others of their freedom as long as they are not causing harm to others.
Words, on the other hand, are a double-edged weapon in life, and people tend to control others by twisting them. What's more incredible is how governments and legislators rephrase and modify individual laws to target minority groups across civilizations.
In France, the situation has deteriorated, with women facing hijab bans and discrimination from legislators. In 2021, the French Senate passed a Separatism Bill prohibiting women under the age of 18 from wearing hijab in public places. But don't they realize that these women have every right to dress and present themselves in public as they see fit? God has put us on this earth free, so why should discrimination still plague several communities?
As the problem becomes more widespread, several public figures have spoken out against the discrimination and are utilizing their social media platforms to support the Muslim women who have been harmed thus far. Huda Kattan, a beauty icon, used her personal and brand Instagram accounts to draw attention to the issue by uploading infographics and screenshots of news articles.
"I'm at a loss for words right now!" "It's surprising to witness such a massive human rights violation taking place in 2022 (and by supposedly progressive countries like France and Canada)." She wrote.
In her posts, Kattan also discussed how the freedom to cover oneself and wear a Hijab is a basic human right, and that no one should be able to limit someone's ability to express themselves! She also stated that she thinks Hijab to be both beautiful and strong and that she has always wanted to wear it one day because of what it means and how powerful women who wear it are.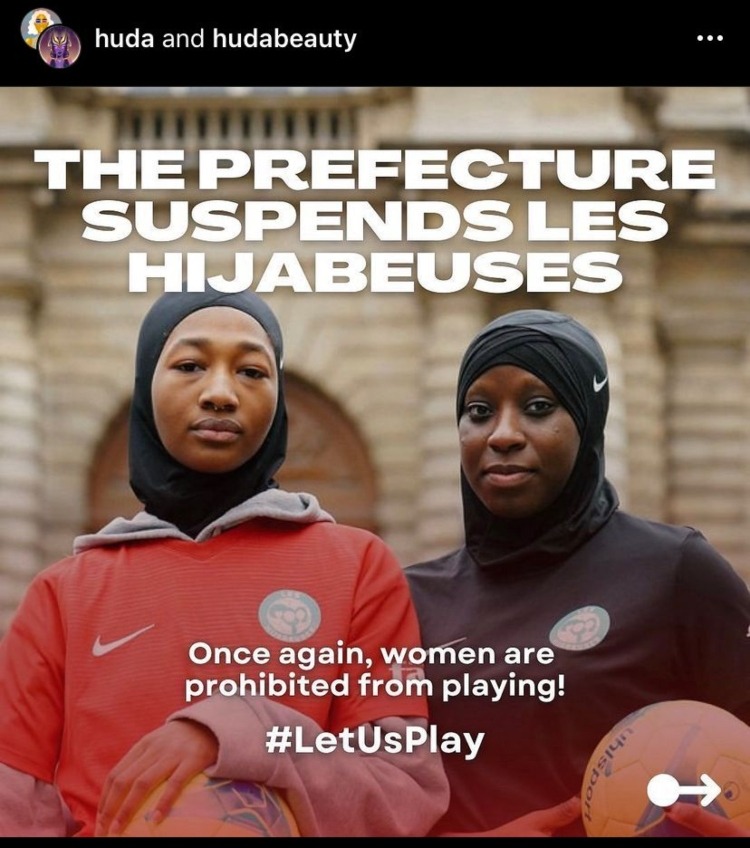 Kattan isn't the only celebrity who has taken action; supermodel Bella Hadid has always had a strong social media presence to raise awareness and discuss issues that society turns a blind eye to.
The part-Palestinian model elaborated on the persecution faced by Muslim women despite the fashion industry's growing inclusivity in the first post. "Let us remember the daily struggle, abuse, and discrimination Muslim women endure on a regular basis because of their faith and what they stand for," she added, "even though diverse types of the hijab and head coverings are starting to make an appearance in fashion."
It is heartbreaking to see that countries that profess to have progressed to the point of being an open and welcoming environment for individuals of all ethnicities and beliefs still discriminate against women who choose to wear hijabs. If anything, this demonstrates the level of hypocrisy that is destroying our societies and the lives of many individuals. This must immediately cease, and these governments must educate their citizens that a person's faith is not a threat to their nations, but hypocrisy is.
WE SAID THIS: It's interesting that we're in the year 2022, and people still don't grasp what hijab is for.