Today, we're sharing the tale of four American University in Cairo (AUC) grads who travelled to the Dubai Design Week's MENA Grad Show with their projects and amazed the crowd with their original and creative ideas. Their stories are yet another demonstration on what Egyptian students are capable of. As part of the MENA Grad Show report, those four students were also featured on Arab News.
Waft by Lama Adham
Lama Adham earned a bachelor's degree in Graphic Design from the AUC. She planned to use what she had learned with her design skills to solve difficulties that Egyptians confront on a daily basis. Her project consists of a wearable technology kit aimed to protect individuals from air pollution on a regular basis, which the World Health Organization (WHO) estimates to be 90% of the world's population.
The sensor is included in the pouch so that the user may carry it around with them wherever they go; also, the color projection from the sensor is visible on the pouch's exterior, creating a color-coded alarm system for the user.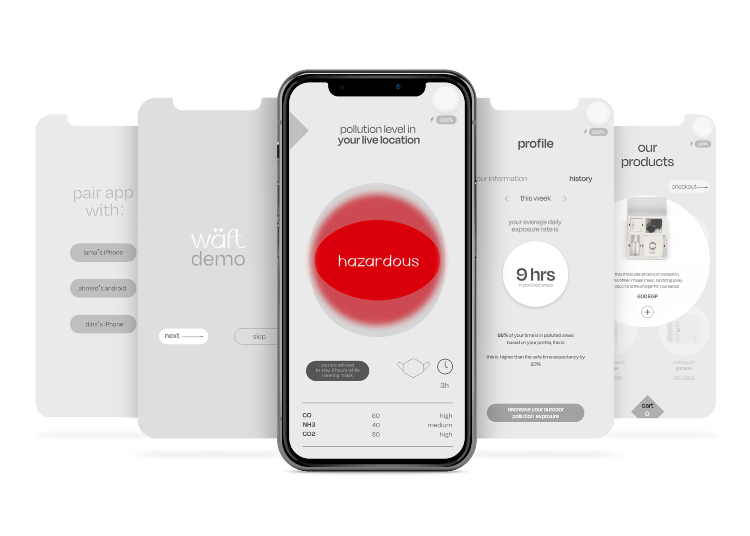 In addition, depending on the gas detection in your environment, the sensor enclosure is colorized green or red based on the level of pollution, so if it's high, it turns red, and if it's low, it turns green.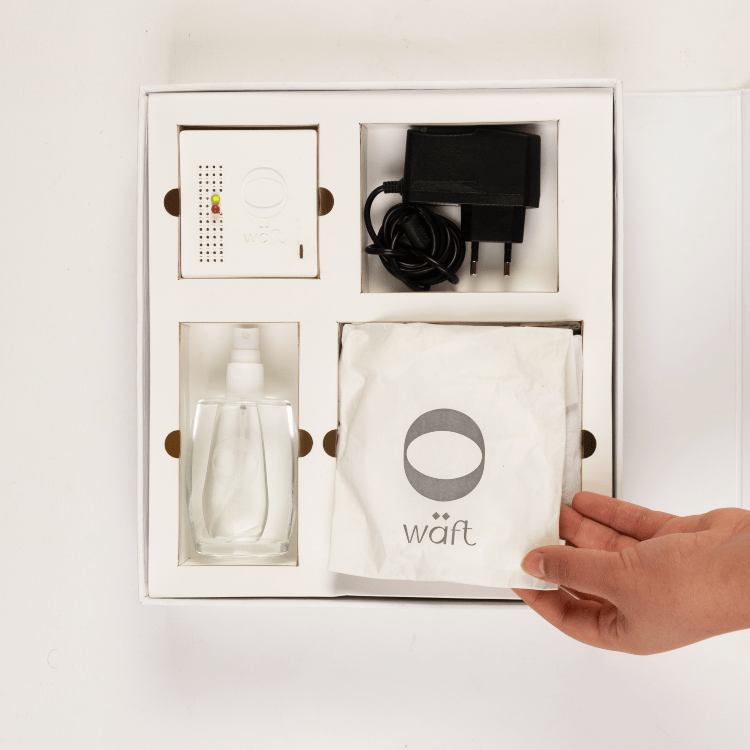 As a result, Lama's inspiration originated from the conditions and environment that we face here in Egypt, where we battle severe pollution, which had personal consequences on her life. Her goal was to use her graduation project to benefit the environment by integrating technology and design while also considering the current pandemic situation as people become more conscious of the importance of wearing masks.
Her proudest moment was representing her university and country at the MENA Grad Show amongst top designers from different countries, where she had the chance to meet significant investors and businesspeople who are well-known in the region. Despite this great opportunity, Lama is still looking for investors willing to help her build her project. Thus, she is joining the global grad show entrepreneurship program, which will promote her graduation project as a business model and connect her with investors, with the goal of one day reaching Expo 2020 Dubai.
Terms & Conditions by Reem Hasebou
Reem attended AUC and majored in Graphic Design with a minor in Anthropology. Her passion is to use information accessibility, education, and design as a tool of social impact. As a result, her project, Terms & Conditions, is a traditional board game with a twist, addressing issues such as data usage, privacy, and security. The game tries to explain technology and urge people to go beyond the default settings by demonstrating what is traded in for convenient "free" services.
Al Madda by Amanda Ioannou
Amanda Ioannou received her bachelor's degree in Graphic Design with a minor in Architectural Design from the AUC in the fall of 2020. Amanda's "Al Madda" project intends to develop new material that will replace the ones that are traditionally used packaging, and thus, leading the world towards a healthier alternative. As a consequence, the project evolved into a recipe app for these material, encouraging people to try them out at home and learn how simple the process is, as well as pressuring industries to shift toward more sustainable alternatives.
Al Madda is a biodegradable material archive in the form of an app and a website that includes DIY recipes for materials and molds that individuals can try out at home. Amanda spent a year on this project because it required extensive research.
The goal is to make this information available to the general population in Egypt and possibly the rest of the region, which is why the app is bilingual (English-Arabic). The application/website includes three forms of garbage: banana peels, watermelon peels, and tomato peels, which are all readily available in Egypt, and three sections for each type of waste: context of the waste to Egypt, materials library, and moulds library.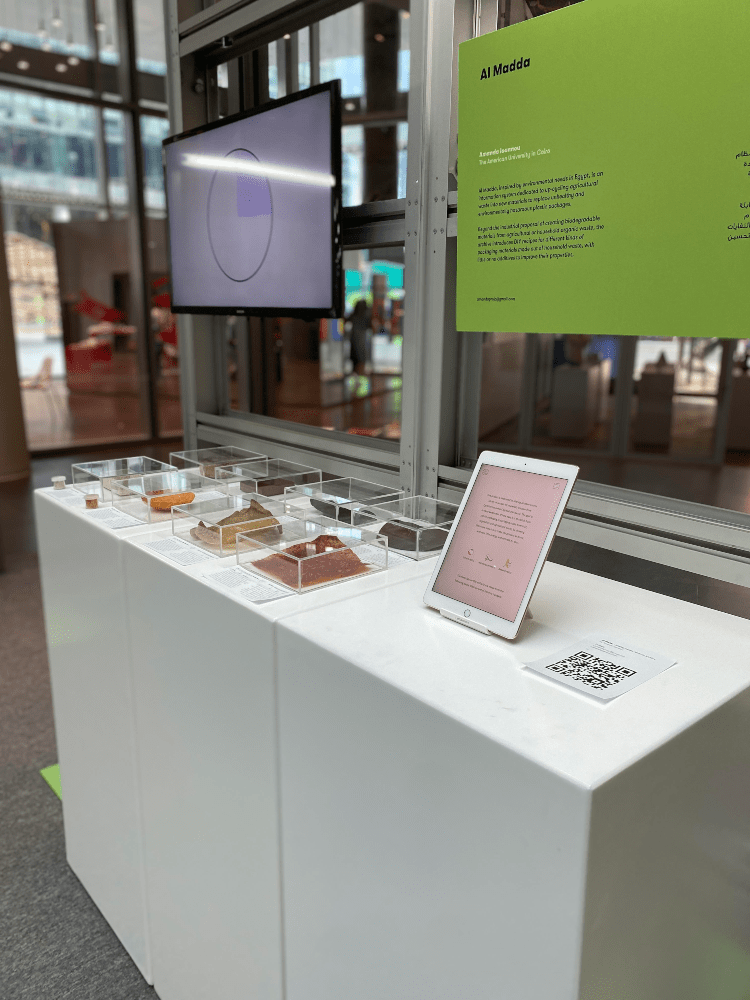 DemiCare by Donia Elshimy
Donia Elshimy studied Graphic Design at AUC and developed DemiCare, an app that organizes the daily routine and training of dementia patients and informal carers to enhance their welfare. The goal is to enable caregivers to administer cognitive tests and games to track disease progression over time while also keeping them informed about the various types and stages of cognitive impairment, making it easier to understand and cope with new challenges that arise on a daily basis with the patient.
Donia believes that dementia is becoming more common all around the world. The physical and psychological toll on caregivers is significant, resulting in an inadvertent incapacity to provide the care that their loved ones require. Thus, she began to investigate techniques to comprehend and deal with the obstacles of being a caregiver based on her personal experience. As a result, Donia continues to look for a means to let caregivers continue supporting their loved ones for as long as possible.
Following her participation in the worldwide grad exhibition and Dubai Design Week, Donia hopes to attract investors who would fund and develop DemiCare. It currently has a fully functional prototype in English, but it will be translated into Arabic in the following stages in order to reach a larger global audience.
WE SAID THIS: We are immensely proud of our students, who astonished the audience during the Dubai Design Week Show!