Aramco Faces Backlash After Using a Man as a Walking Hand Sanitiser Dispenser
Via Mothership
The coronavirus outbreak has affected our lives in every way possible. Tourism is down, the economy has been hit hard, events are being canceled, and people are panicking bit time. In a similar manner, companies around the world have taken extra precautions to keep their talents safe; some companies provided work-from-home options, while others gave out supplies of face masks and hand sanitizer in the office.
However, the world's leading oil company, Aramco, took these precautions to a whole new level, and it sparked controversy on social media. They used a migrant worker as a walking hand sanitizer dispenser for the rest of the employees. The worker was photographed wearing a sandwich board with the words "Hand Sanitizer" on it.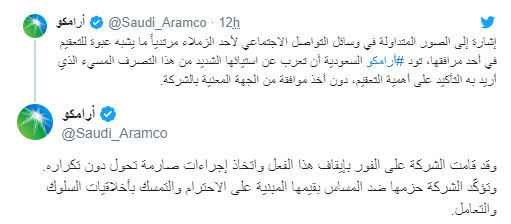 The company tweeted in reply to the backlash, "In response to the viral photos of a colleague wearing sterilization in one of our facilities, Saudi Aramco would like to express our strong dissatisfaction with such abusive behavior. We wanted to emphasize the importance of hand sanitation. With immediate effect, the company has stopped this act and has taken drastic measures to prevent it from happening again. The company would like to strongly emphasize that this is doesn't adhere to our values, ethics, and conduct."
WE SAID THIS: Let us know what you think in the comments section!