Arab Celebs Mourn the Death of Fashion Icon, Karl Lagerfeld
Via Standard
By Sarah Alblowi
Tragedy struck the fashion industry yesterday when the Creative Director of Chanel and Fendi died at 85. The German designer, Karl Lagerfeld was the brain behind many of the greatest moments in fashion history. Many of his celebrity supporters took to social media to share their best moments and grief.
The luxury brands have been incorporated in rap songs to royals and are considered two of the biggest brands in the fashion world. Before "Fendi prints on" was rapped about and everyone had Chun Li vibes and Fendi fever, the fashion genius had been making waves since the 80s.

Karl's life ended with an appreciation for Arab beauty by using inspiration from ancient Egypt in his pre-fall 2018/2019 show. Every fashionista you'd look up most definitely flaunts a Chanel bag. If you're a true fashion lover, you've probably fallen in love with the luxury house and dreamed of owning any of its designs despite the hefty price tag. His brand and personal stores, beside Chanel and Fendi, live on in the Middle East and will forever be on our wish lists.

Zuhair Murad
The Lebanese designer showed his tribulation by sharing his appreciation of the iconic fashion figure.
Diala Makki
Diala captioned how lucky she felt to meet the legend and how grateful she was for him granting her an interview with what she called an irreplaceable character.
Maya Diab
The queen of fashion herself explained the influence Karl created and how it shaped the fashion industry.
Fozaza
Even the TV anchor expressed her gratitude for experiencing his art.
Hadid Sisters
Both sisters appeared in many of his shows and shoots. They took time to share their favorite moments with Karl and their achievements together; including one of our favorites too, Bella's runway walk on the Trevi Fountain in Italy.
Ellie Saab
Another iconic designer who shared his love and grief over an Instagram post.

Aram Kabbani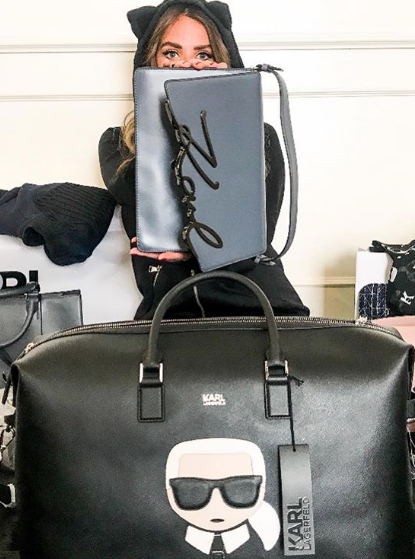 Aram herself worked with Karl's team and had the fascinating experience of collaborating with the brand.


WE SAID THIS: "Chic is a kind of mayonnaise, either it tastes, or it doesn't." -Karl Lagerfeld